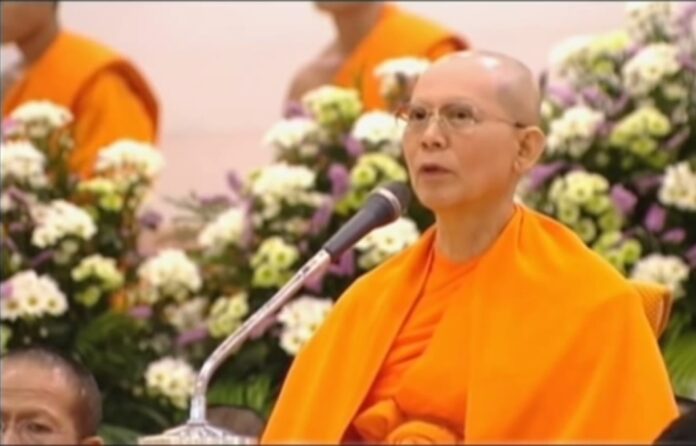 BANGKOK — The fugitive abbot of Dhammakaya wanted on embezzlement charges was removed from his position Thursday by Buddhist authorities but allowed to retain a ceremonial role.
A letter released by Pathum Thani's chapter of the national authority on Buddhist monks said Dhammajayo, 72, was relieved of his post due to the long-running illness his order blames for not turning himself in to face charges of receiving 1.4 billion baht of donations embezzled from a credit union.
Read: Dhammakaya Defies Order to Halt Broadcasts
Dhammajayo has not been seen in public since the first set of charges was filed in May.
He was replaced by Phra Vithet Bhawanachan as the new abbot of Wat Dhammakaya, an influential Buddhist sect that boasts widespread support among the moneyed elite in Thailand.
The same order also named Dhammajayo to the position of "honorary abbot."
Dhammajayo faces two separate criminal charges. The first was for receiving funds embezzled from a credit union by one of its executives who is now serving a 16-year jail term. The most recent charge stemmed from illegally building a meditation center on public land.
The temple insists the charges are politically motivated, and said its spiritual leader could not turn himself in because he's confined to his sick bed. The refusal led to an ongoing law enforcement presence outside the movement's headquarters north of the capital in Pathum Thani province.
The temple has rallied its followers in defense, and authorities have held off from moving in to avoid a confrontation that may look bad on live television.
National police commissioner Chakthip Chaijinda said Tuesday that he expected the standoff to end "within three months," but police have yet to announce any plan to raid the temple and search for Dhammajayo.