BANGKOK — A high-profile police operation to arrest an influential monk implicated in a massive embezzlement scheme came to a farcical end Thursday when his followers simply refused to let them through.
Investigators now say they're mulling another attempt to arrest Dhammachayo, the 72-year-old abbot of the Dhammakaya Temple, who has repeatedly refused to turn himself in to police since the court approved his arrest warrant three weeks ago.
Police entered the massive UFO-like headquarters of Dhammachayo's Buddhist sect in northern Bangkok at around 9am Thursday with a search warrant. Monks at first promised full cooperation with police, but by afternoon officers ran into resistance from a group of laymen who blocked the gate to the abbot's office.
Phra Sanitwong Wutthiwangso told reporters that he and police officers tried to negotiate with disciples to allow the officers to enter and conduct a search, but the request was refused.
"I can't do anything, because those disciples are more senior than me, and they have been contributing a lot to Dhammakaya Temple before I got here," Santiwong said.
Faced with an immovable barrier, police said they had no choice but to retreat, citing the need to avoid violent confrontation.
"The incident dragged on until afternoon because there were many disciples, and we have to think about security," said Suriya Singhakamol, deputy chief of the Department of Special Investigation, or DSI, which heads the investigation into Dhammachayo.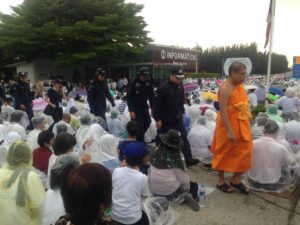 Suriya said officers may file a charge of obstruction of justice against the resisting disciples, depending on their "intention."
"We will deliberate whether the obstruction was done with an innocent intention," Suriya said. He also blamed the rainstorm as a factor that complicated the police operation.
Dhammachayo was identified as one of the main recipients of hundreds of checks worth 11 billion baht sent by the former president of a credit union since convicted of embezzlement. For his alleged action, the abbot is charged with money laundering and receiving embezzled funds.
But Dhammachayo, who is regarded by his followers as a mystic saint, has vehemently denied the allegations. His ecclesiastical office has said he and other monks were not aware that the donations were tainted.
After the court approved a warrant to arrest warrant him on May 17, Dhammachayo refused to surrender himself, saying he was too ill to meet with police. The DSI moved to look for him today following a court-approved search warrant issued yesterday.
Despite failure by police to arrest Dhammachayo today, Sriwarah Rangsipramkul, deputy chief of Royal Thai Police, said he wouldn't call the operation a failure because no violence broke out.
"As for whether the DSI regards this operation as a failure, it depends on the deliberation of the team and the media," Sriwarah said.
He added that police will try to mount another operation at Dhammakaya Temple when the time is right.
Related stories:
Yellow & Red Seen in Orange Folds of Dhammakaya Scandal
Dhammakaya to Sue Trasher for Party 'Blasphemy'
Politics, Corruption in Battle for Naming New 'Supreme Patriarch'
Protest Prompts Officials to Postpone Dhammakaya Monks March
Thai Religious Authority Denies Acquitting Controversial Monk