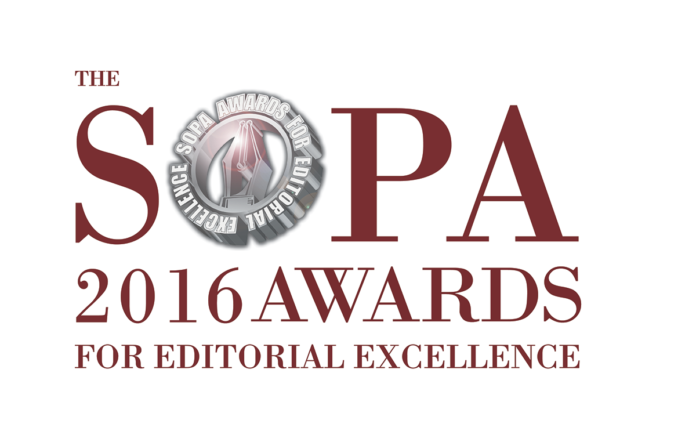 BANGKOK — The Society of Publishers in Asia recognized Khaosod English last night for editorial excellence in opinion writing.
Khaosod English was awarded an Honorable Mention for Excellence in Opinion Writing for senior staff writer Pravit Rojanaphruk's column "Down the Memory Hole Lies 'Juntaland,'" Wednesday evening at the annual SOPA Awards ceremony in Hong Kong.
"Pravit Rojanaphruk's body of work, inclusive of the title entry, displays rare conviction and courage in championing democratic values in an authoritarian state," the society's judging committee said of the column, the first entry in his weekly Retention column published Nov. 7 after he joined the news organization.
In a period that has seen it ramp up in reporting staff and coverage, this was the first year Khaosod English joined the region's most prestigious editorial awards contest. On Thursday, Khaosod English was joined by Kaewta Ketbungkan, a veteran reporter of Voice TV and Thai PBS, who will cover lifestyle and culture.
More than 280 media executives, editors, journalists and industry affiliates from across the Asia Pacific region attended Wednesday evening's awards ceremony, according to SOPA.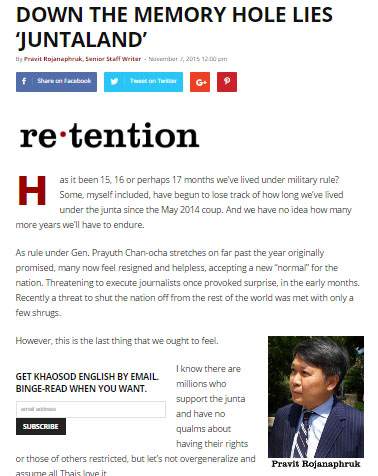 "I am honored to be recognized by SOPA in Hong Kong and would like to thank Khaosod English editor Todd Ruiz for submitting the opinion piece to compete on behalf of our young and small organization," Pravit said. "Opinion writing relies on not just the strength of rational argument but empathy for those whom you disagree with as well as the ability to grasp the big picture. The recognition encourages me to continue to strive for excellence in opinion writing and journalism in general for the benefit of society."
The top honors for the category in the same class went to the Nikkei Asian Review and The Myanmar Times.
"The SOPA Awards for Editorial Excellence are widely recognized as the gold standard for outstanding journalism in Asia," SOPA Chairman Raymond Warhola said. "The record number of entries received this year from across the region reflects the value that publishers and editors increasingly place on the SOPA Award."
Across town, Bangkok Post's Sunday Spectrum was recognized for explanatory and human rights reporting for stories by Nanchanok Wongsamuth and Chaiyot Yongcharoenchai.
Entries were judged by a panel of more than 100 judges drawn from journalists, editors, columnists and notable academics from media departments of prestigious universities.
The Society of Publishers in Asia is a Hong Kong-based nonprofit founded in 1982 to represent media companies in Hong Kong and around Asia. It launched the SOPA Awards in 1999 to set a high benchmark for journalism in Asia.
Founded in 2013 and based in the Thai capital, Khaosod English is an English-language news organization committed to the highest principles of journalism and a stringent code of ethics. It is part of the Matichon Group.