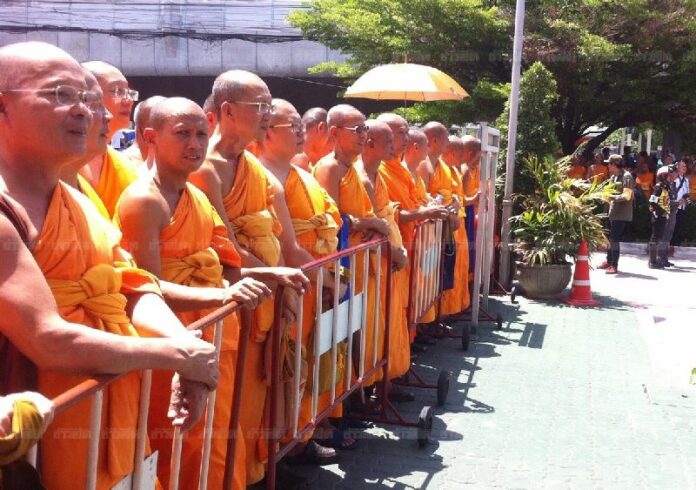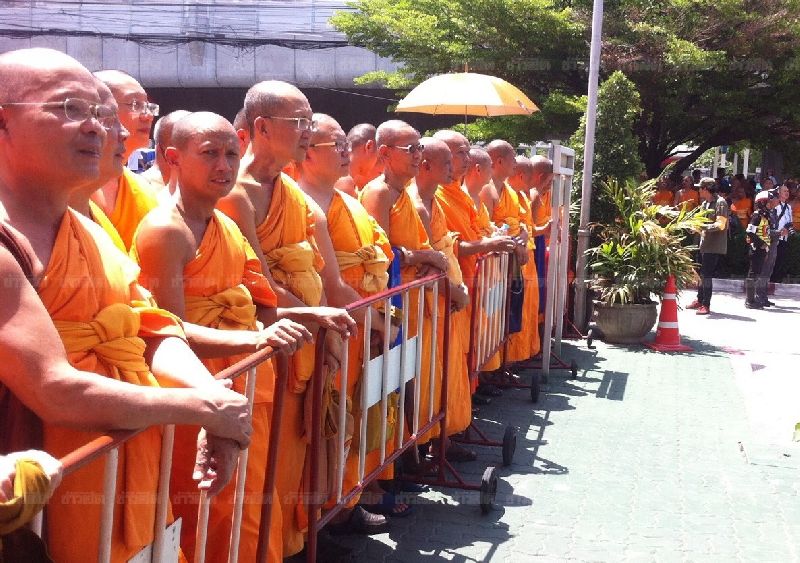 BANGKOK — Hundreds of monks lined up along a road this afternoon where the supreme leader of a powerful Buddhist sect was to turn himself in to answer charges of fraud. To the surprise of few, he didn't.
News that Dhammachayo, abbot of Dhammakaya, would surrender came after weeks of confrontation pitting some of Thailand's most powerful institutions in an epic tug-of-war, with the Department of Special Investigation accusing the head of the controversial megatemple of embezzling billions, charges the latter rejects as a politically motivated smear campaign.
According to the statement released by Dhammakaya's press office to the media, Dhammachayo was to arrive at the Khlong Luang Police Station in northern metro Bangkok at around 2:30pm – nine days after a court approved an arrest warrant for the 72-year-old abbot.
At about 3pm, the abbot's aides said he had passed out and was being revived by paramedics. DSI officials asked they take him to Thammasat University Hospital. His aides replied that although he was too unwell to meet with police, he did not want to go to the hospital either. Illness has been cited by the abbot every time he has failed to appear.
But the stage – or stagecraft – was set Thursday afternooon. Throngs of Dhammakaya monks and reporters had gathered earlier at the station in anticipation of what was about to unfold; Dhammachayo had previously refused to meet with police and rejected their arrest warrant as illegitimate. He's claimed illness a number of times for failing to appear or even leave his headquarters, a massive UFO-like facility north of Bangkok in Pathum Thani province.
The Department of Special Investigation, or DSI, had set Thursday as the deadline for Dhammachayo to surrender. After he failed to do so, DSI prosecutor Kachornsak Putthanuparb said they might apply for a search warrant that would enable them to enter the temple grounds and take Dhammachayo into custody.
Investigators identified Dhammachayo as among those who were directly sent hundreds of checks worth 11 billion baht by the former president of a credit union since convicted of embezzlement.
But Dhammachayo, who is regarded by his followers as a mystic saint, has steadfastly denied the allegations. His ecclesiastical office has said he and other monks were not aware the donations were tainted.
A Power Among the Powerful
Founded as a small retreat for spiritual-minded intellectuals while much of the academia was caught in the Communist insurgency of 1970s, the Dhammakaya Movement has grown into a massive organization with its own TV station and overseas chapters.
Today it enjoys tremendous organizational power and funding from the Bangkok middle class that serve as its power base, including many influential politicians, businesspeople and law enforcement officials. Tens of thousands of followers, who are known for strict loyalty to the movement and its leader, pour into its enormous arena for mass ordinations held every year.
Due to their esoteric teachings that focus on wealth, afterlife and spectacular rituals, Dhammakaya is viewed by many mainstream Buddhists as a heretical cult.
The megatemple is also perceived to have close ties with the Pheu Thai Party, and its the power it wields has put it at odds with the military government in a number of contexts, most notably, the selection of a new Supreme Patriarch to lead Thai Buddhism.
Phra Maha Ratchamangalacharn, who has long been considered as a successor to the late patriarch, is yet to be formally appointed to his holy office, partly due to uproar from hardline Buddhists who take offense at his past stint as the personal mentor of Dhammachayo.
Mounting Prosecution
Efforts to prosecute Dhammachayo can be traced back to the 2013 implosion of the Klongchan Credit Union Cooperative, which was embroiled in a massive embezzlement scandal running in the billions of baht.
From 2009 to 2011, credit union President Supachai Srisupa-suksorn sent 878 checks with a combined worth of 11 billion baht.
Investigators said they had evidence showing Dhammachayo and another Dhammakhaya monk were among those who received many such checks amounting to millions of baht.
Supachai was convicted of fraud and is now serving his 16-year sentence in the maximum security prison of Bang Kwang.
The abbot was ordered to meet with DSI officers back in March 2015, but he didn't show up.
Correction: An earlier version of this story misidentified the Department of Special Investigations as the Division of Special Investigations.
Related stories:
Hundreds of Monks Clash with Military West of Bangkok (Video)
Politics, Corruption in Battle for Naming New 'Supreme Patriarch'
Protest Prompts Officials to Postpone Dhammakaya Monks March
Thai Religious Authority Denies Acquitting Controversial Monk
Dhammakaya Abbot Allowed to Continue Monkhood