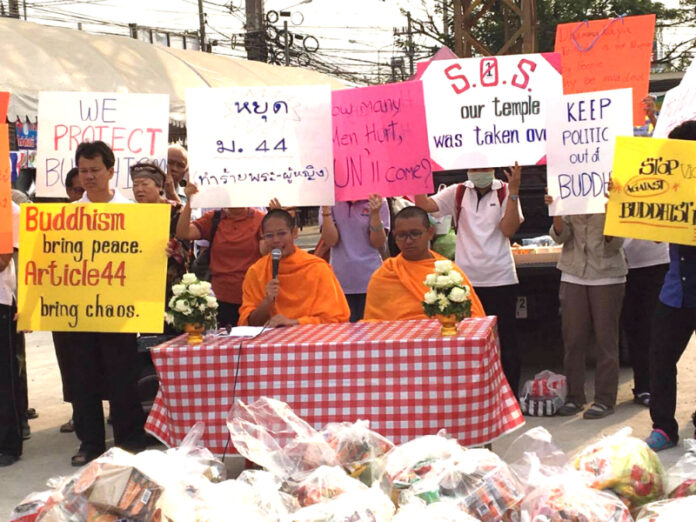 BANGKOK — Pro-democracy activist Sombat Boon-ngamanong said that when he heard the military regime had arrested and detained a 14-year-old boy for holding a protest placard, he genuinely found it difficult to believe.
"I learned about it for a few days but didn't want to believe it because it's so dystopian. How could it be possible that a 14-year-old boy could be arrested for holding a sign? It's unbelievable!" he said Thursday.
Indeed, hours after the boy was released on bail last night, police confirmed a 14-year-old was arrested March 8 and detained at a juvenile facility in Pathum Thani province for holding a sign protesting the use of the junta leader's absolute power to raid Wat Dhammakaya, an operation that fizzled out this past weekend after three weeks.
Lt. Col. Vichian Mueansuwan, a Khlong Luang police deputy chief of investigations, said today that the boy, who as a minor was unidentified, was arrested in front of the police station along with three adults for protesting against the use of Article 44 of the military's provisional constitution.
Col. Samart Srisiriwiboonchai, acting chief of Khlong Luang Police Station, said it was necessary for police to arrest and prosecute the boy.
"They were together, so we arrested them together," Samart said by telephone Wednesday. "They were obstructing our operations. They were not peaceful protesters as they claimed. They acted in an aggressive way."
The three adult protesters were already sentenced by the court and given a one-year suspended jail term, he said.
Article 44 grants absolute power to junta leader Gen. Prayuth Chan-ocha and was invoked last month to declare the sprawling temple complex and environs a "controlled zone." The temple and its fugitive ex-abbot Dhammajayo face more than 300 charges, including money laundering and encroachment into protected forest land.
Vichian said the boy, from Chiang Mai province, was holding a placard at the police station, which was within the restricted zone. The boy and a number of temple devotees there were offering moral support to a Dhammakaya monk, Phra Saeksan, who was brought in by the authorities.
"The kid violated the NCPO order," said Vichian, referring the formal name of the junta, the National Council for Peace and Order.
A temple source who asked not to be named confirmed that the boy was released last night on the order of a juvenile appeals court, by the order of the Appeal Juvenile Court on last night, seven days after he was put in the Pathum Thani Juvenile Detention Center.
The detention center refused to comment when contacted today. The boy's lawyer could also not be reached as of press time. Human Rights lawyer Anon Nampa said the maximum punishment for violating a junta order is six months in prison, but he expects it would be lower for a juvenile.
Junta spokesman Col. Winthai Suvari was unavailable to comment on the detention of the boy as well.
Reached for comment, temple spokesmonk Dantamano Bhikku declined to speak on the record about the incident for fear of upsetting the regime, though he confirmed the incident took place.
Nutta Mahattana, a pro-democracy activist, who expressed anger in Facebook posts about the boy's detention speculated as to why the temple had kept silent for the past week on the arrest.
"My understanding is that [the temple] has been under pressure not to criticize [the arrest]," said Nutta, adding that the junta should not forget about children's rights.
It only came to wider attention after some temple devotees released a photo purported to be the boy behind bars at the detention center.
Sombat led a Facebook initiative on Wednesday, hours before the boy was released, by urging Facebook users to post about how their lives were when they were 14. None of them said they expected to be arrested when they were 14.
"This shouldn't have happened. It's way overboard. [The incarceration] will become a mark of sin for this kid into the future."
Additional reporting by Teeranai Charuvastra