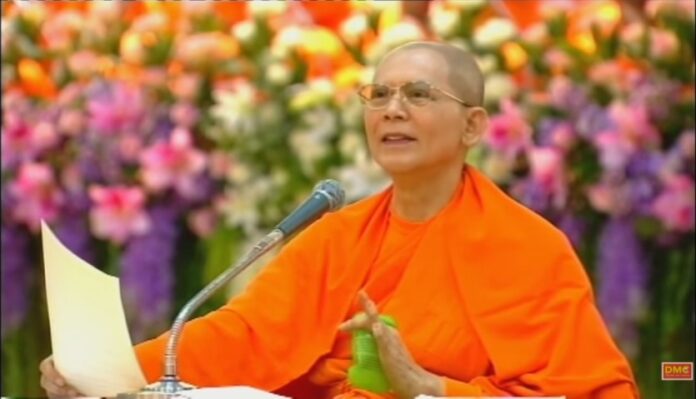 BANGKOK — An influential monk wanted on money laundering charges may have left Thailand, according to the agency tasked with apprehending and prosecuting him.
The head of the Department of Special Investigation said Wednesday there was evidence that Dhammajayo, whose sprawling headquarters were raided on the junta's order in February, might have fled to Europe. Authorities have long vowed to bring the 73-year-old charismatic Buddhist leader to justice, to no success.
"There is intelligence that Phra Dhammajayo used a natural border to escape Thailand [and made his way] to a country in Europe," Col. Paisit Wongmuang told reporters. "His escape was helped by his followers, but we don't know what country he is in."
But Paisit stressed the report was unconfirmed and his department will try to verify the claim.
Dhammajayo is the spiritual leader of a Buddhist movement called Dhammakaya, whose esoteric teachings and focus on earthly wealth attract criticism from mainstream Buddhists. Its large base of support, largely among well-to-do Thais, may have also drawn suspicion from the military regime.
The monk was accused of accepting large donations of laundered money in 2016 and summoned to appear, but he refused, citing health issues. After months of inaction, the junta ordered security officers to besiege and search his headquarters temple, Wat Dhammakaya, in February. The elusive monk was not found.
A spokesman for the Department of Special Investigation said it is also possible Dhammajayo is hiding in Thailand.
"The intelligence points to both possibilities, in and out of the country," Woranan Srilum said by phone.
He declined to say what possibility he believes to be more likely.
"I cannot give you my opinions," Woranan said. "We have to have facts. As officials, we cannot express our opinions."
Dhammakaya followers insist their spiritual leader did not know the donation money was tainted. They also say the charges are a politically motivated pretense for the junta to dismantle their movement.