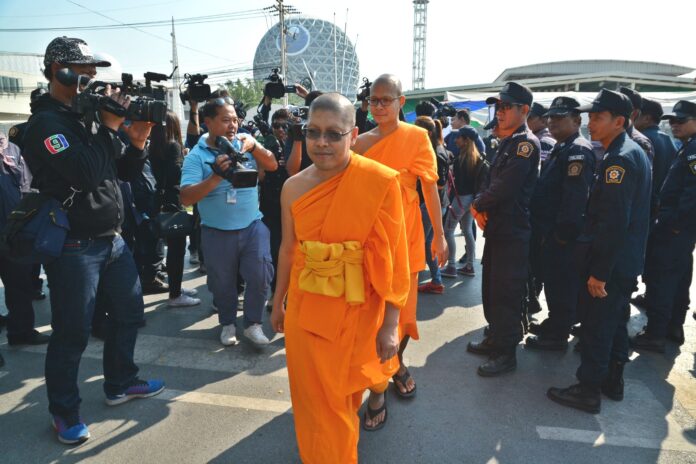 Live Updates From Wat Dhammakhaya Raid
PATHUM THANI — A spokesman for the besieged Wat Dhammakaya criticized the military government's raid Thursday as "un-Buddhist" and urged for a peaceful resolution to the standoff.
Temple spokesman Dantamano Bhikku said in reply to a reporter's inquiries that they were surprised at the latest move to arrest its ex-abbot and leader Phra Dhammachayo, who is believed to be hiding somewhere in the sprawling temple complex north of Bangkok.
"We were totally surprised, stunned and unexpected," said the monk, who is trapped inside the temple after junta leader Gen. Prayuth Chan-ocha exercised his power under Article 44 of the provisional constitution last night to declare the area a restricted area and surrounded the temple with hundreds of police officers, with checkpoints manned by army officers. The order allows officers to use force without judicial review or legal accountability.
Read: Search of Dhammakaya Begins, DSI Chief Says (Video, Photos)
"We have never thought Article 44 would be enforced in our case… We do hope that everything will resolve peacefully."
Thursday's attempted raid to arrest temple leader Dhammachayo is the third since June.
Dantamano said the move is "not a Buddhist way to bring peace and harmony." By noon, both the Department of Special Investigation and the Temple's board have negotiated on the legal framework allow some officers to enter the temple's compound to search for the ex-abbot who is wanted for money laundering along with other three hundred other charges. Some pushing and shoving with monks have been reported from inside the temple in early afternoon Thursday.
"Wat Dhammakaya respect the law. We are under Thai law. There have been many attempts to accuse us of involving with political groups or movements. We hereby affirm that Wat Dhammakaya only conduct Buddhist activities, without involvement of any political groups. We would like to ask the government to use peaceful means [to resolve] this case," said Dantamano, a former flight attendant.
Dhammachayo is wanted for allegedly accepting more than a billion baht in donations that came from the president of a credit union who is in prison for embezzlement. He's also been charged with illegal land encroachment.
Dantamano said temple estimated 10,000 devotees gathered at the temple, where they appear to be protecting the abbot, would not stand down. Another 3,000 or so monks and 500 novices are also inside.
However, he said any suggestion the temple keeps weapons and is prepared for violent resistance are untrue.
"Wat Phra Dhammakaya and devotees definitely do not do anything illegal such as possessing arms as rumors spread," he said. "We are unarmed."
Related stories:
Dhammachayo Removed as Abbot of Dhammakaya
Dhammakaya Defies Order to Halt Broadcasts
Deadline for Dhammakaya Abbot to Surrender Expires, Again
Renewed Bid to Capture Dhammakaya Abbot Weighed
A Look Inside the Besieged Wat Dhammakaya
Yellow & Red Seen in Orange Folds of Dhammakaya Scandal