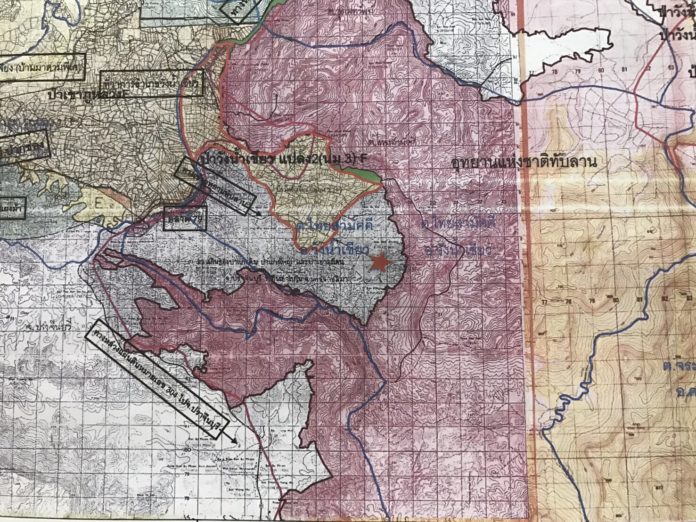 BANGKOK — A man who at the height of his career served in the innermost circle of the royal palace is now the subject of a criminal investigation.
Jumpol Manmai, a former deputy police commissioner and palace grand chamberlain, is accused of building a luxury mansion in a national park without permission, police announced earlier this week. The news came as a shock to many because he is said to be one of the closest confidantes of His Majesty the King.
Little is known about the case. Deputy police chief Srivara Ransibrahmanakul described the investigation as a "confidential matter" in his briefing to reporters Monday.
"It's a confidential matter in the case file," Gen. Srivara said, after reporters repeatedly asked him about Jumpol's alleged wrongdoing. "All of the details are in the case file, I cannot talk about them right now."
When reached for comment Wednesday, other officers were tight-lipped.
"It's like Gen. Srivara told reporters," police spokesman Krissana Pattanacharoen said.
"I cannot give you any information about this. Please talk to Gen. Srivara directly," said Maj. Gen. Supakorn Kamsingnok, commander of Nakhon Ratchasima provincial police and one of the officers named as investigators in the case.
Some details of this article has been been omitted to comply with the criminal royal defamation law.
According to police statements released to the media Sunday, the 66-year-old former deputy police commissioner is suspected of intruding on Thap Lan National Park in Nakhon Ratchasima with his 16-rai estate. He was charged alongside his wife, Chayanis Pisitthawanich, and former Nakhon Ratchasima police chief Pongdech Phrommijit.
The whereabouts of all three suspects are unclear. Spokesman Krissana said he had no details of whether Jumpol had already been arrested.
"I don't know about that," he said. "Please ask Gen. Srivara."
Srivara could not be reached for comment Wednesday.
Reports of charges against Jumpol first emerged on Friday when major media outlets were told by their contacts that the grand chamberlain was about to be prosecuted for land encroachment. They were also instructed by their contacts with the authorities not to report about Jumpol's case before the police made official statements.
Despite those instructions, Thai Rath broke ranks and briefly posted a story about Jumpol's mansion in Thap Lan National Park and a possible police investigation into the alleged intrusion Friday afternoon before deleting it without explanation an hour later.
Who is Jumpol Manmai?
A policeman by trade, Jumpol is better known as a well-connected political player with links to both former Prime Minister Thaksin Shinawatra, the influential tycoon-turned-politician and de facto leader of the Redshirt movement, and the traditional establishment.
While he served as deputy police commissioner, Jumpol was considered for the top job at the police force in 2009, but did not make the final cut.
He's considered by many political analysts to be a rare figure who can serve as a liaison between the Shinawatra clan and the palace circle.
After retiring from the force in 2010, Jumpol came back to the limelight in September when he was appointed deputy director of the Royal Household Bureau, a title also known as the Grand Chamberlain.
The job appeared to be tailor-made for him; the title of deputy director in the royal household did not exist prior to Jumpol's appointment.