PATHUM THANI — Khaosod English reporters Teeranai Charuvastra and Pravit Rojanaphruk are live at Wat Dhammakaya, where police have just begun to enter the grounds after a standoff that began at about 3am Thursday. This is their third attempt to enter the grounds to arrest former abbot Dhammachayo, who is wanted on embezzlement charges. All times are local.
6:40pm That concludes our live coverage of raid No. 3, thanks for visiting Khaosod English!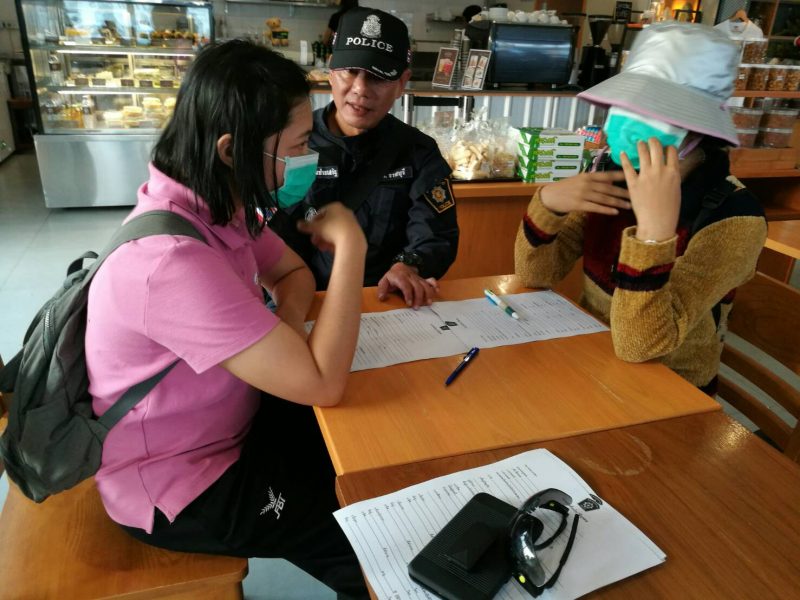 6:19pm Two women forced to give name, ID No., addresses, educational background, names of spouse and children. "If you don't fill out the form, it will be beyond my authority, and I will have to tell my commander you two are not cooperating. … If you're innocent, you have nothing to fear," police officer tells them.  After nearly a half hour of cajoling, they sign and depart in obvious fear.
6pm News Conference: DSI said it only searched a small portion of the sprawling temple campus Thursday. It still believes Dhammachayo is on the temple grounds and said another search will take place Friday. DSI spokesman Woranan Srilam said they "still have confidence in our intelligence reports. We did not find him today, but our information is still credible."
Temple followers at the gates before police entered, he said, would not be charged with obstruction of justice.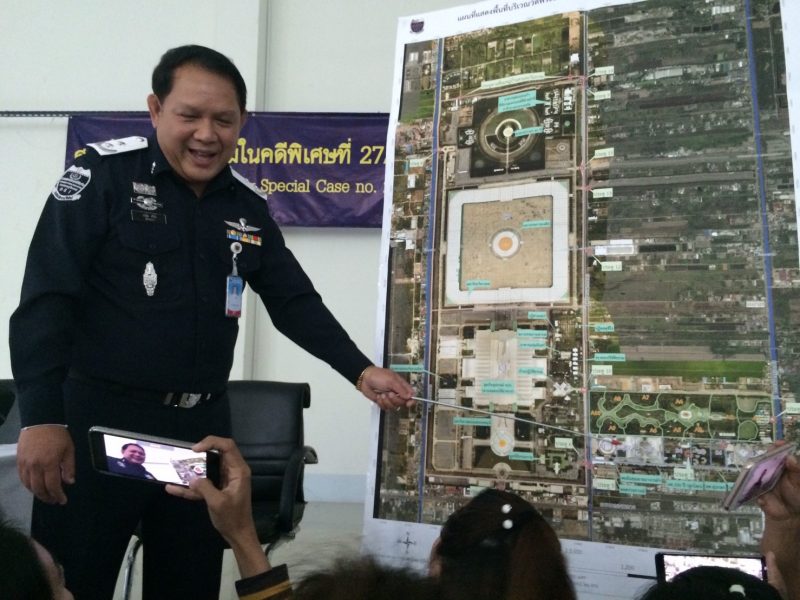 5:39pm Police are asking people leaving temple compound to write down their personal information. "I'm afraid," said one of the women asked.
5:33pm The DSI allowed two cars in through Gate 7.
5:03pm A truck carrying temple followers was negotiating entry in through Gate 7.
4:49pm DSI chief Paisit Wongmuang just exited via Gate 5, destination unknown.
4:45pm Scores of police officers walked out of the temple's Gate 1, suggesting the operation is coming to an end. DSI chief Paisit Wongmuang is believed to still be inside, however.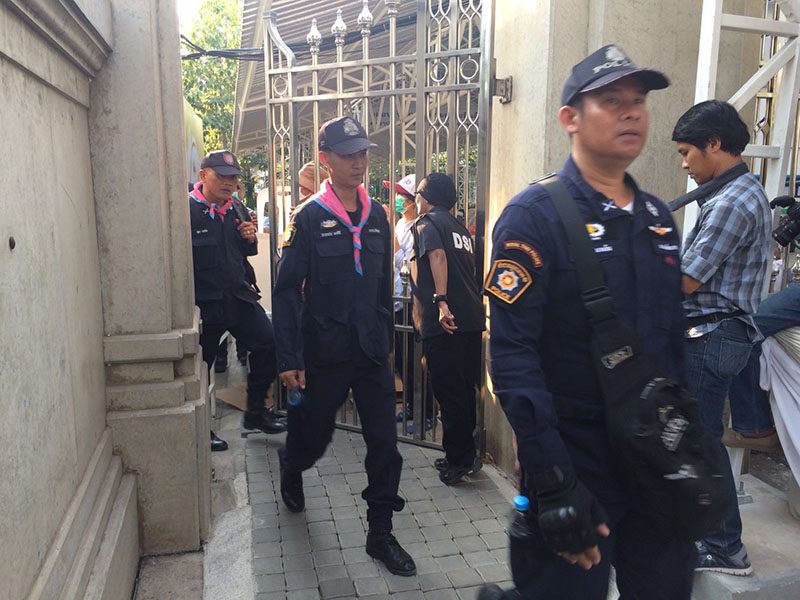 4:40pm Digging In? Temple rep says no deal reached with law enforcement. A cop says they brought clothes and supplies for at least three days.
4:30pm Temple Reports: A temple media rep tells Pravit Rojanaphruk that police "searched the 196 rai area. we fully cooperated. they still here, thought [sic].' The rep said 200 officers entered. Some have left the inner area, but the representative did not know if they have all left the compound.
"They should have left as they said they would leave [if] found nothing."
4:02pm Cops Leaving: Teeranai Charuvastra livestreaming as the police depart Wat Dhammakaya. No sign of former abbot Dhammachayo.
3:52pm: DSI says a news conference about today's operation will be held at Khlong Luang Police Station at 5pm.
Meanwhile, DSI officers have started to file out from Wat Dhammakaya through Gate 1. Members of the media are not allowed inside by temple guards manning the gate.
3pm Live: Teeranai Charuvastra is live at Gate 1, where police have entered the temple complex. The temple allowed inside a foreign media team but no Thai reporters. Follow link or enable volume on embed below.
2:35pm Temple Spokesman: Pravit Rojanaphruk has gotten some English-language statements from a temple monk-spokesman Phra Pasura Dantamano:
"We are totally surprised, stunned and unexpected. … We have never thought Section 44 would be enforced for our case. We have not expected such treatment in this case. We do hope that everything will resolve peacefully.
"DSI and Temple's board have discussed this morning regarding the legal framework and how to enter the premise temple based legal framework in the section 44's order. After discussion, both reach the mutual understanding of the law and how to conduct the search. Afterward, they already entered gate 8. We believe that both DSI and Wath Phra Dhammakaya want things to end peacefully. However, monks and devotees will continue to do the good works for peace, no matter what happens. This is the temple they have built and it is the vision they believe in.
"Wat Phra Dhammakaya respect the law. We are under Thai law. There have been many attempts to accuse of involving with political groups or movement. We hereby affirm that Wat Phra Dhammakaya only conduct buddhist activities, without involvement with any political groups. We would like to ask the government to use peaceful mean on this case. We believe the government, What Phra Dhammakaya and all Thai people want to see peace and harmony in this country."
2:31pm Toilet Trouble: About 30 monks are blocking a lane connecting the main road and Gate 6, refusing to part way for portable toilet vehicles to support the hundreds of police officers besieging the temple.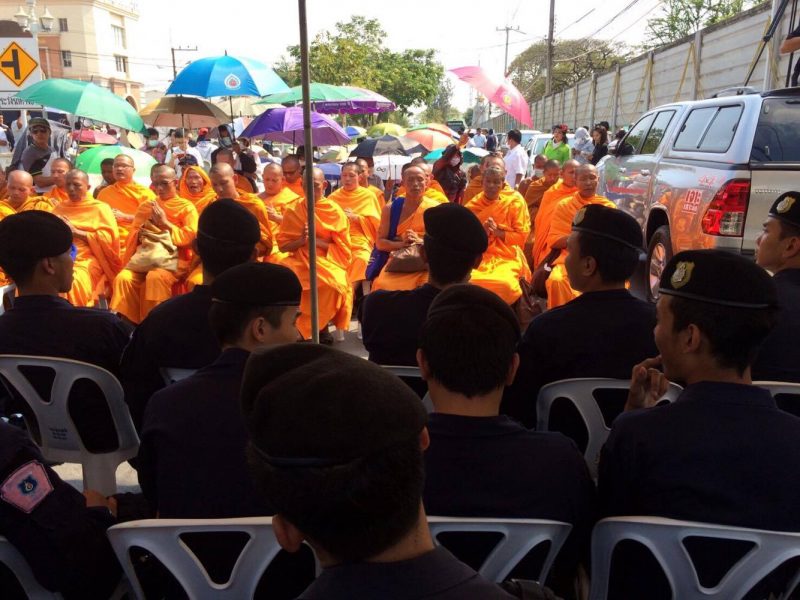 2:28pm Long stay? Ratchaburi provincial police at Gate 7 say they're prepared to stay for three days.
2:18pm Negotiations Fail: After cutting off locks, two companies of police have entered the temple through Gate 1, where the number of worshipers is fewer than elsewhere. A commander of the raid said negotiations failed, so they had no choice but to break through the gate.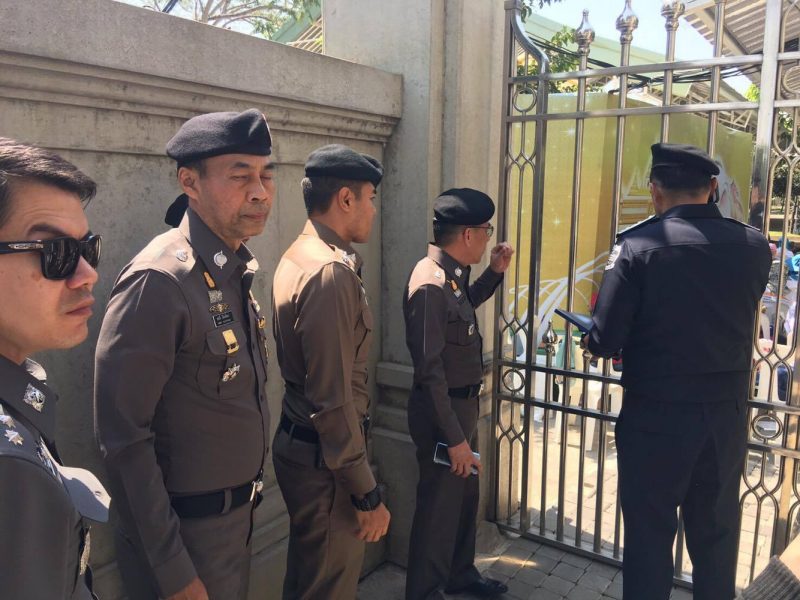 2:10pm A company of mostly female crowd control officers just arrived outside Gate 6 to face off with temple followers.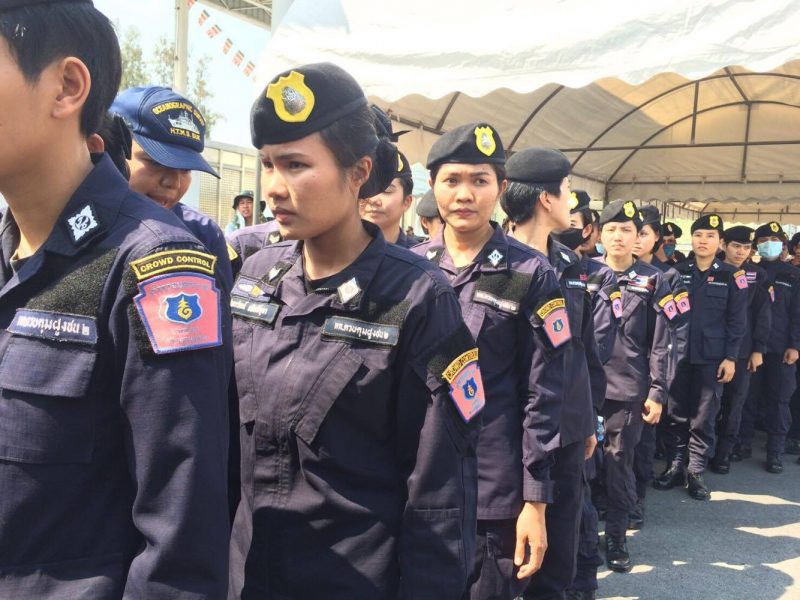 2:08pm Police nap inside a cafe across from the main entrance.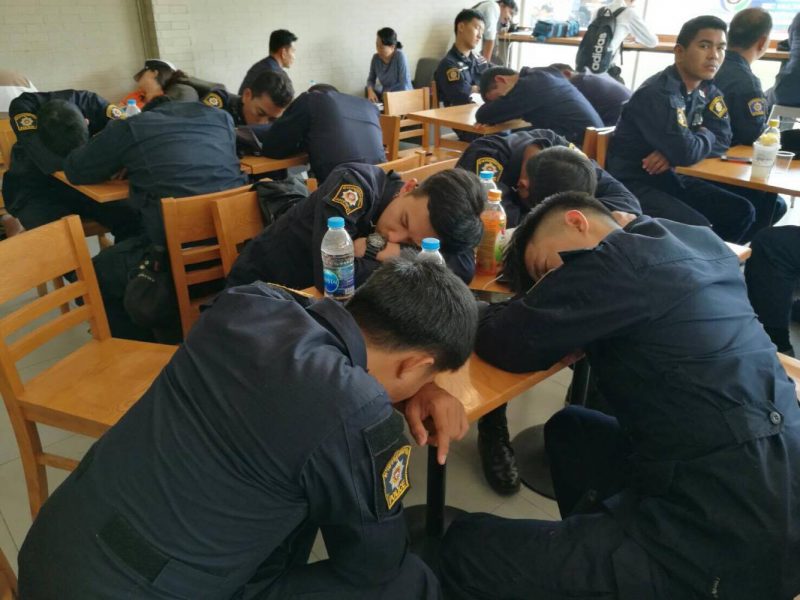 2:02pm Gate 7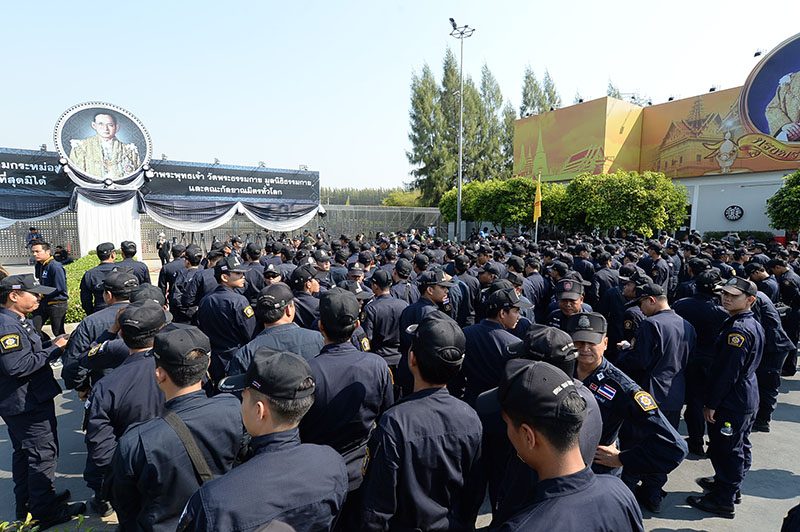 2pm A van with tinted windows and a pick-up truck, both from the temple, departed out Gate 7 about 10 minutes ago.
1:51pm Teeranai Charuvastra is livestreaming at Gate 6.
1:50pm The scene outside Gate 6.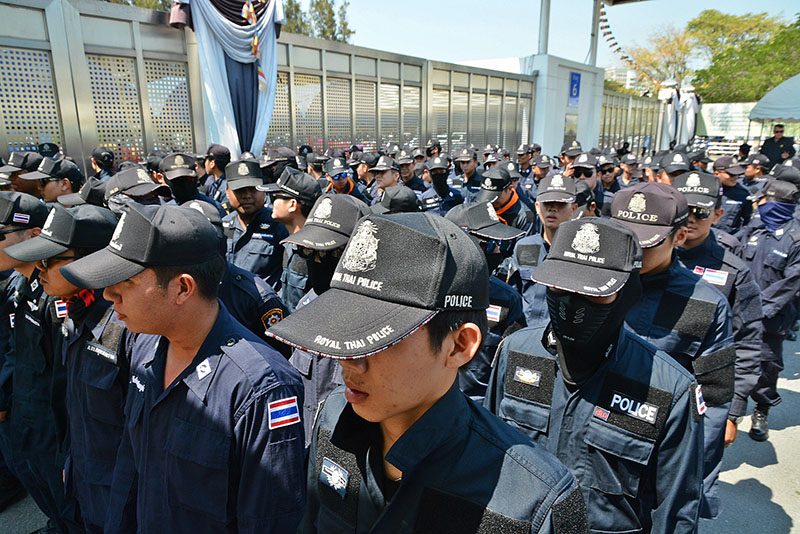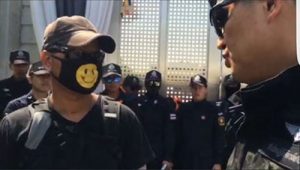 1:44pm An argument has broken out in front of Gate 6 between a masked temple supporter and DSI officers. The man tried to enter the temple but was stopped by officers who threatened to arrest him. The man agreed to be escorted away.
1:28pm Pravit Rjanaphruk is livestreaming with disciples.
1:26pm Beyond the barricades temple, loudspeakers play incessant chants after chants of Buddhist prayers to which worshipers pray along. Temple "scouts" – masked men wearing backpacks and holding phones – dart back and forth along the fence, watching every police movement.
1:15pm The situation turns tense as police and DSI appear to close in on some temple gates.
Reports say DSI chief Paisit will lead an operation to cut down locks of Gate 1 and enter the temple while police companies are now forming ranks in front of Gate 6.
Reporting/writing: Teeranai Charuvastra, Pravit Rojanaphruk, Sasiwan Mokkhasen, Todd Ruiz, Lobsang Dundup Sherpa Subirana, Chayanit Itthipongmaetee, Asaree Thaitrakulpanich, Kaewta Ketbungkan