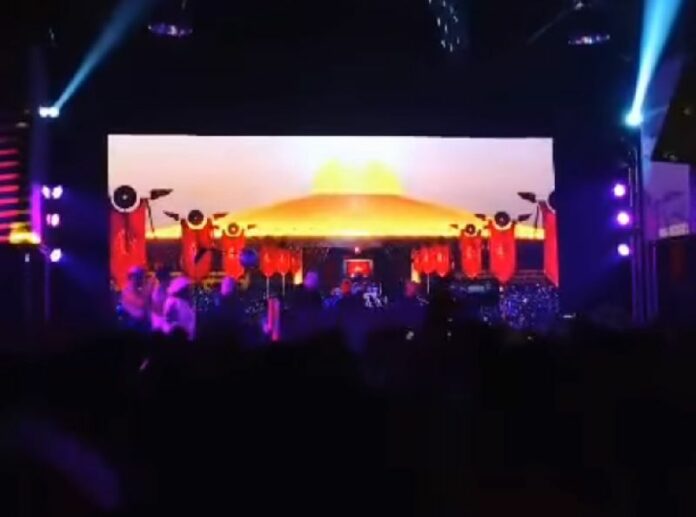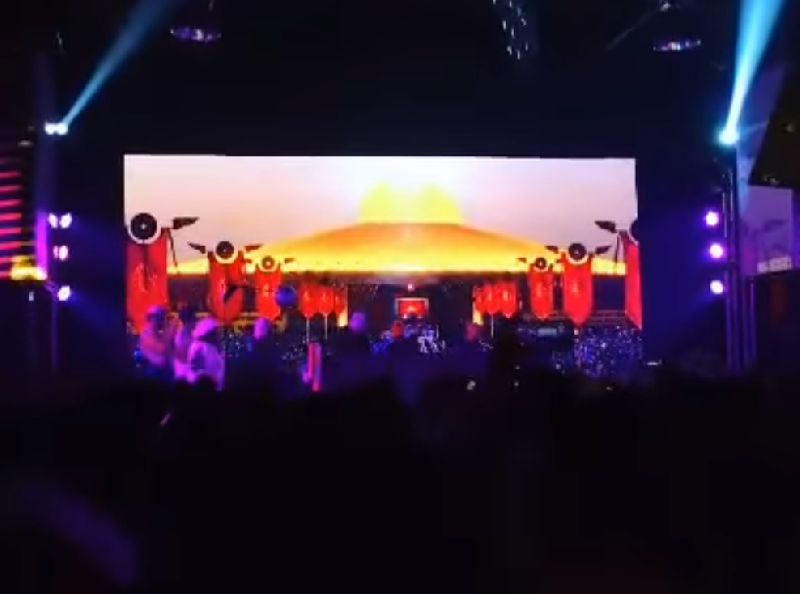 BANGKOK — A pop music event organizer apologized for lampooning the controversial Buddhist sect Dhammakaya at a party Saturday night following threats of legal action by the group.
Even as its headquarters were under siege by law enforcement officers, and its leader wanted on embezzlement charges, the Dhammakaya sect said it was preparing a defamation suit against party organizer Trasher for blasphemy.
---
Dhammakhaya Sect Goes Into Siege Mode to Protect Fugitive Abbot
---
Dhammakaya spokesman Ong-art Dhammanitta said at a Sunday news conference that Trasher mocked the sect by showing photoshopped images of its UFO-like headquarters on the screen at its "Bitch You Better work it work work work It out" event at CentralWorld shopping mall.
Some party revellers also cosplayed as Dhammakaya monks and danced in front of the screen.
"As a Buddhist, I condemn the aforementioned action, and I have arranged for the legal team to collect evidence to take action against all those responsible," Ong-art said.
Ong-art added that Trasher's attempt at humor was not only an attack on Dhammakaya, but was blasphemous against Buddhism as a whole, and he called upon national Buddhist authorities to join its legal action against the party organizer.
Photo shown at Dhammakaya's news conference on Sunday.
Trasher is a queer alt-media collective known for organizing parties with sassy, humorous themes. In a statement Sunday, it apologized.
"We apologize for showing the photoshopped images, and we apologize on behalf of party attendants who dressed up in a mocking way," it said. "The incident that happened may lead to court proceedings. Therefore, at this moment, we cannot explain or say much about it, other than apologizing for what happened."
Dhammakaya is often ridiculed on social media for its extravagant pageantry and teachings that place emphasis on donations. The sect, which has strong support among the moneyed elite, is also considered heretical by many mainstream Buddhists.
To protect its name, Dhammakaya occasionally goes on the offensive, using a carrot-and-stick approach of both making ad buys and threatening lawsuits.
Siege Ongoing
But in recent months Dhammakaya found itself the target of legal threats, with the Department of Special Investigation accusing its 72-year-old leader Dhammachayo of receiving millions of baht in embezzled funds.
After Dhammachayo refused to surrender to police per his arrest warrant Thursday, law enforcement officers have surrounded the Dhammakaya complex in northern Bangkok in an effort to arrest the charismatic abbot.
Around 5,000 disciples and monks are believed to be residing at the temple. Dhammakaya staff put up barricades and barbed wire around the complex, presumably as a defensive measure.
But as of Monday, Department of Special Investigation director Paisit Wongmuang hinted that an operation to storm the temple won't happen any time soon, and that no warrant had been sought to do so. He also said officials are avoiding any incident that may lead to violence.
"According to the law, consideration of entering [a property] and arresting a suspect has to look at situations and many elements together," Paisit said. "If we go in and arrest someone, and it causes consequences and damages, we have to consider whether it's worth it."
Related stories:
Hundreds of Monks Clash with Military West of Bangkok (Video)
Politics, Corruption in Battle for Naming New 'Supreme Patriarch'
Protest Prompts Officials to Postpone Dhammakaya Monks March
Thai Religious Authority Denies Acquitting Controversial Monk
Dhammakaya Abbot Allowed to Continue Monkhood