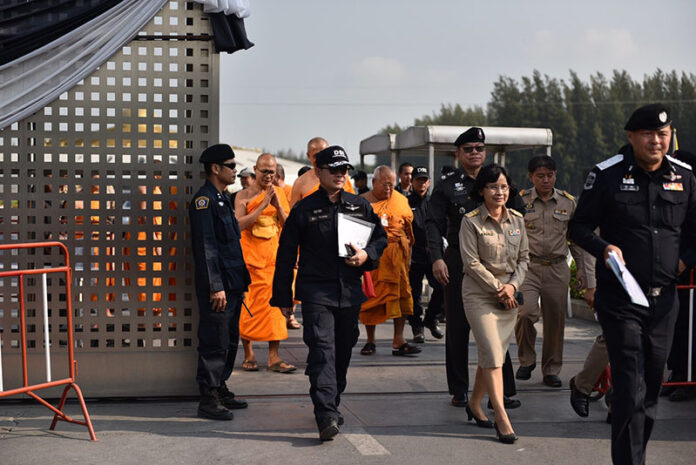 PATHUM THANI — The Department of Special Investigation now believes the fugitive leader of Wat Dhammakaya has fled his temple and will soon lift its blockade, a spokesman for the said Saturday.
Three weeks of siege operations culminated Friday with the search of an unfinished hospital where the 72-year-old Dhammajayo was thought to be hiding. But the monk was nowhere to be found, and authorities now say they've run out of places to search inside the sprawling temple complex.
"The temple insisted that Phra Dhammajayo was ill, and he could not leave his bed inside the temple," DSI spokesman Woranan Srilam said by telephone. "So we had to search the temple to clear any doubt. Now that we have searched it and he was not found, it proved the temple's claim was false."
Read: Dhammakaya Allows DSI Search of Hospital
Security forces will still maintain a presence around Wat Dhammakaya, but the DSI is planning to lift its blockade and permit access to the temple soon, the spokesman said.
He said the decision comes after the DSI searched every everything it wanted to inside the temple.
Dhammajayo has not been seen in public since May, when he was charged with embezzlement and money laundering.
Asked where the elusive monk might be, Woranan said he could be hiding in one another temple belonging to Dhammakaya, but added that intelligence units would be assessing their information before mounting another attempt to capture him.
"Let me stress that any operation or use of force will only follow firm intelligence," Woranan said.
The three-week siege of the temple was the third time during the past year law enforcement has attempted and failed to arrest Dhammajayo.
Related stories:
DSI Suspects Dhammajayo Hiding in Newly Fortified Hospital
Dhammakaya Monks Confront Soldiers Trying to Enter Unfinished Hospital
Inside Wat Dhammakaya, Defenders Say Morale and Mistrust Run High