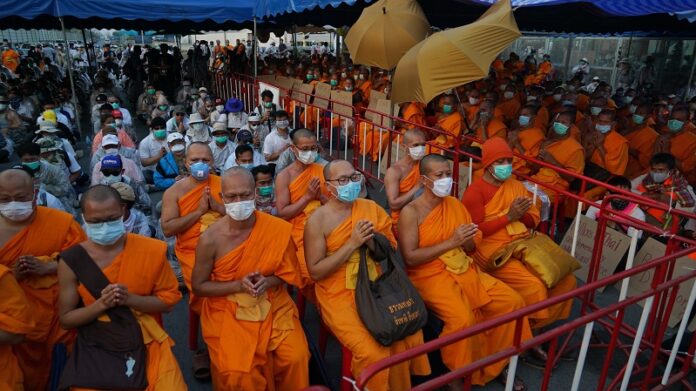 BANGKOK — A day after brief skirmishes broke out between police and monks and devotees of Wat Dhammakaya, the temple Tuesday banned journalists from three television stations from its property.
Accusing the stations of "very biased" reporting, the temple announced it would not grant access to Nation TV, T News and Amarin TV to cover the ongoing conflict over attempts to arrest its former abbot, Phra Dhammachayo.
Dhammachayo is wanted on money laundering and about 300 other charges. Citing illness, he refused to turn himself in last year and has been a fugitive since then. The temple, located in northern metro Bangkok, says the charges are politically motivated.
Read: Old Grievances Flare on Social Media Over Dhammakaya's Divisiveness
"Yes, they are banned as they showed very biased news and rumors of third party [agent provocateurs]," said a temple spokesman who asked not to be named. "We're afraid the third parties might try to make a scene and frame devotees."
Last Friday a temple source said they worried someone might bring illegal material such as pornography into the compound to damage their image.
The source said journalists from the three stations would no longer be allowed inside the sprawling temple compound, even if the Department of Special Investigation, which is in charge of the operation, opened a gate to allow reporters inside. "All three [stations] showed many incorrect and biased news," said the source, adding that while the ban was indefinite, all other press were welcome.
As of Tuesday afternoon, Nation TV President Adisak Limparungpata did not respond to a message sent via social media asking whether the temple's ban infringes on press freedom.
Related stories:
Old Grievances Flare on Social Media Over Dhammakaya's Divisiveness
Cops and Monks Clash at Wat Dhammakaya
DSI Orders Wat Dhammakaya Vacated by 3PM Sunday
Live Updates From Wat Dhammakhaya Raid
Junta Declares Dhammakaya Temple Controlled Area, Police Move in
Dhammachayo Removed as Abbot of Dhammakaya