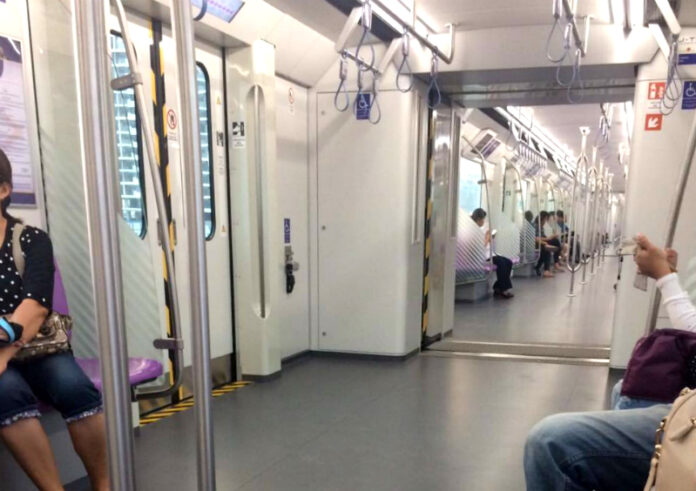 BANGKOK — Until the missing link between the new Purple Line and MRT Bang Sue is completed, passengers will pay a flat rate to travel between any of its 16 stations on weekends and holidays.
To boost the 7-month-old line's low ridership, passengers will pay flat fares of 15 baht starting March 4 for all destinations on weekends and national holidays. The flat rate for students will be 14 baht and 8 baht for senior citizens.
Transit authority head Peerayuth Singpattanakul said the policy is aimed to increase use of the Purple Line, which is seeing just over 10 percent of its expected use. Where 200,000 daily passengers were expected, roughly 23,000 board daily.
The extension runs from MRT Tao Poon, about one kilometer west of MRT BTS Bang Sue, northwest through Nonthaburi province.
It will be in effect until the rail link between those two stations is operational, which should result in increased use. Although the primary construction is complete, the link isn't running yet due to disagreement over contracting an operator for the train.
It finally saw some progress last week as the same company who runs the original MRT Blue Line, Bangkok Expressway and Metro PCL., was contracted to implement the system and run the link for two years in exchange for 918 million baht.
The Transport Ministry said it would be ready in August.
Related stories:
Absolute Power Fails to Solve MRT's Missing Link
With a Stroke of His Pen, Prayuth Solves MRT's 'Missing Link' Problem
New MRT Purple Line Will Connect to Blue Line, But Not Anytime Soon
Frustrated Mess When Thousands Queue for Free Purple Line Tickets (Photos)