PATHUM THANI — Wearing a facemask and clutching a rucksack, Umavadee Mitkul said she was camping inside Wat Dhammakaya with thousands of with her fellow worshipers because she wants to protect what's rightfully hers from the authorities.
"Every baht that made the temple was from our pockets," Umavadee said on Monday afternoon. "So we are here to protect what our own money has built."
Umavadee spoke late Monday afternoon along a dirt lane running just outside a southern wall of the massive temple complex. It was here that a group of soldiers set up a makeshift ladder and helped pull over a low wall those who wished to leave the compound, which has been under siege by security forces since Thursday. Umavadee said she had to go tend to her elderly mother, but pledged to return.
"I know it would be difficult to go inside the temple again, but if that's the case, I will send them my moral support," Umavadee said. "I think I'm doing my duty at my very best."
Umavadee and about two dozen other worshipers described the situation inside the temple, where an atmosphere of high morale and sense of rightness were felt among those assembled to defend a spiritual leader sought by police on money laundering charges.They also spoke of growing suspicion and mistrust of the authorities that are encircling the property, doubts possibly encouraged by temple elders.
In their effort to locate 72-year-old former abbot Dhammachayo, police and officers from the Department of Special Investigation, or DSI, have blockaded entrances around the temple complex. On Monday, it was an army commander who came up with the idea to provide a way out for those wishing to leave.
Borderlands
Lt. Col. Kowit Sangkanakara said the original order for his infantry unit was to watch over a section of Wat Dhammakaya's southernmost wall, but he noticed that a patch of grass and a dirt track between his position and the next unit was unguarded. He could see people wearing backpacks darting through the trees and jumping over the walls, swelling the number of worshipers inside.
It was a vulnerable spot for the security cordon. One could park nearby, wade through shoulder-high grass, cross some open ground and go over a wall directly into Muang Kaewmanee, the residential quarters for Dhammakaya followers.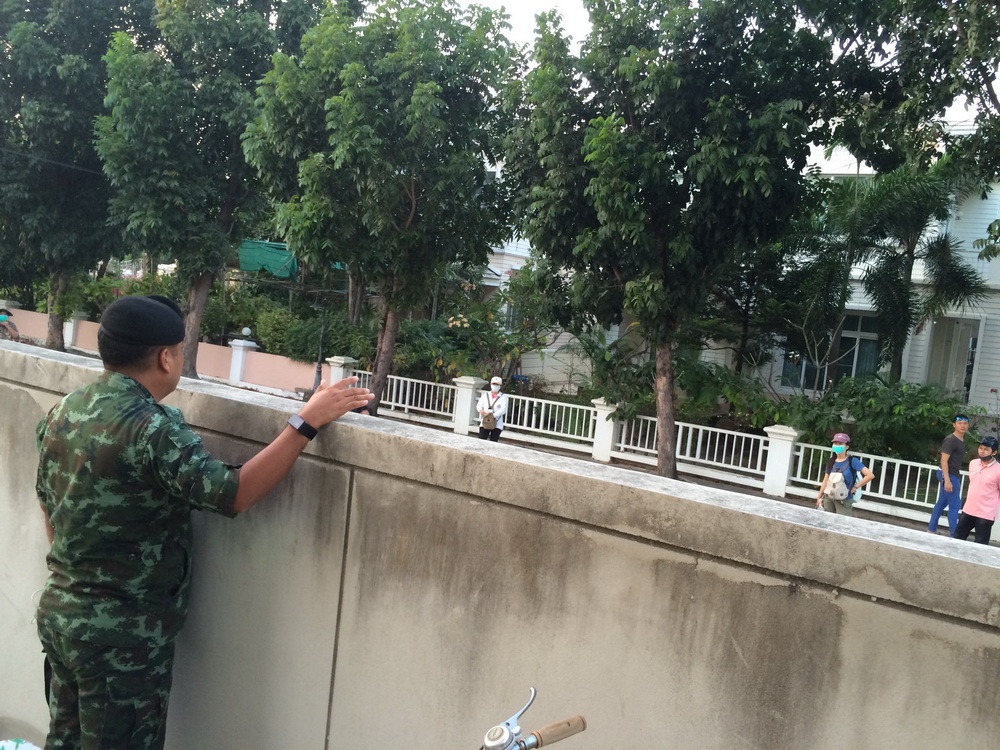 "They were having a parade right beside my position. I couldn't just sit and watch," Kowit said. After a pause he couldn't help but admire their physical and mental strength.
"They put us soldiers to shame. You see that wall? I saw a grandmother jumping and climbing it on her own," he said.
So Kowit led his troops on patrol to deter temple reinforcements. Under an order issued by the junta on Thursday, Dhammakaya Temple was designated a restricted area people can leave but not enter while the search for the elusive Dhammachayo continues. A reporter saw at least three worshipers, clad in distinctive white, stopped and turned away by the patrol.
Apart from people trying to enter, Kowit also noticed those trying to leave. He said some worshipers talked to him over Muang Kaewmanee's wall and told him they'd rather leave under guard from soldiers because they didn't trust the police or DSI.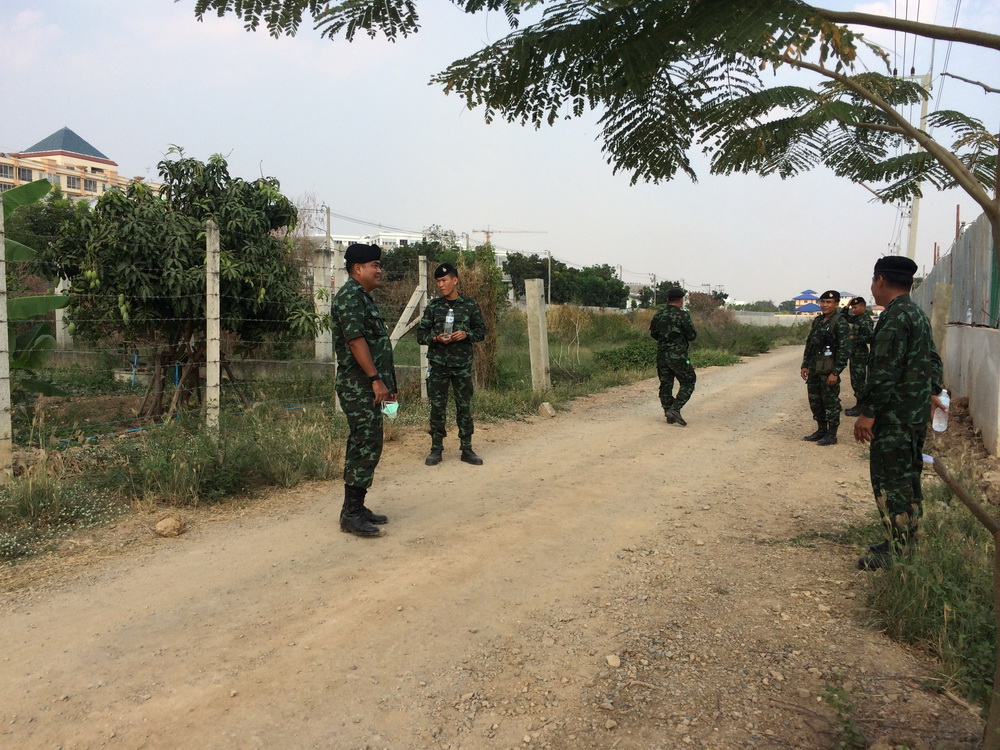 "We had to talk to them for a big while before they believed us," the lieutenant colonel said. "They wanted to go home, but they were afraid they would be arrested or photographed, or have their details taken down [by DSI]. But we don't do that here. If we do that, it's only going to make things worse."
'I Chose to Stand on the Side of Luang Por'
People streamed through Kowit's small point of egress all Monday afternoon. Most were women. A majority declined to speak, citing either their fear of the authorities or need to leave as quickly as possible. Some gave brief answers before continuing on their way, bags and camping equipment in hand.
"Everything is okay. Everything is calm. We're not afraid," one elderly woman said as she made her way to the main road.
Most were nonchalant.
"Things are normal inside," said a young man who was leaving alongside what might have been his parents. "I'm just leaving to do some business, and we will be back again."
Another woman had this to say: "I have just one sentence for you: We're upholding Buddhism. We are not afraid. Luang Por has only done good things for us."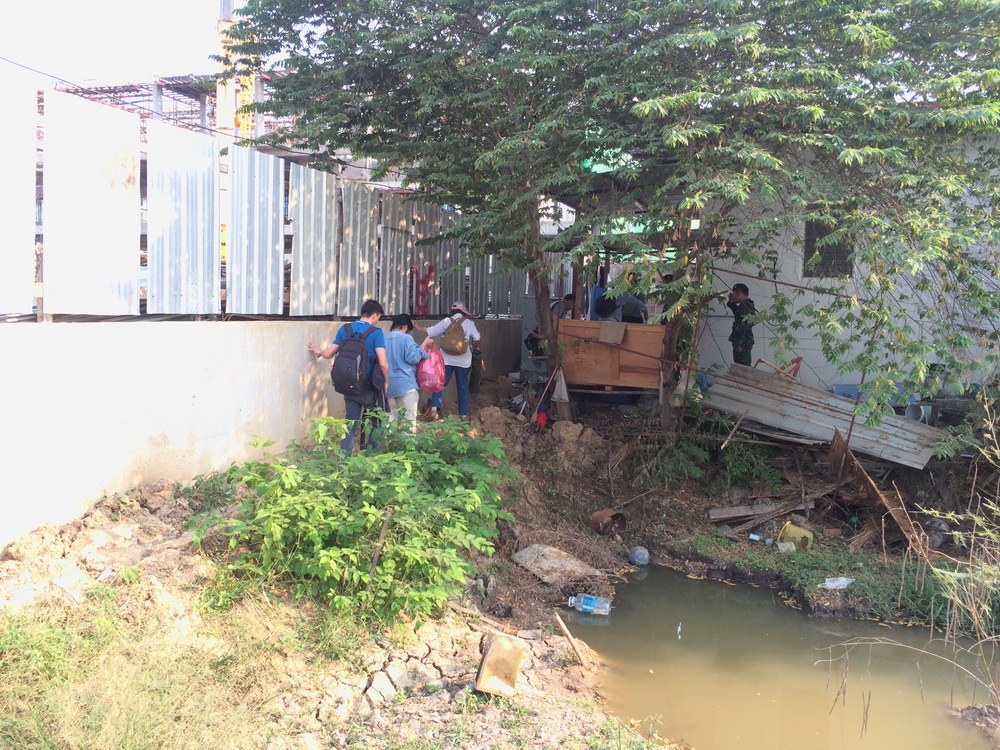 Those who agreed to answer questions offered a passionate defense of both the temple and their charismatic leader, Dhammachayo.
"To put it simply, I'm willing to die for Luang Por. I believe he's still here," said a woman who did not give her name for fear of repercussions. "He told us he would fight and die at the temple. He's a man of his word."
Another woman, Ruchiraporn Nilaphan, said she was first brought to the temple as a child by her mother.
"I was here when a prayer hall was still thatched with reed, and the great chedi was still just a pile of earth on the ground," she said. "Back then I wasn't a devotee like my mother. Because I had heard negative news, I used to be anti-Dhammakaya, too. Until I discovered myself how the temple brought so many good things to my life."
She said she's convinced Dhammachayo is innocent, and she believes he wouldn't receive a fair trial if he turns himself in.
"Whatever he does, he's never treated fairly," Ruchiraporn said. "The entire country never treats him fair. And let me tell you, even if he's arrested, my faith in him would still be the same … I choose to stand on the side of Luang Por."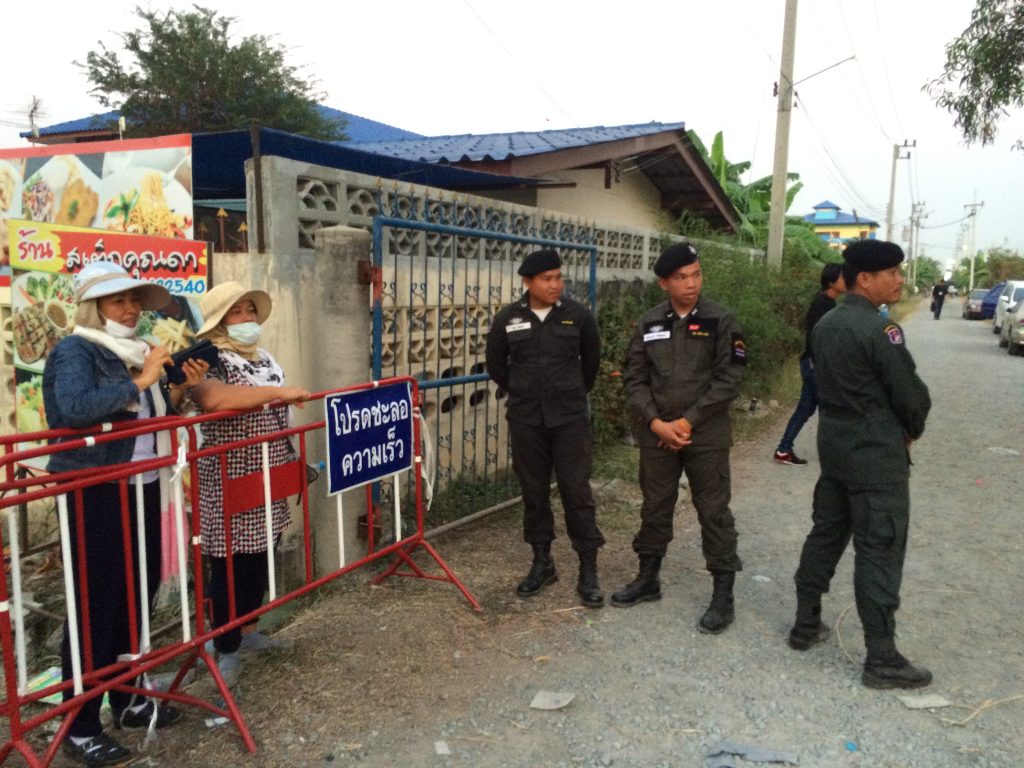 Many mainstream Buddhists view Dhammakaya and its leaders as heretical, largely due to their focus on material wealth. Dhammakaya also boasts strong support among urbanites, businesspeople, politicians and bureaucrats, a network of influence that may have alarmed the authorities.
Two men who declined to give their names questioned the authorities' use of force in besieging the temple.
"A temple is a place for meditating and praying. Why are they violating our basic rights? It's strange. Why do they have to do this to us?" one of them said. "I fear there will be a crackdown. I'm afraid there would be loss of lives."
Police officials have denied claims that they used unnecessary force and insist they are committed to a peaceful resolution.
Thai authorities don't have a good track record when it comes to dispersing crowds. Deadly force has been used to clear out dissidents repeatedly in the modern era. Many in the temple said the situation reminds them of the October 1976 massacre, when police commandos and paramilitary groups stormed Thammasat University to clear out alleged "communists" and ended up killing scores of students. More recently in 2010, more than 90 people died in a military operation to disperse Redshirt protesters in Bangkok.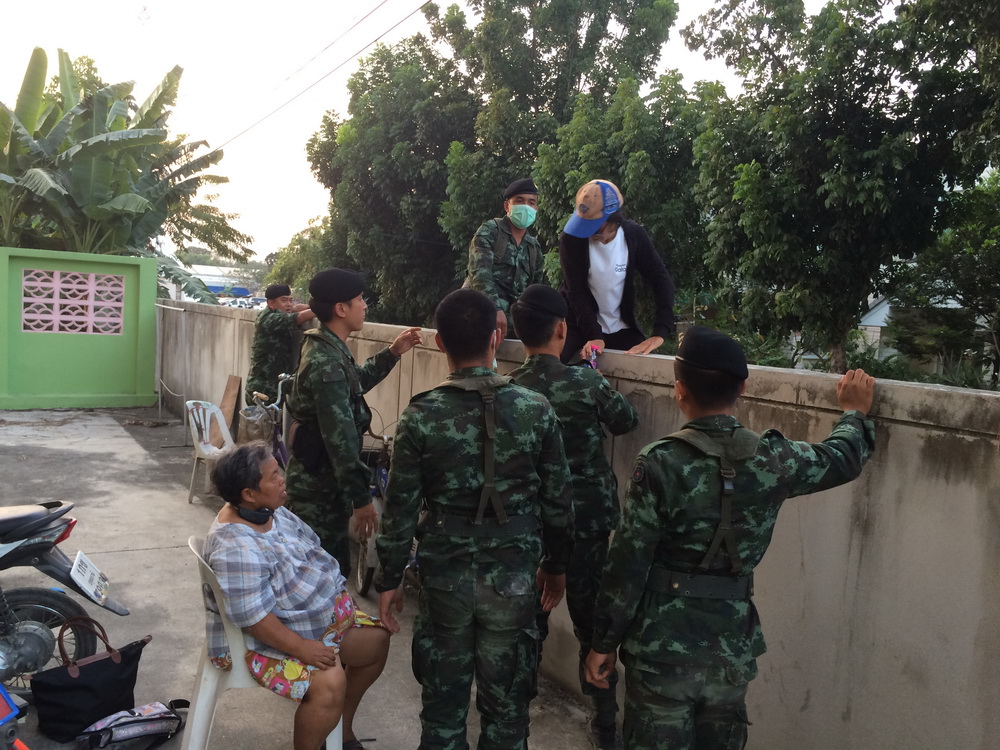 A woman who would not identify herself beyond saying she works as a reporter for a newspaper said she suspects the authorities want to put an end to Dhammakaya for good.
"They spent three days searching already. They couldn't find him, but they still don't give up," the woman said. "They want to overthrow Dhammakaya."
She said they want to steal the eight statues of Dhammakaya founder Luang Pu Sodh Candasaro, each of which is said to be made from a ton of pure gold.
Asked if she's concerned the DSI will succeed in driving them out, she said it's the DSI who should be worried, predicting that temple followers will keep arriving until they encircle the security forces.
"Do you know the principle of 'jungle surrounding city?' We have millions of disciples," she said. "We know what we're doing. You will see the vijja [teachings] of Dhammakaya are real stuff."
Everyone interviewed said the monks and worshipers inside are unarmed and only praying for peace.
Fear Factor
Nearly everyone said they had wanted to leave earlier – some said they hadn't showered for days and that supplies were running low – but they felt too intimidated by the police and DSI to leave through the main gates. They said they feared security forces would photograph them and have their records taken for later prosecution.
A Khaosod English reporter on Thursday witnessed two women being forced to fill out a form with their personal details if they wanted to leave. Officers would not say what the information was for. One question asked the signer what weapons they possessed.
Lt. Col. Kowit, the officer in charge of helping people leave over the wall, criticized the police and DSI for relying on a show of force instead of finding ways for people to leave without repercussions.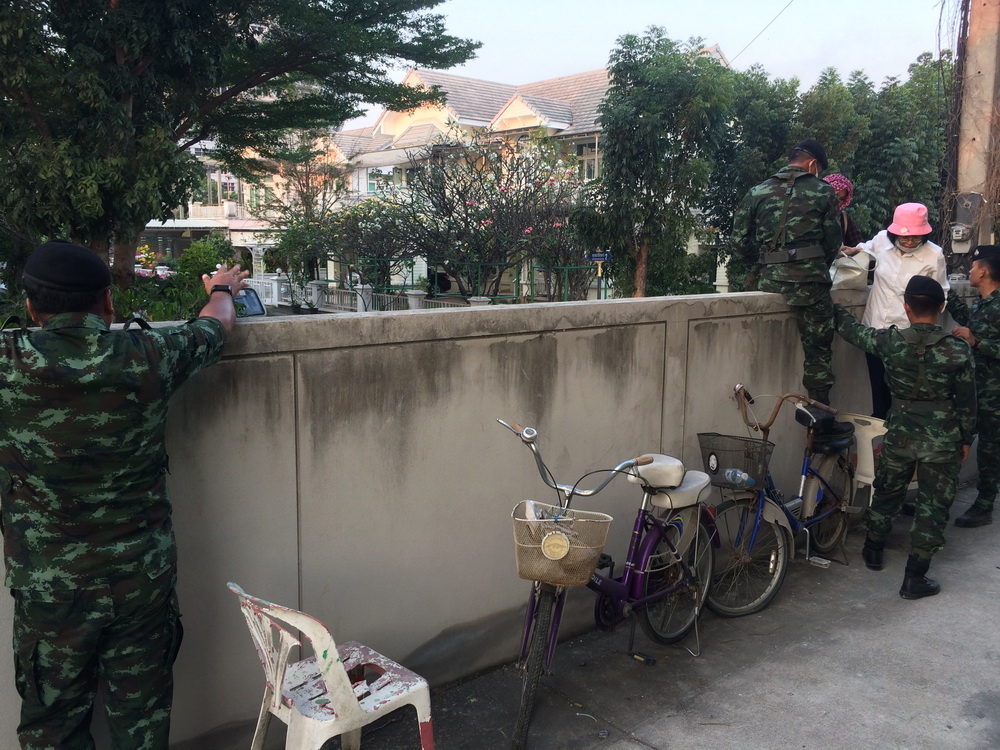 "I think sometimes we focus on strategy and forget other things," said Kowit, who commanded a battalion from the 2nd Infantry Division.
Speaking via telephone Monday night, police spokesman Krissana Pattanacharoen said he's not aware of such practices being enforced on the siege line, but acknowledged the DSI might have different procedures.
Nevertheless, he said anyone asked to give up their details would not face any charges or arrests.
Temple monk-spokesman Dantamano Bhikkhu said the DSI initially agreed to let people leave without issue, but they reneged on their agreement.
"When they left, the police took their names and photos. Some of them were harassed verbally. As a result, they're scared to leave," the monk wrote in reply to questions. "We negotiated with the DSI about this before. They said they would let people leave but never mentioned taking their names."
But many temple followers leaving the compound Monday had heard a rumor inside the temple that they would be arrested and fined, even if they left through the exit point guarded by soldiers.
One man cautiously walked along the path to the main road, as guided by soldiers, and called a friend to tell him to follow when he was sure they would not be arrested.
A group of women in their 50s thanked the soldiers for pulling them over the wall and were surprised hear the rumor was untrue.
As the sun began to set, a crowd of worshipers gathered on the Muang Kaewmanee side of the wall. Some called to the soldiers, saying they were told they would be taken into custody if they left.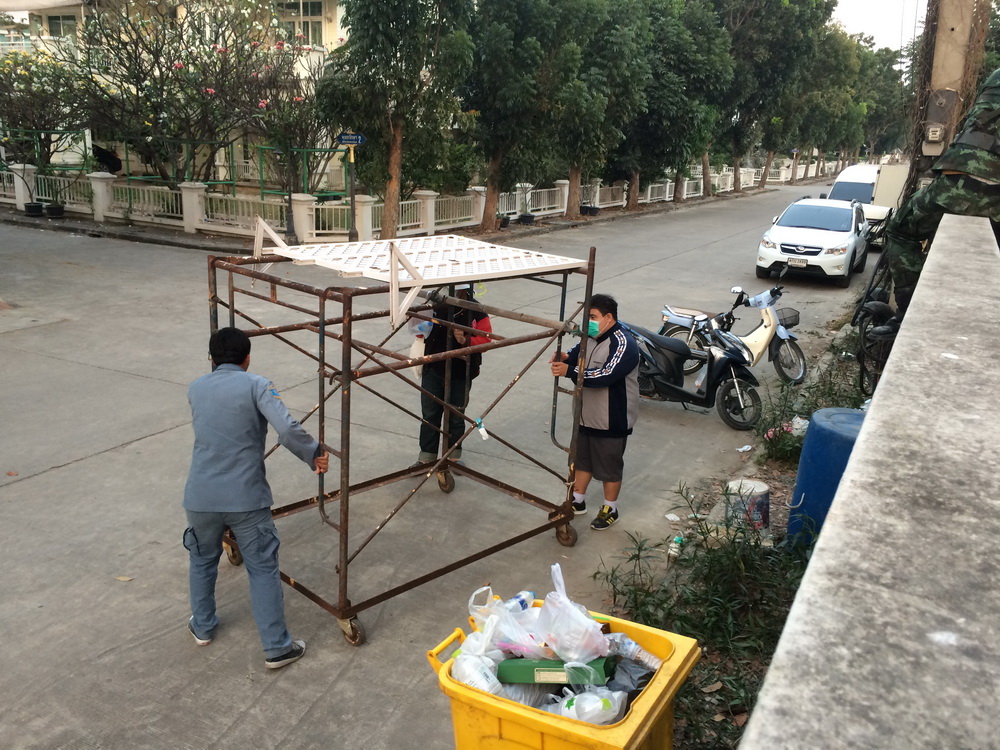 "They said that someone's already been fined 10,000 baht," one woman said. "They said there's a hidden camera over there, and that [the police] will track us."
Eventually a group of men, who said they were staff at Muang Kaewmanee, arrived to remove the makeshift ladder set up by the soldiers. They said their administrators "fear trouble" if the evacuation continued.
After several more women crossed the wall, the steps were taken away, and Lt. Col. Kowit pulled back his force. "Our mission here is over!" he called out one last time. "It's not up to me!"
Kowit said he's concerned that Dhammakaya leaders might be spreading rumors to keep worshipers inside as "human shields."
"They are afraid of losing the masses inside the temple. They are using every psychological method to keep the masses inside as much as possible," Kowit said, adding that he believes more than 1,000 people left through his exit point. "I have to admit, their psy-ops are very, very good."
Dantamano Bhikkhu, the Dhammakaya spokesman, said everyone is free to leave.
"On the temple side, people are free to come and go as they want. The temple has never stopped anyone from leaving," he wrote.
Related stories: 
Dhammakaya Bans Three TV Stations For 'Biased Reporting'
Old Grievances Flare on Social Media Over Dhammakaya's Divisiveness
Cops and Monks Clash at Wat Dhammakaya
DSI Orders Wat Dhammakaya Vacated by 3PM Sunday
Live Updates From Wat Dhammakhaya Raid
Junta Declares Dhammakaya Temple Controlled Area, Police Move in
Dhammachayo Removed as Abbot of Dhammakaya