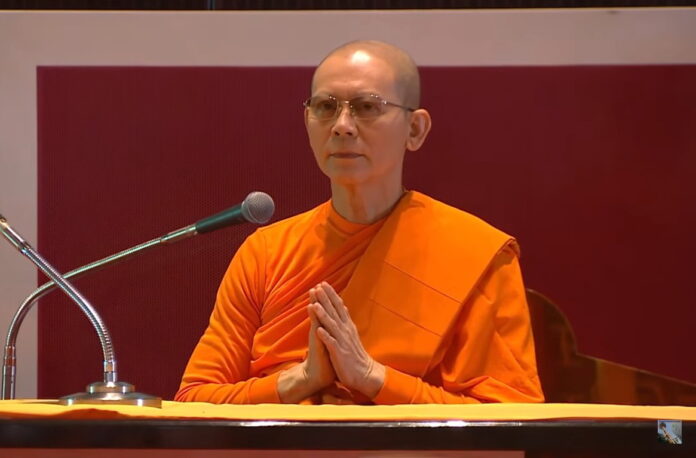 BANGKOK — A court on Friday issued an arrest warrant on charge of land encroachment against the leader of an influential Buddhist sect, who's also accused of embezzling millions of baht.
Abbot Dhammachayo violated forest laws by building one of his religious facilities without a proper permit in Korat's Khao Yai National Park, said deputy police commissioner Srivara Ransibrahmanakul. The offense is punishable by up to five years in jail.
However, Gen. Srivara declined to say when police will mount another attempt to apprehend the monk, who's thought to be residing at the headquarters of his Dhammakaya sect, protected by thousands of his acolytes. The police general told reporters on Friday that officers do not wish to ignite any confrontation.
Read: Mass Charges Filed Against Dhammakaya Acolytes
"This is a sensitive matter, because the officers do not want to take any action that may cause more problem to the country," Srivara said. "Furthermore, the charge is offense about land encroachment. It's not an offense against life or one's body that requires immediate arrest."
The leadership of Dhammakaya has not made any public comment about the latest charge laid against Dhammachayo, 72.
Police and the abbot's religious movement have been entangled in a standoff since June, when the Department of Special Investigation, or DSI, vowed to prosecute Dhammachayo for the checks he received as donations from Supachai Srisupa-suksorn, who is now jailed for embezzling 11 billion baht from the credit union he once headed.
For receiving the 1.2 billion baht checks, DSI charged Dhammachayo with being party to embezzlement and money laundering, but the abbot's aides insist he was not aware the donations were tainted. The temple also said Dhammachayo could not surrender to police because he was ill.
When officers attempted on June 16 to search the headquarters of the Dhammakaya sect in Pathum Thani province and look for Dhammachayo, his supporters blocked the way. Police eventually called off the effort, citing fear of bloodshed.
Related stories:
Dhammakaya Defector Sees Standoff Continuing Years
Cops Want to Arrest Fugitive Abbot; Monks Say No; Cops Meekly Obey