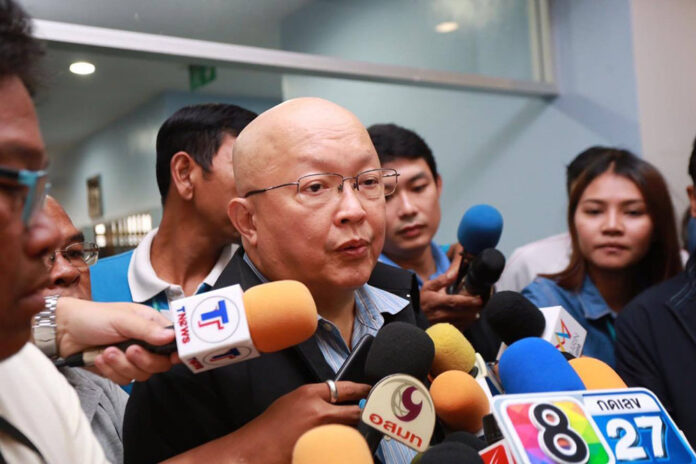 BANGKOK — If military government takes no action – or the wrong action – against the controversial abbot of the powerful Dhammakaya Buddhist sect, it could become a threat to the junta, said a prominent defector who spent nearly 20 years in the order.
Speaking at a discussion on Buddhism and politics nearly shut down by the authorities, Mano Mettanando Laohavanich said the organization in which he once served as a senior monk poses an existential threat to the junta known as the National Council for Peace and Order, or NCPO.
Read: Mass Charges Filed Against Dhammakaya Acolytes
"If the NCPO doesn't do anything, this will become a threat to the military junta," Mano, a lecturer at Thammasat University's Chulabhorn International College of Medicine, told the audience Wednesday evening at the Foreign Correspondents' Club of Thailand.
Wanted by the Department of Special Investigation on charges of accepting embezzled funds, Abbot Dhammachayo became a fugitive from justice when he failed to appear in response to a warrant issued for his arrest. An attempt by police to take him into custody last week ended quickly when his disciples blocked officers. The temple has said Dhammachayo is ill.
Mano, who was a Dhammakaya monk for 19 years before leaving in 1999, warned that a covert operation to capture the abbot of "the largest [Buddhist] organization Thailand has ever seen not associated with the government" could turn bloody.
"If the government uses excessive force, the government will be victimized and this could lead to the end of the NCPO," Mano said.
The possibility of violence posed by sending commandos in at night is likely giving pause to junta leader Prayuth Chan-ocha, he said.
"I think Mr. Prayuth is thinking hard whether he will invade the community compound. There will be bloodshed at night time. I think that is a dream and too risky for a fragile military."
Mano, who consulted with the DSI on its raid of the sprawling temple complex north of the capital, said any further raids should be conducted during the day and accompanied by journalists.
Mano, who accused the abbot of proclaiming himself to be primordial Buddha, or even God, criticized the sect for being obsessed with attracting maximum donations from followers as well as storing weapons. At one point Mano even compared the sect's organizational structures to Hitler's Third Reich and more.
"It's like Star Wars together with The Matrix. When you have the two, you have Dhammakaya. Light and darkness. It must be true. And we live in the matrix."
Mano said he had been willing to sacrifice his life for the sect until he saw orders for weapons procurement and confronted the abbot about it.
"He was trying to convince me he was primordial Buddha. He was God. I can work for a man but not God," Mano said. "He wanted to conquer the world by creating the Vatican of Buddhism, Mecca of Buddhism."
On Thursday, a temple spokesman wrote in response to a reporter's inquiry that the discussion was one-sided opinion without basis in fact.
"What was discussed … last night was criticism without any evidence or proof," wrote Phra Pasura Dantamano, who said his views were his own and not those of the temple.
"Why do we have to respond to all these false claims made without evidence? If that is so, anyone can just say anything. [Sulak] is someone who has personal bias against every institution, including Dhammakaya," he wrote. "The moderator asked the audience to make a defense because they did not invite any speakers from Dhammakaya. This is obvious proof that this was a one-sided panel.
He went on to further criticize the club.
"I question the moral ethics and transparency of the FCCT for holding this panel. We would like to hear the response from the FCCT on these issues."
Event organizers said including a temple representative was just not possible as it would have guaranteed it being shut down by police. As it stands, the club had to change the scope and title of the event after authorities said it should be canceled last week.
Regardless, speakers were told they could be held accountable if they were deemed to have broken any laws, according to club President Nirmal Ghosh.
Speaking Wednesday, Mano, who studied theology at Oxford, said the standoff could continue for months if not years. He added that he doesn't think Dhammakhaya could survive post-Dhammachayo, who is 72, as it's a "a cult of one person."
Another speaker, Buddhist scholar Sulak Sivaraksa, described Dhammachayo as "evil," and tainted by links to fugitive former premier Thaksin Shinawatra, who supported the temple.
"The man is evil," said Sulak.
He also lashed out at junta leader Prayuth for not taking decisive action.
"They're just like puppies," Sulak said. He then turned to the plainclothes officers  monitoring the talk and instructed them to tell their commander, "Your boss is bloody no good."
Vichak Panich, a meditation instructor and panelist however discounted fears of the Dhammkaya as emblematic of the fears harbored by the cultural establishment.
"If you think differently from the status quo, they will say you were hired by Thaksin," Vichak said.