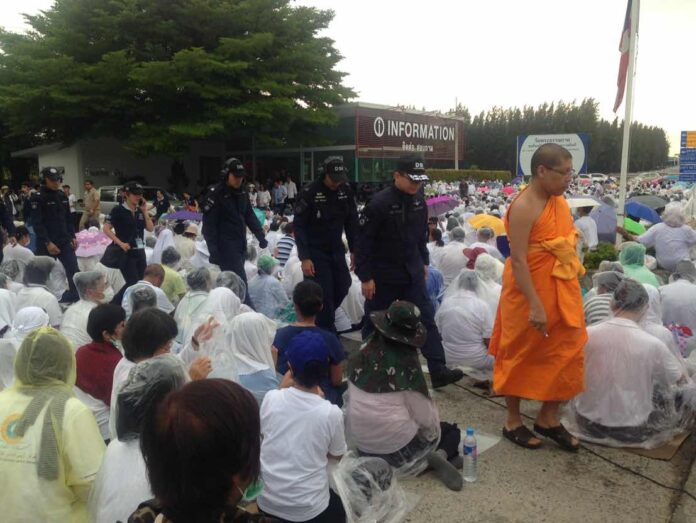 BANGKOK — There's a new topic Thailand's military rulers don't want discussed.
The capital's 60-year-old press club has been asked to cancel a discussion on Buddhism and politics scheduled for Wednesday due to authorities' fears it could affect national security.
Nirmal Ghosh, president of the Foreign Correspondents' Club of Thailand, said Friday morning that Lumpini Police sent a letter asking for the club to cancel the panel discussion on Buddhism and Politics in Thailand, citing potential disruption of national security.
"We don't agree. We won't cancel," said Ghosh, adding that the club will only cancel the program under written order from the military junta, known as the National Council for Peace and Order.
Vichak Panich, one of the invited panelists and a meditation instructor at the Dharma Ocean Foundation, said he was notified in a letter from FCCT board member Arnaud Dubus that the program "has encountered some problems."
Vichak wrote online Friday morning that "this shows how 'Buddhist' we are." Another planned speaker, prominent Buddhist scholar Sulak Sivaraksa, was traveling in Rome to meet Pope Francis and could not be reached for comment.
NCPO spokesperson Col. Winthai Suvari could not be reached for comment.
The discussion comes as attempts to arrest the abbot of Dhammakaya, a large and powerful Buddhist sect, have been thwarted, and amid questions over whether religious figures such as the abbot of the now-shuttered Tiger Temple are above the law. Meanwhile a growing force of Buddhist ultranationalists espouse a more strident form of the religion and call for it to be legally enshrined as the national religion.
The Foreign Correspondents' Club of Thailand has hosted topical debates and discussions throughout its history. Since the May 2014 coup d'etat, the junta has pressured it to cancel once-routine discussions on subjects such as human rights and the lese majeste law.
At most of its events, plainclothes military officers have been dispatched to observe and photograph attendees.
Correction: An earlier headline for the story incorrectly asserted the military government made the request. It in fact came from the police, though in the past such requests have come from police on behalf of the junta.
Related stories:
Lese Majeste Discussion Blocked by Junta: FCCT
Rights Group Holds Presser Despite Junta's Attempt to Censor