KANCHANABURI — There were few surprised faces Thursday when the abbot of the former Tiger Temple failed to make good on a promise to address the public.
Temple lawyer Saiyood Pengboonchoo said Phra Visuthisaradhera has been emotionally stressed since all the dead wildlife, amulets made from endangered animals and more were discovered last week inside the temple which for many years profited from marketing itself as a spiritual sanctuary dedicated to animal conservation.
The temple's leader, who has run the temple since its inception in 1994, had no knowledge of any of that, the lawyer said. A wildlife official said tiger pelts were found in his room. Police say they will seek a warrant for his arrest.
In fact, the lawyer said, the abbot known locally as Luangta Chan really wanted to address the controversy but suffered a heart attack this morning just before he had the chance. Instead he had to settle for riding past reporters on the other side of a high fence.
"He's almost 70," Saiyood said by phone Thursday afternoon. "But he showed up on a golf cart to show that he's not running away."
Saiyood said that although the temple has closed its gates to is keep its remaining wildlife animals such as deers, muntjacs and boars inside, the public is still welcome to donate money and animal food.
With that improbable backdrop, temple representative Siri Wangboonkoed denied the abbot had anything to do with the animal bodies, tiger-skin talismans and endangered-animal energy drinks discovered last week.
"Some of the temple staff and monks have done this without the abbot's knowledge," Siri said.
As for charges of land misuse and forest encroachment levied after wildlife officials raided the temple, Siri said it would cooperate with investigators.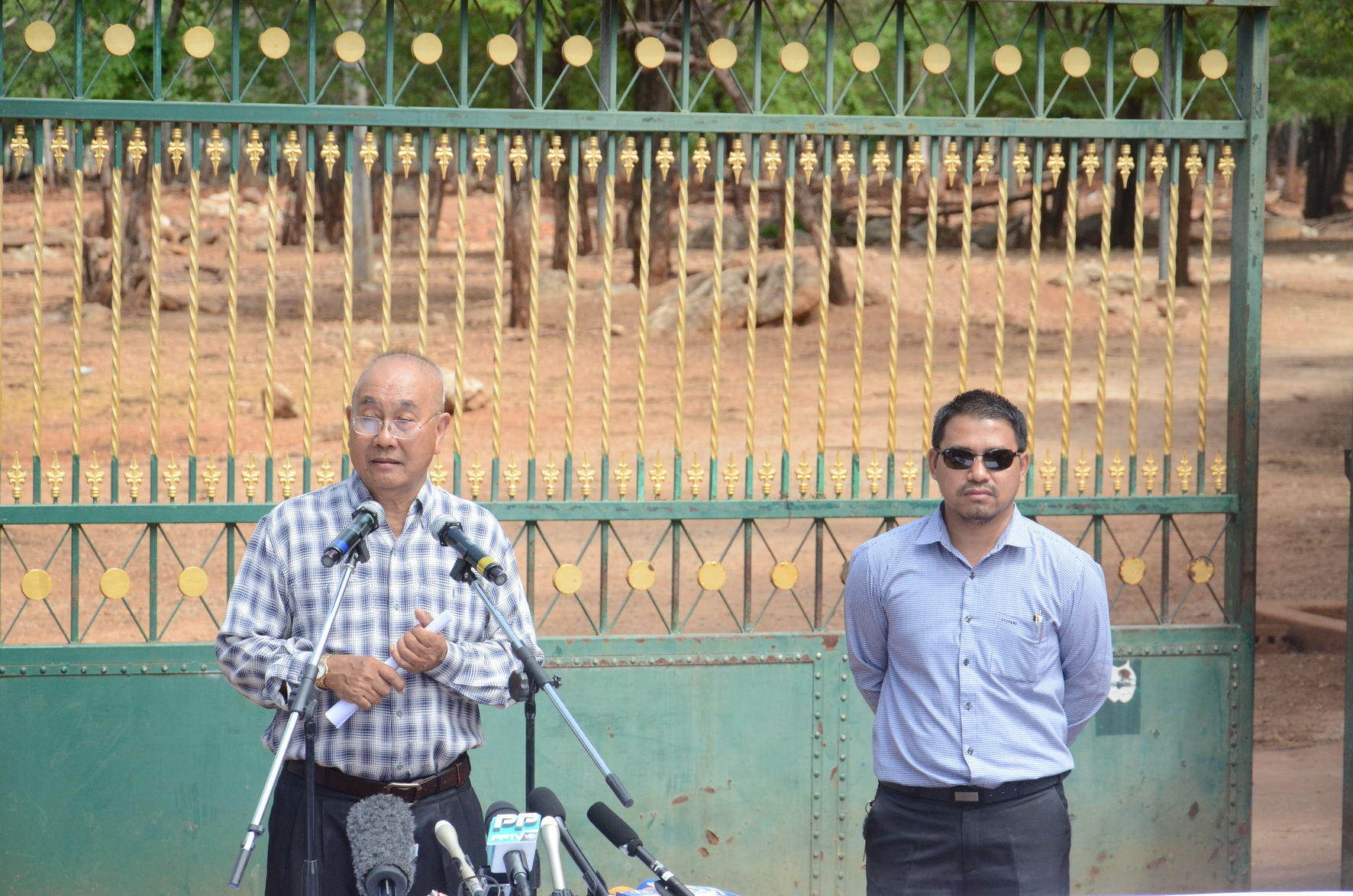 Lt. Col. Jaruwat Chanpen of Sai Yok Police Station said a court warrant to arrest the abbot will be sought as soon as they finish collecting evidence and interviewing witnesses.
The Sai Yok deputy chief Jaruwat declined to say how long the investigation is going to take.
Adisorn Noochdamrong, deputy chief of the national parks department, said it will aid police and land reform officers in their investigations.
"[We] found tiger pelts right in the [abbot's] room. How can he deny that?" Adisorn said.
Related stories:
Officials Hunt for Abbot of Tiger Temple
Bottles of Real Tiger Labeled 'Energy Booster' Discovered in Tiger Temple
Conservation Rhetoric Falls Apart as 1,000 Magic Tiger Amulets Seized From Monk (Photos)
Lion, Tiger Pelt, More Wildlife Discovered Inside 'Tiger Temple'
Horrible Discovery in Tiger Temple: Dozens of Dead Tiger Kittens (Photos)
Officers Enter Tiger Temple to Begin Removing Tigers
Another Showdown as Tiger Temple Blocks 1,000 Wildlife Officers
Activist to Sue Over Tiger Temple Zoo Permit
'Tiger Temple' to Sue NatGeo Over Damning Report