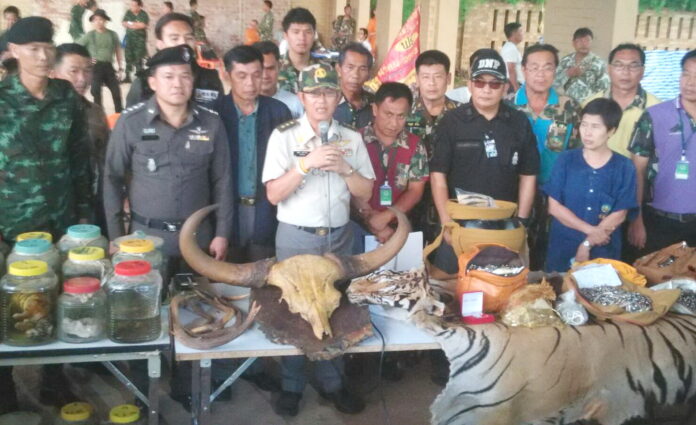 KANCHANABURI — Wildlife officials were surprised to discover two tigers previously unknown to them inside the Tiger Temple compound today, along with revelations of jars containing dead baby tigers labeled as energy drinks.
The tigers, both adults and alive, were not among the 147 tigers known to be held at the commercial wildlife complex that authorities began removing Monday, meaning authorities now believe at least 149 live tigers had been in the now shuttered facility, formally known as Wat Pha Luang Ta Bua Yanasampanno, at the beginning of this year.
---
Conservation Rhetoric Falls Apart as 1,000 Magic Tiger Amulets Seized From Monk (Photos)
---
Although the temple had knowingly held all its tigers in contravention of wildlife laws, it had registered and chipped 147 of them.
Since Monday, 121 tigers have been relocated to wildlife breeding stations in Ratchaburi province, according to Adisorn Noochdamrong of the Department of National Parks, Wildlife and Plant Conservation. All 149 tigers are expected to be in their new facilities by Saturday.
"If it doesn't rain, we hope we can finish moving all of them today," Adisorn said Friday afternoon. "Along with the removal, we are also investigating and thoroughly searching the temple."
Two disciples and one monk were arrested Thursday trying to transport over 1,000 tiger-skin talismans, dozens of jars containing animal parts more out of the temple in a pick-up. They've been charged with trading and possessing wildlife, Adisorn said.
"We were prepared for some smuggling. The officers pulled over the vehicle, and as expected, we found more evidence," Adisorn said.
"We also found a saw for cutting deer horns at a building where monks live," Adisorn said. "Some bottles containing dead tigers were labeled "energy booster."
This week's raid came after several previous efforts to remove the tigers were stymied by resistance from the temple, which in two decades' time has built an immensely profitable business selling access for tourists to touch and take selfies with the wild cats.
Long-held accusations the temple mistreated and even trafficked the tigers gained steam in February 2015 when one of its veterinarians broke with the group and went to the authorities with accusations it had sold at least three of them.
Related stories:
Conservation Rhetoric Falls Apart as 1,000 Magic Tiger Amulets Seized From Monk (Photos)
Lion, Tiger Pelt, More Wildlife Discovered Inside 'Tiger Temple'
Horrible Discovery in Tiger Temple: Dozens of Dead Tiger Kittens (Photos)
Officers Enter Tiger Temple to Begin Removing Tigers
Another Showdown as Tiger Temple Blocks 1,000 Wildlife Officers
Activist to Sue Over Tiger Temple Zoo Permit
'Tiger Temple' to Sue NatGeo Over Damning Report