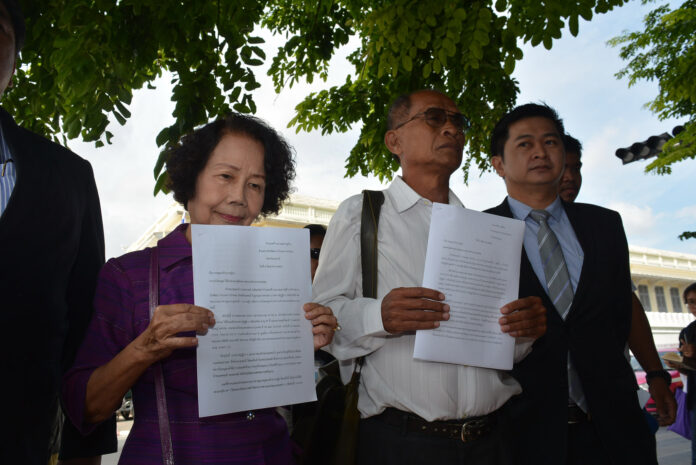 BANGKOK — Parents of two Facebookers charged with defaming the monarchy went to the Grand Palace today to petition His Majesty the King to release their children on bail.
Krit Mahaton, the father of Harit Mahaton and Arporn Worathaiwit, the mother of Nattatika Worathaiwit filed two royal petitions Friday morning on behalf of their children, who were abducted from their homes by the military in late April.
Since then they have been in prison awaiting trial on royal defamation charges. The offense, known as lese majeste, carries a maximum penalty of 15 years in prison.
The petitions ask for the release of their children who are jailed and awaiting trial by a military tribunal on charges of defaming the monarchy, an offense known as lese majeste which is punishable by up to 15 years in jail for each offense.
Harit, a 26-year-old self-employed writer, and Nattatika, a 43-year-old online merchant, were among eight online dissidents charged with sedition April 28 for running Facebook pages criticizing the junta and mocking its leader, Gen. Prayuth Chan-ocha.
While six of the so-called Facebook Eight were released on bail May 10, the pair remains in custody as they face the lese majeste charge stemming from a conversation together in a private Facebook chat.
The issue of how the military obtained the Facebook chat between the two remains controversial.
People can file petitions on a wide range of subjects which are reviewed by the Office of His Majesty's Principal Private Secretary before being submitted to the king. If accepted, the issue will be transferred to related parties to coordinate a resolution.
Both parents and their lawyer insist if bail were granted, the two suspects would fight the charges through proper legal channels.
The parents and their lawyer also went to military court today to apply again for bail after an application was rejected May 19.
Related stories:
Families of Detained Facebookers Speak Out
Prayuth Defends Abducting 'Facebook Eight'
Lese Majeste Filed Against Two Facebookers, Anti-Junta Activist
Bail Denied to Facebookers, Lese Majeste Charges Weighed Against Them