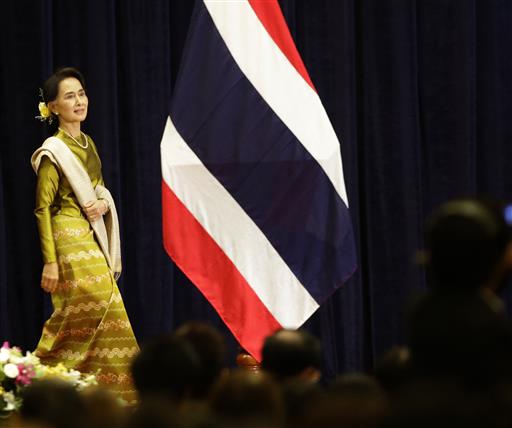 BANGKOK — Myanmar's de facto leader Aung San Suu Kyi said Friday there must be trust between conflicting groups in the country before there can be full peace.
The Nobel Peace Prize laureate — officially called Myanmar's state counsellor — was speaking to an invited audience of Thai students Friday, the second day of a three-day visit to Thailand.
Myanmar is still troubled with conflict in its remoter areas among ethnic armed groups fighting the army for greater autonomy. Her government is trying to bring the parties together for all-inclusive peace talks toward a permanent settlement, but decades of warfare and distrust make that difficult. No date has yet been set for the planned talks.
Suu Kyi said her government was working "to turn conflict into friendship, to turn conflict into mutual trust and understanding.
"Trust is the basis of any successful endeavor between different groups, different individuals, different countries," she said.
Later Friday, Suu Kyi was to meet with Prime Minister Prayuth Chan-ocha and sign memorandums of understanding over the processing of and the treatment of Myanmar migrant workers in Thailand, who labor in menial jobs and often in exploitative conditions.
The government estimates there are 1.4 million Myanmar migrant workers in the country but advocates say the number is at least twice that.
In a demonstration of her popular appeal, Myanmar de facto leader Aung San Suu Kyi received a rapturous welcome Thursday as she presided over a town hall-type meeting with some of the huge population of migrant workers from her homeland who eke out a living in Thailand.
Her meeting with countrymen in the Thai port town of Mahachai, where many work, reprised a similar meeting in 2012 that drew tens of thousands. The numbers this time appeared to be lower, but the level of adulation was high, as the cheering crowd had to be held back from mobbing her.
Overshadowing her visit — though not addressed by her or her Thai hosts — is her government's treatment of the
Rohingya,
a Muslim minority of about 1 million who generally have been deprived of citizenship under Myanmar law and are targets of discrimination and violence.
Suu Kyi spoke to several hundred people in a meeting hall for 20 minutes before stepping down from the stage in frustration at a faulty sound system to engage face-to-face with members of the audience, who gave her questions and comments about what she could do to help their often difficult lives.
A large crowd of several thousand waiting outside burst into cheers and song as she was leaving, after staying for the duration of her 45-minute meeting even as a heavy rain poured down on them.
Story: Jerry Harmer and Vicky Ge Huang
Related stories: