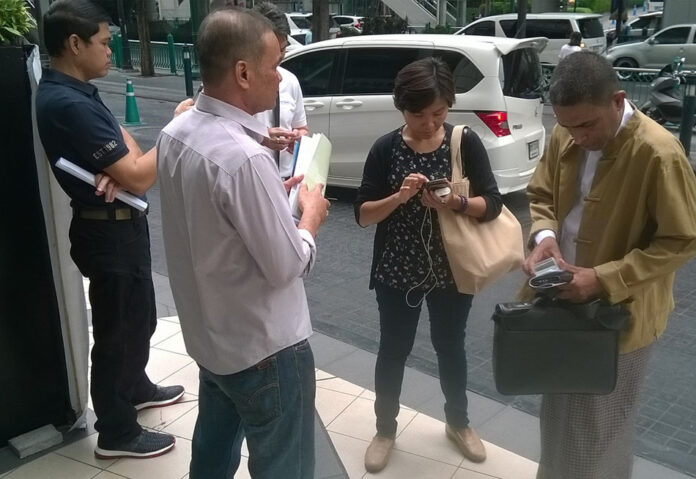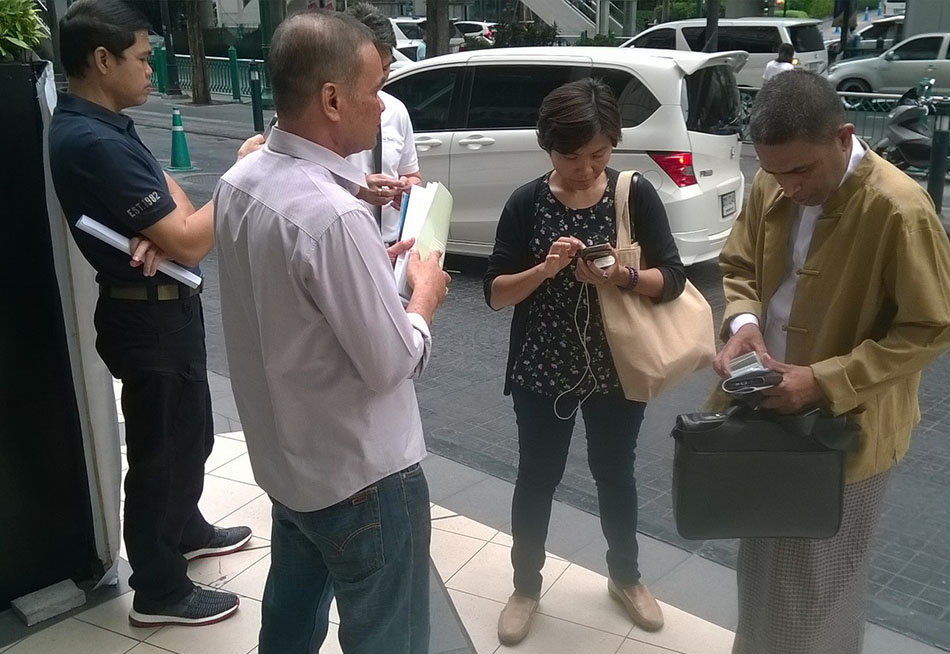 BANGKOK — Facing persecution and worse at home in Myanmar where even their name has become anathema, members of the Rohingya diaspora in Thailand found themselves denied a voice today.
While Myanmar State Counsellor and de facto head of state Aung San Suu Kyi was welcomed with an honor guard in the Thai capital, those who represent perhaps the biggest blemish on her international image were hounded into silence by undercover officers for trying to bring attention to their plight.
Read: High Hopes and Deep Doubts Await Suu Kyi in Thailand
At what proved a perplexing press conference called for Thursday morning by Rohingya rights advocates, organizers quickly read their open letter addressed to Suu Kyi before announcing they would be unable to answer questions under pressure from the junta, who had sought through the police to have the event entirely cancelled.
"We won't be answering any questions. Thank you," Siwawong Suktavee, coordinator of the Coalition for the Rights of Refugees and Stateless Persons told Thai and foreign reporters.
Their letter read aloud at the Foreign Correspondents' Club of Thailand called for revising Myanmar's citizenship laws to legitimize the Rohingya residents of Myanmar's Rakhine State and allowing aid organizations to provide humanitarian assistance.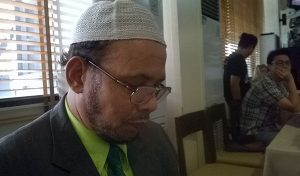 Thai authorities made it clear the Rohingya topic should not be raised during Suu Kyi's visit.
A story about a domestic crackdown on Rohingya activists before Suu Kyi's visit by the English-language Bangkok Post soon disappeared without comment after it was published Thursday morning.
Online editor Saritdet Marukatat said editors found "Suu Kyi visit brings harsh crackdown on Rohingya, advocates" contained "inaccurate information." Instead of writing a correction to the story, Saritdet said it was removed and he did not know if it would be republished.
He said no authorities pressured the paper into killing the story. Asked if the decision to remove the story was part of the very crackdown it referenced, Deputy Editor Nopporn Wong-Anan declined to comment.
The morning's drama at the FCCT continued after the very brief news conference, culminating in an undercover officer interrupting an interview and ordering a Rohingya activist to leave.
After the letter was read, Hajee Ismail, secretary general of the Rohingya Thailand Group, managed to utter one sentence in English in retort to democracy icon and Nobel Peace Laureate Suu Kyi, who has been criticized for asking foreign governments not to use the word "Rohingya" and now refers to them as "people who believe in Islam."
"Please call us Rohingya – only Rohingya!" Ismail said in English.
Reporters then moved outside the FCCT under the belief it would be a free place to talk.
Facing a throng of reporters and about six undercover officers, 42-year-old Ismail, who has lived in Thailand 21 years and has permanent residency status, opted to stay silent.
"I shouldn't do it," Ismail said to a staff member in fluent Thai. "The agreement may be compromised."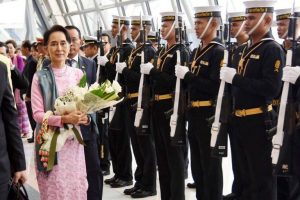 With officers following two reporters who had arranged to interview him at a nearby Starbucks, Ismail recounted a call from special branch police at midnight saying officers would come to his home at 6am to escort him to the FCCT.
"We spent two hours, having coffee and [the officer] had breakfast," Ismail recalled, noting the officer was now staring at them from the next table. "They look after the country. They didn't coerce me."
Asked if there was any way to turn down their "invitation," he declined to answer as the officer proceeded to take photos of the Rohingya man and a Khaosod English and Reuters reporter.
When a reporter tried to take a picture of the officer, he stood up and, looking irritated, said not to do so.
"They didn't coerce us. They just say the country is not normal now and Myanmar is a neighbor of Thailand and [for me] to talk about the Rohingya people would be like supporting Rohingyas and there may be bilateral problems," said Ismail in Thai.
Soon after that the officer interrupted Ismail and told him it was time to go home.
"They won't let me give the interview," said Ismail, insisting his minders were "good friends" who speak to him politely, one of whom he'd known for several years.
As Ismail stood to leave, the Reuters reporter asked if he was in fear.
"No, no… A little, a little," he said.
The officer later identified himself as Chaiyuth.
"You must understand. I am not coercing him," Chaiyuth said, declining to answer where they were taking the Rohingya activist.
As Ismail was bundled into a taxi, presumably to be taken to his home in the Rangsit area, the officer repeatedly asked Khaosod English's Thai reporter to explain to the foreign journalist that the officer was not forcing anyone to do anything.
Ismail was gone, but he left a copy of his open letter written in English to Suu Kyi:
"Our democratic leaders now denying our identity and citizenship just to appease their co-religionists and extremists in Rakhine state. This anti-Rohingya campaign is going on domestically as well as internationally. All our hopes in the leadership of democratic statesmen faded away," it said. "Indeed we did not hope this sort of harsh and negative political stance and undemocratic rhetoric from our Nobel peace laureate."
"We are highly frustrated. 1.5 million Rohingyas are in strict confinement in Rakhine state for the last four years."
On Thursday, it seemed that confinement has spread outside of Myanmar to Thailand and the 3,000 to 10,000 Rohingya here, including Ismail.
Additional reporting Todd Ruiz