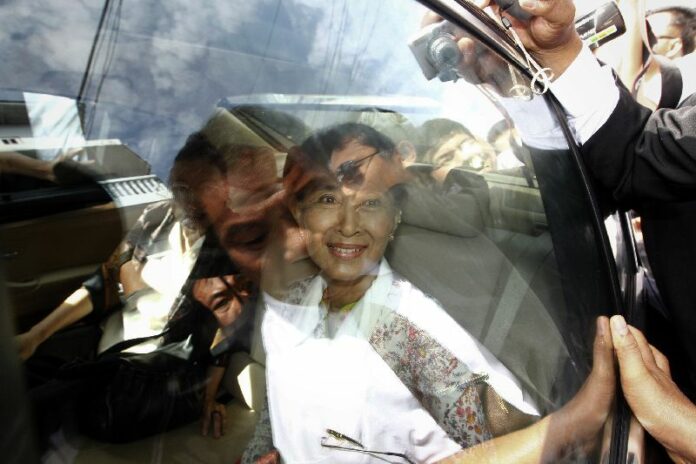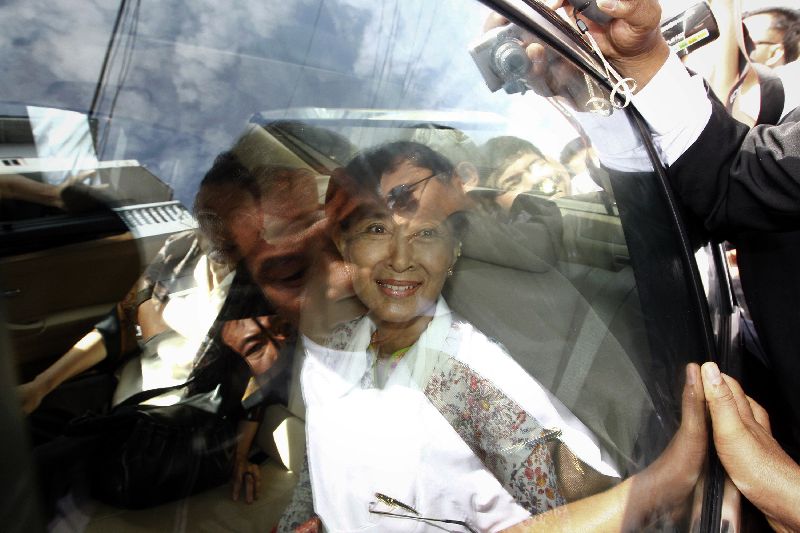 BANGKOK — When Aung San Suu Kyi begins her three-day tour of Thailand today, Sein Htay will be among the hundreds of thousands of her countrymen here to hold great expectations.
The chairman the of Migrant Worker Rights Network hopes the visit by Suu Kyi, known to many simply as The Lady, for the first time since she became Myanmar's de facto head of state, will be a boon to the estimated two to three millions migrant workers in the kingdom.
"I am grateful that Her Excellency Aung San Suu Kyi will be coming to see us for the second time. The last time was four years ago," a euphoric-sounding Sein Htay said in fluent Thai by phone from Mahachai, where many Myanmar migrants work in brutal conditions for the domestic seafood industry. "Her Excellency will be able, more or less, to solve labor issues."
Read: Rohingya Voices Silenced on Occasion of Suu Kyi Visit
But while he is hopeful for progress on the issues close to his heart, other matters important to Myanmar observers, such as the status of the border refugees and the Rohingya, are more measured.
Sein Htay, 38, will be among 500 people scheduled to meet Suu Kyi, who was given the title Myanmar State Counsellor after her National League for Democracy, or NLD, swept elections in November.
Topping his wish-list is for her to work with Thailand to improve the costly and time consuming passport and visa-making process. Next is basic workers rights protections, such as the right to organize and receive a minimum wage.
"Some also don't get paid for overtime or can't take annual leave," he said.
Andy Hall, a high-profile British advisor to the same organization, said there are great strides to be made.
"We're expecting a lot from the NLD government," said Hall.
For one, there's no clear policy on dealing with the trafficking of workers from Myanmar, an issue that grabbed global headlines when some were found forced to work as slaves aboard Thai fishing boats.
Those who pay their way into the country for legitimate work find it so exorbitant they become chained to serious debt.
About one million of workers from Myanmar are thought to be undocumented, according to different sources, and therefore have no rights.
"A national verification process, it's an important part," Hall said, adding that Myanmar and Thailand should develop a joint policy.
Other issues raised by Hall included allowing free movement of workers, such as the 300,000 to 400,00 in Samut Sakhon province who are not allowed to leave the province without permits from Thai authorities.
"It's not natural," Hall said.
Another issue given little thought are the workers' children, said Adisorn Kerdsomongkol, the 42-year-old coordinator of Migrant Working Group.
An issue he's dedicated his life to for nearly 20 years, Adisorn said there are an estimated 50,000 Myanmar children in Thailand, and they face great difficulty securing Myanmar nationality while also risking arrest in Thailand.
Little Expectation of Relief for Rohingya
For years, Suu Kyi has stood as a paragon for human rights not just in Myanmar but the region. Now that she's been thrust into the reality of ruling, that luster has faded for some of her believers.
In contrast to the expectations of what she can do for migrant workers, those hoping for action on the Rohingya, a group described by the United Nations as one of the world's most persecuted minorities, are far from euphoric.
"Let me just say it's going to be very difficult due to the general attitude of Burmese people and not just Suu Kyi's," said Subhatra Bhumipraphas, who has translated several books on Myanmar. "Suu Kyi is a politician and she cares about her [electoral] base."
Siwawong Suktawee, coordinator of the Coalition for Life of Refugees and Stateless Persons, isn't optimistic.
"We are not expecting any definitive change [on the Rohingya issue] from Aung Saan Suu Kyi," Siwawong said.
Siwawong's coalition, which includes international NGOs such as Fortify Rights and Development Foundation, planned a press conference Thursday to call on Suu Kyi and her new government to recognize equal rights for Rohingya in Myanmar and their plight both at home and abroad.
That press conference, to be held at the Foreign Correspondents' Club of Thailand was ordered canceled by police Thursday, who usually make such requests at the behest of the junta. Authorities relented and said it could go forward so long as there is no public Q&A.
Organizations like Fortify Rights estimate that there are around 3,000 Rohingya people who have fled to Thailand. Their situation is much more precarious than ordinary migrant workers from Myanmar, and hundreds end up being detained indefinitely for entering the kingdom illegally.
Asked why Suu Kyi seems cold toward the Rohingya, Siwawong said she's prisoner to political winds.
"I personally think it reflects the fact that Aung Saan Suu Kyi is still under the influence of Burmese nationalist ideology which discriminates against people who have a different identity, and who are not Buddhists."
Adisorn was less forgiving.
"I don't expect anything from Suu Kyi on the Rohingya because I don't see any clarity from her on the issue. Her tendency is to not talk about it at all."
They are a little more hopeful Suu Kyi will do something for the more than 100,000 refugees living in camps near the border with Myanmar.
A visit to one such camp in Ratchaburi province planned for the final day of her three-day visit was canceled Wednesday.
Related stories:
14 Rohingya Recaptured After Escaping Detention
One Rohingya Shot Dead During Mass Escape from Detention Center
Myanmar Workers Win 'Unprecedented' Backpay from Cannery Factory 
Cannery Row Strike Wins Pay Promise for Workers
Head Human Trafficking Investigator Seeks Asylum in Australia