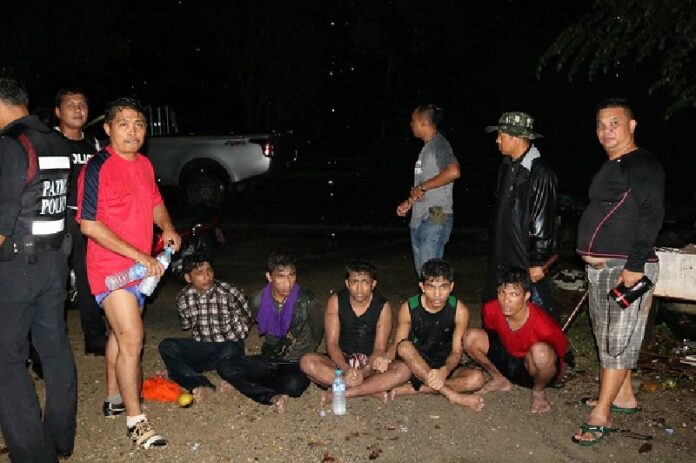 PHANG NGA — Six of 21 Rohingya men who escaped an immigration detention center in southern Thailand remained free Tuesday morning.
Of the 21 men who escaped the Phang Nga province detention center, 14 were recaptured on a mountain and nearby area by Tuesday morning and returned to the center where they had been held for a year. One was shot and killed Monday morning during the escape.
"I believe they don't have anyone guiding them," said the commander of Phang Nga Provincial Police, Worawit Panprung. "Because if they did, they would have gotten farther."
---
One Rohingya Shot Dead During Mass Escape From Detention Center
---
Worawit said the detainees were all found within 10 kilometers of the detention facility they escaped Monday by cutting their way through metal bars. Some headed up into the mountains while others went down into an area near a canal.
"They will also receive another charge for escaping detention," Worawit said.
All 21 men who fled the prison had been held in custody for a year already, according to Phang Nga Immigration Police.
Each year, Rohingya fleeing persecution and worse in Myanmar have taken to the seas in a bid to reach safe harbor in nations such as Malaysia or Indonesia. That brings them through Thailand, where they have relied on – and also fallen victim to – a sophisticated and widespread human trafficking operation.
That network was disrupted last year after a series of border slave camps and mass graves with Rohingya skeletons were discovered in the south, prompting a wider government crackdown which left a number of Rohingya refugees stranded in Thailand.
Worawit said he believes the six still free would be unable to make it to the border, which is about 100 kilometers away, as they don't know the way and cannot speak Thai. He expects them to be re-arrested.
Police shot one of the men dead on Monday as he was escaping in what was described as an act of self defense.
Related stories:
One Rohingya Shot Dead During Mass Escape From Detention Center
Myanmar Fire Leaves 440 Rohingya Families Homeless
Head Human Trafficking Investigator Seeks Asylum in Australia
Stranded in Thailand, Rohingya Trafficking Victims in Limbo
Nearly 800 Migrants Rescued From Sinking Boats in Indonesia
Thai Navy Denies Threatening Rohingya Boat With Guns
Royal Thai Navy Surveys Andaman for Rohingya