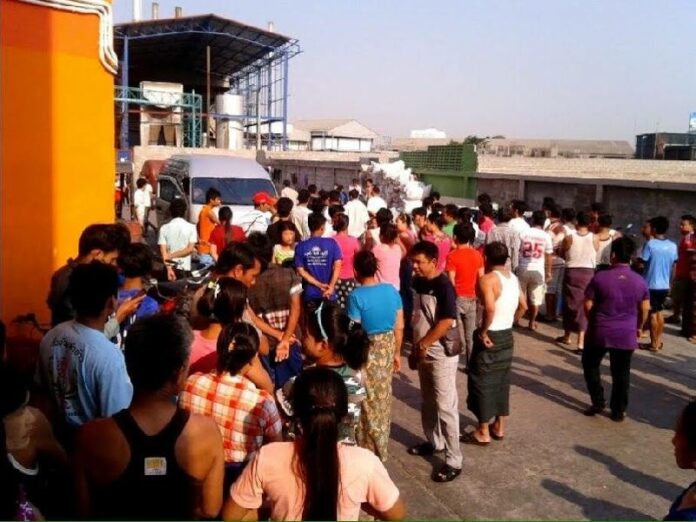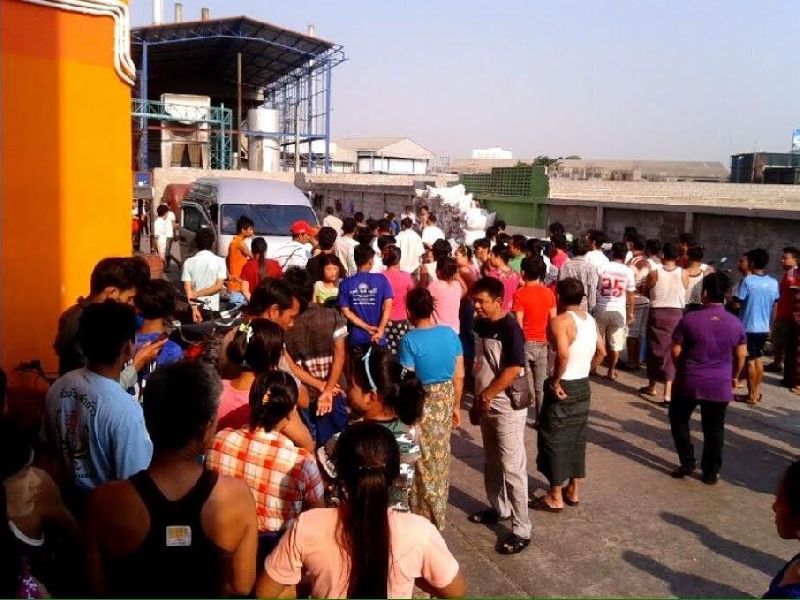 SAMUT SAKHON — A strike of more than 1,100 workers at a canned food factory southwest of Bangkok in Samut Sakhon province ended today with company executives agreeing to pay overtime and wages allegedly withheld from workers.
The strike, which began Thursday and mostly involved workers from Myanmar, was a rare victory in a country where migrant workers routinely suffer discrimination and harsh working conditions with little or no leverage.
In a deal struck late Friday afternoon, Golden Prize Canning agreed to pay overtime and withheld wages to the workers on Monday so long as the work stoppage ceased immediately.
"The agreement that was reached today has satisfied both employers and employees," said provincial Gov. Manrat Ratansukon, who said he would personally visit the factory Monday to make sure the executives honor the agreement.
Reached for comment over the telephone, a Golden Prize Canning representative declined to comment.
Sein Htay, president of the Migrant Workers Rights Network, said it was still unclear who would be paid how much.
"It's still too early to call it a victory," Htay said. "The agreement is still preliminary."
He said the company will announce Monday what it will pay to which employees.
Andy Hall, a coordinator for the labor group, said in an email the strike was called after the government and trade federations ignored complaints for months without ever taking action.
In a statement released Thursday by the group, strike organizers said workers at Golden Prize Canning Ltd. had never received a 2013 national minimum wage increase or any overtime pay.
The statement also alleged other unfair practices at the factory in Samut Sakhon, such as the refusal to grant sick leaves to workers, even those who provided medical certificates as evidence.
"The trend with the Thai government labor protection systems are always the same," Hall said "Only after protests, threats of protests or mass action does rule of law for migrant workers actually progress forward."
The strike started Thursday evening. On Friday about 200 of the workers marched to a government labor complaint center. The protest prompted government officials and company representatives to enter negotiations with the strike organizers.
There are at least two million Myanmar workers in Thailand, mostly working in low-paid menial jobs as factory workers and housekeepers. Samut Sakhon is home to some of the world's largest seafood suppliers, such as Narong Seafood Co. and Thai Union Group.
A majority of the workers were not registered legally, which made the migrant workers vulnerable to unfair wages and other forms of exploitation, according to documented claims by various rights groups.
Related stories:
US Congress Bans Import of Forced Labor Products
Nestle Admits to Slavery in Thai-Sourced Seafood
McDonald's Denies Boycotting Fish From Thailand
Greenpeace Calls Out Thai Union Group Over Fishing Practices
EU Warning on Illegal Fishing Has Thai Fishing Industry Reeling
Thai Tuna Company Buys US Bumble Bee Foods
Teeranai Charuvastra can be reached at [email protected] and @Teeranai_C.