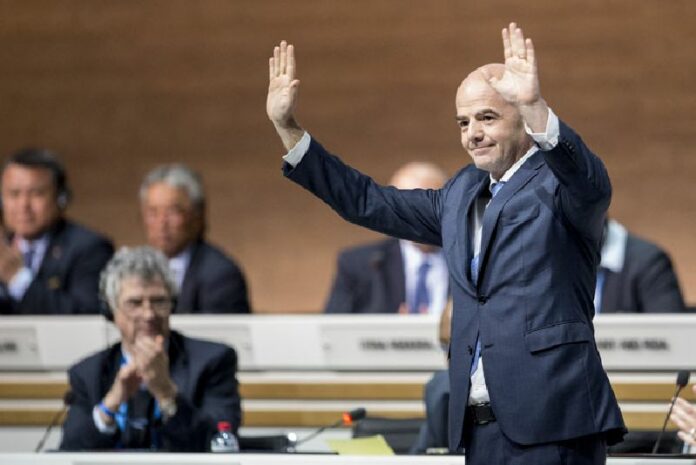 ZURICH — Gianni Infantino is the new president of soccer's corruption-scarred world governing body, winning election after promising national leaders of the sport that he would share the wealth from FIFA's USD$5 billion World Cup revenues.
Infantino was chosen on the second-ballot Friday to fill the unexpired term of longtime FIFA leader Sepp Blatter, who was forced out by the pressure of U.S. and Swiss investigations of bribery and corruption that emerged two days before the previous vote in May 2015.
The stunning outcome seemed to catch the 45-year-old Infantino off-guard. He had to compose himself before starting his acceptance speech and saluted voters by patting his heart with his right hand.
"We will restore the image of FIFA and the respect of FIFA. And everyone in the world will applaud us," said Infantino, who only became a candidate when a case of financial wrongdoing removed his own boss, Michel Platini, at Europe's soccer body UEFA.
"I am convinced a new era is starting," said the Swiss-born former lawyer. Blatter headed FIFA for more than 17 years.
Infantino pledged to meet quickly with World Cup broadcasters and sponsors, saying they "they need to regain trust and confidence in football and in FIFA."
There were only four candidates on the ballot after Tokyo Sexwale withdrew during his campaign speech to voters. The four were Infantino, UEFA's general secretary; Sheikh Salman of Bahrain, the Asian confederation president; Prince Ali of Jordan; and Jerome Champagne of France.
Infantino, who had waged a globe-trotting campaign in the four months leading up to the election, gave an impressive 15-minute speech only 20 minutes before the first-round vote. The Swiss-Italian spoke in several languages without notes and portrayed himself as a leader for the world, not just Europe's wealthy confederation.
His campaign promised to spread the World Cup largesse to more federations, including additional guaranteed funds. He also pledged to expand the World Cup from a 32-team tournament to 40 teams, and give more opportunities to countries to stage the World Cup with multinational regional hosting.
"The money of FIFA is your money," he said, jabbing his left index finger to the 207 members of soccer federations from Afghanistan to Zimbabwe before the election.
"It is not the money of the FIFA president. It's your money," added Infantino, sounding more like a CEO promising a dividend to shareholders.
A rare burst of spontaneous applause followed, signaling a shift in momentum toward Infantino, who since his 30s managed the billion-dollar Champions League revenues for UEFA.
It resonated with members of the corruption ravaged soccer bodies of the Americas, known as CONCACAF and CONMEBOL. FIFA froze a combined $20 million of their funds in December in the aftermath of the U.S. Justice Department's sprawling investigation of bribe-taking by top FIFA officials.
"Gianni's speech was a president's speech," said Kohzo Tshima of Japan, a new member of FIFA's long-tainted executive committee, adding that his words changed the atmosphere in the election hall.
In the first round, Infantino took a surprising lead with 88 votes — just three more than Sheikh Salman but key to making him look like a winner with valuable momentum. Prince Ali received 27 votes, and Champagne seven.
Then, in the second round, Infantino received 115 votes to earn a decisive majority over Sheikh Salman, who received 88 votes. Prince Ali got four votes, and Champagne none.
"I talked to Gianni last night and we said we'd support Prince Ali," said U.S. delegation head Sunil Gulati, "but also he knew where we would be as it unfolded if it did, in the way it did."
No second-round has been needed in a FIFA presidential election since 1974. That year, Joao Havelange of Brazil needed two rounds to defeat 13-year incumbent Stanley Rous of England.
Infantino, like the 78-year-old Blatter, is from the Valais region in the Swiss Alps. He will be president until May 2019, completing the remainder of Blatter's term.
Blatter, 79, won a fifth term last year but, amid the escalating corruption scandals, bowed to pressure four days after the election and said he would resign. He was subsequently banned for six years for financial mismanagement and was absent Friday after 40 years as a fixture at FIFA meetings.
"I congratulate Gianni Infantino sincerely and warmly on his election as the new president," Blatter said in a statement. "With his experience, expertise, strategic and diplomatic skills he has all the qualities to continue my work and to stabilize FIFA again."
Sheikh Salman was expected to lead the first round with backing from Africa and the Asian soccer confederation he has led since 2013.
He also had behind him the Kuwait-based vote-gathering operation of Olympic power- broker Sheikh Ahmad al-Fahad al-Sabah, his FIFA executive committee colleague, who sustained a rare electoral loss.
Still, he had been the most criticized and scrutinized candidate throughout the campaign. The issue of Bahrain's human rights record was often cited by Gulf activists but had not seemed to seriously trouble voters outside Europe.
Sheikh Salman has strongly denied claims about his role in the Arab Spring protests of 2011 when he was Bahrain's soccer federation president.
Infantino takes over a wealthy but vulnerable soccer body whose image and confidence has been shattered by the escalating scandals.
Before electing FIFA's first new president since 1998, 87 percent of the 207 voting federations passed wide-ranging reforms to guard against corruption and curb the powers of its leader.
Those include preventing presidents from serving more than three four-year terms, reducing their powers and guaranteeing more independent oversight for FIFA's decision-making and spending. The executive committee will be renamed the FIFA Council, with more female members. Stricter integrity checks will also control top officials.
FIFA and its lawyers hope the reform will help show U.S. prosecutors the soccer body is serious about changing its culture, and protect its status as a victim in the American investigation. A total of 41 people and marketing agencies have been indicted or made guilty pleas, and Blatter is a target.
Story: Graham Dunbar / Associated Press