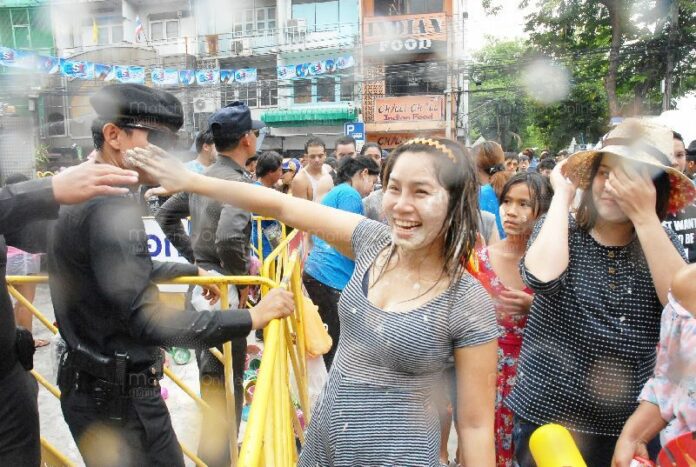 BANGKOK — Despite threats of persistent and severe drought, the Tourism Authority of Thailand said the annual water fight festival that marks the traditional Thai New Year will go on as normal.
The world-renowned Songkran festival will only last for three days in April and therefore not have any significant impact on water use nationwide, said tourism authority Gov. Yuthasak Supasorn.
"It's a festival that draws interest from many foreign tourists," Yuthasak told reporters Friday. "And it won't affect the drought situation."
Though formally held only April 13 to 15, the water fight extends beyond those three days in some provinces, such as Pattaya, where the celebration lasts an entire week.
Songkran is an important time for the critical tourism sector. In 2014 the tourism authority said it generated over 4 billion baht in revenue.
Yutthasak also urged the hotel industry to prepare for the upcoming drought.
"Hotels are businesses that consume large amounts of water," he said. "If the drought lasts through the months of May and June, which is the tourism low season, the situation will be worse for us."
Earlier this week the military has ordered all relevant agencies to gear up for the drought season and set aside reserve water supply for the country's rice farms and orchards. Junta chairman Prayuth Chan-ocha visited farms in Uthai Thani on Friday to inspect drought preparations.
Related Stories:
Old Versus New at Thailand's Songkran Festival
Official: No Plan To Sue Singapore Over Songkran
Teeranai Charuvastra can be reached at [email protected] and @Teeranai_C.