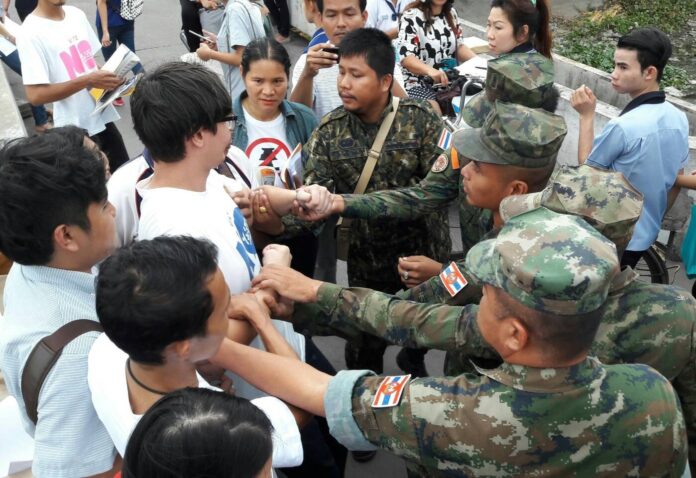 BANGKOK — Thirteen activists arrested Thursday for campaigning against the junta-backed constitution will stand trial before a military tribunal on charges of violating the ban on political protests.
In further evidence the regime is not tolerating any dissent in the run-up to the charter referendum on Aug. 7, all of the activists, including members of the New Democracy Movement, were brought to the martial court just before 2pm to hear the charges which could see them jailed up to two years.
Eight of those arrested will not seek or post bail in a challenge to the legitimacy of the case against them, according to one of the lawyers representing them. Instead they will ask the court to release them unconditionally.
"The eight do not accept the procedure. They insist that they do nothing wrong," said Kumklao Songsomboon of Thai Lawyers for Human Rights, which is providing pro-bono legal counsel.
The eight include Rangsiman Rome, student leader of the New Democracy Movement, who a year ago was arrested for anti-junta activism and jailed for 12 days for refusing to post bail.
Meanwhile, the other five activists will post bail as required by court procedure, Kumklao said.
Security officers arrested the 13 campaigners southwest of Bangkok in Samut Prakan's Bang Phli district yesterday evening while they were handing out leaflets urging the public to vote against the charter draft in the Aug. 7 referendum.
Police initially prevented lawyers from talking to the 13 activists, but relented when the attorneys insisted on their legal right to private counseling with suspects, Kumklao said.
On top of the ban on protests, the junta has imposed sweeping restrictions on the referendum, outlawing any campaign that uses "rude" or "misleading" remarks. Although the text of the law applies to both "Vote Yes" and "Vote No" camps, activists in the latter faction say they bear the brunt of the law's harsh enforcement.
On Friday, ultraconservative activist and former politician Suthep Thaugsuban urged the public to vote yes in a video posted to his Facebook.
Related stories:
No Thais Can Monitor Vote Because Law Didn't Say They Can, Commission Reasons
Critics: Keeping Public in Dark About Draft Charter Rejection Unfair
Redshirts Alarmed by Vague Restrictions on Charter Campaigns