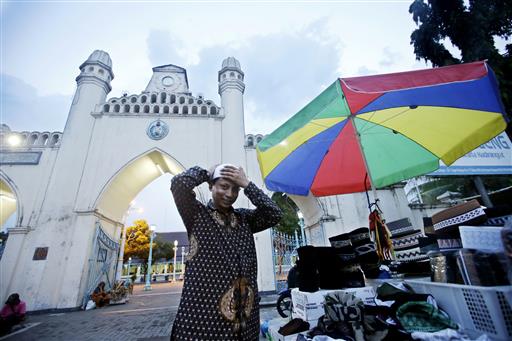 SOLO, Indonesia  — In the heart of Solo city, not far from the Islamic boarding school founded by the radical cleric who inspired the 2002 Bali bombings, the staff of an unremarkable-looking restaurant prepare for another day serving the humble staples of the Indonesian diet to hungry locals.
The manager, a slightly built man with quick lively gestures, darts about the narrow kitchen, dropping ingredients into sizzling hot pans to make the bistik and other fare that customers including the local police crave. With a wife and two children to support, he also runs a car hire business and a laundry service on the side.
One of the millions of small-time business owners that keep the world's most populous Muslim nation ticking, 40-year-old Mahmudi Haryono is also a poster boy for the transformation of a bomb maker and jihadist into a productive member of society.
To be sure, his extensive jihadist history doesn't inspire easy trust. It includes being a combatant with the Moro Islamic Liberation Front in the Philippines for three years, where he honed bomb making skills, and fighting in sectarian conflicts between Muslims and Christians in Indonesia. He was arrested less than a year after the 2002 Bali bombings that killed 202 people and convicted of hiding materials used to make the bombs.
"The fact is that I trained in the Philippines as a jihadist fighter to defend Muslims and I did jihad only when Muslims were oppressed in conflict regions. It was part of my past," Haryono said in an interview. "Today, my priority in life is taking care of my family and business and preaching a path to help reform radical inmates."
A private foundation has worked intensively with Haryono since his release from prison in 2009, and holds him up as an example of how hardened militants can be reformed. The need for such success stories is great in Indonesia, where several hundred men imprisoned for terrorism offenses have been paroled in the past several years, including 97 last year alone.
Since 2002, Indonesian authorities, with U.S. and Australian help, have vastly improved their intelligence gathering and counterterrorism operations. The imprisonment of nearly 800 militants and the killing of more than 100 in raids have weakened the groups under the Al-Qaeda-linked Jemaah Islamiyah network responsible for the Bali tragedy and dozens of other plots and attacks.
But efforts to de-radicalize militants in prison have been less successful, partly because the Islamic State group inspires them to hold to extremism. Two perpetrators of the IS-inspired Jan. 14 suicide bombing in the Indonesian capital had been released from prison shortly before the attack.
"We have to admit the de-radicalization programs by the non-state groups, and the government, are not enough," said Taufik Andrie, executive director of Yayasan Prasasti Perdamaian, an institute that helps paroled militants and established the restaurant where Haryono works and now owns a stake in.
Andrie estimates that 40 percent of the more than 400 militants released as of December last year returned to their radical networks.
He said some of those people may want a normal life, but few Indonesians want to employ them, or even have them living in their neighborhoods, so they are drawn back to radical circles where they are welcomed as heroes.
"When they are released, they are on their own. For them, society is a second prison because of the stigmatization," Andrie said.
In the Solo neighborhood of Ngruki, former militant Joko Purwanto, who uses the alias Handzollah, said he has slowly gained acceptance from the devout Muslim community that shunned him when he was released from prison two years ago.
The village of narrow lanes and tightly packed houses is dotted with shops selling hijabs and famously is home to the fundamentalist Al Mukmin Islamic boarding school founded by Abu Bakar Bashir, the aging spiritual leader of the Bali bombers, who is now languishing in prison for his role in funding a jihadist training camp in Aceh.
Handzollah, a former student at Al Mukmin, fought alongside Haryono and was arrested in a 2010 raid on Bashir's training camp. After his release, he said, neighbors ignored his greetings, and at the mosque a worshipper called him a terrorist who should be ostracized.
"I responded by doing good," the 41-year-old said. "I didn't avoid them. Instead I tried to approach mainstream society.
"Gradually, they realized that I've changed."
Nowadays, Handzollah is popular as a preacher and often travels. Numerous children from two wives are supported by one wife's business making snack foods for restaurants and shops.
He now says violent jihad is not justifiable within Indonesia because Muslims aren't under attack. In common with other parolees, he denounces IS for killing Muslims who reject its extreme interpretation of Islam.
"What I did in the past was a mistake. Many tenets of Islam were violated to do jihad, by doing bombing attacks in peaceful places like hotels, markets or other public areas that killed innocent people," he said.
Prized for his skill in repairing weapons, Handzollah said IS supporters have attempted to recruit him since he left prison. He said he has persuaded at least 10 young men not to travel to Syria to join the IS group.
Like Haryono and other former Jemaah Islamiyah militants interviewed by The Associated Press, he still believes Indonesia should be governed by Islamic Shariah law, not a secular government, but says that goal should be achieved through peaceful methods.
Yet Handzollah does not unequivocally rule out a return to militancy.
"Of course the ideology of jihad remains inside me, because it's part of Islam," he said. "I believe in Shariah law and an Islamic state, so, if someone is able to convince me with certain arguments — but this is very unlikely to me now — it may make me go back" to violence.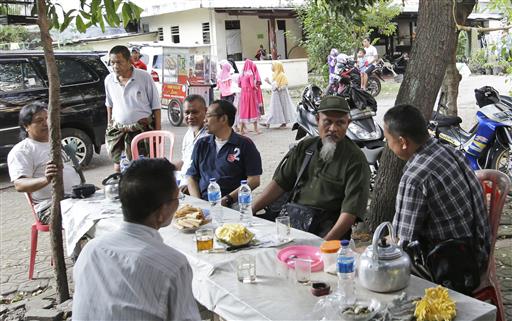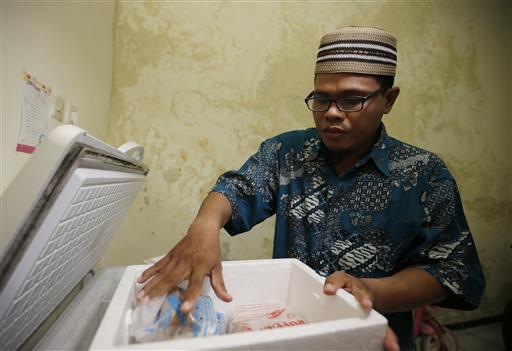 For those who support de-radicalization efforts, Handzollah represents a form of success but also underlines a dilemma for the government: Will doing more to support released militants join mainstream society help prevent future attacks, or provide the cover for militants to rebuild and plot?
Brig. Gen. Hamidin, director of prevention at Indonesia's counterterrorism agency, said there are limits to what the government can do. It can't provide former radicals small-business loans, for example, since that could create a perception there's a financial incentive for terrorism, he said. Instead, it plans to mentor released militants and help them get national ID cards, which are needed to apply for jobs, opening bank accounts and conducting other essential tasks.
Hamidin, who uses one name, says the government already has had some success. Government figures show that less than 10 percent of released militants have been re-arrested or killed in anti-terrorism operations. He concedes, however, that the number who returned to radicalism is much higher.
The recidivism figure doesn't include those who joined IS in Syria, for instance. It's not illegal for Indonesians to join conflicts abroad, though Parliament is considering a revamped law.
Andrie, from the institute, said it has been successful with most of the 30 men it has been involved with in the past five years. It finds ways to draw individuals into their communities and focuses on persuading them to repudiate violence, rather than trying to try change core beliefs such as support for a caliphate.
The group has learned on the job, including from its mistakes.
In one case, a paroled militant was provided with USD$500 (18, 000 baht) to start a T-shirt business. Soon the group discovered the venture had failed, partly because the business didn't engage the man with regular people.
As for the T-shirts? They were emblazoned with either the face of Osama bin Laden or an AK-47 and given away within the man's radical circle.
Story: Stephen Wright and  Niniek Karmini