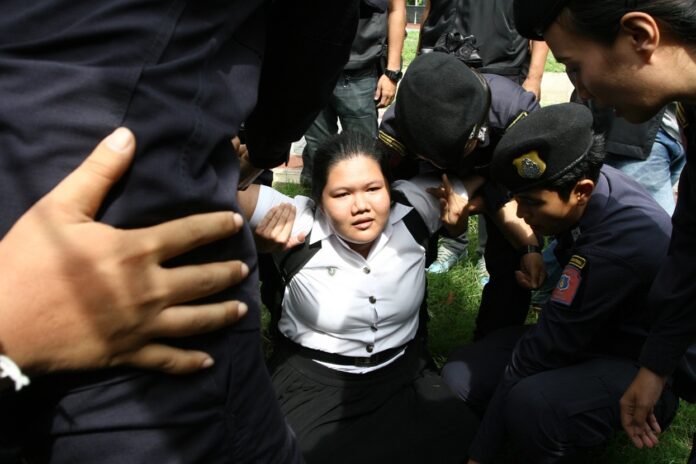 BANGKOK — Police this morning pre-emptively arrested activists en route to commemorate the 84th anniversary of democracy in Thailand.
The arrest of activists for recognizing an occasion once celebrated as a national holiday marks a further uptick in the junta's suppression of its critics and comes a day after 13 others were arrested and charged for campaigning against the regime-backed draft constitution.
Police intercepted six members of the Free Kasetsart activist group as they departed Kasetsart University for the Defense of Constitution Monument in northern Bangkok, where they planned to mark the 84th anniversary of the revolution that replaced absolute monarchy with democracy.
All of the activists were taken to Bang Khen Police Station. It was unclear whether they would be charged with any crime. Since seizing power in May 2014, the military regime has outlawed any protests, and some violators of the ban have been sent to stand trial in martial court.
Across town, a memorial at the 1932 Revolution plaque in the Royal Plaza, was allowed to go ahead, albeit with some disruption.
This morning's gathering at the 1932 Revolution memorial was called by pro-democracy Sirawith "Ja New" Seritiwat, who police immediately detained upon his arrival. However, after pleading with the officers, he was let go and permitted to oversee the garland-laying ceremony.
Members of the New Democracy Movement arrested Thursday for campaigning against the draft charter were expected to be taken before a martial court today. They've been charged with violating the junta's ban on political gatherings for handing out leaflets at a market urging people to vote no in the referendum set for Aug. 7.
In the royal plaza this morning, police intervened when an unidentified man in a black suit showed up and loudly berated the activists for honoring the 1932 Revolution. Officers who were standing guard nearby took the man away.
"Actually I wanted him to stay and say what he had to say. We are for democracy, so we respect his right to speak," Sirawith said by telephone. "But police were afraid that there would be a scuffle, so they 'invited' him away."
Staged by a group of Western-educated military officers and bureaucrats, the revolution of June 24, 1932, overthrew the royal government and heralded the beginning of parliamentary democracy in Thailand, then known as Siam.
Although June 24 was observed as National Day for decades, its significance began to wane as royalists won back their hold on power. In 1960, the palace-backed military regime abolished it, moving National Day to Dec. 5, the birthday of King Bhumibol Adulyadej.
Commemorating the 84th Birthday of Thai Democracy
Correction: Police said Friday they arrested 13 NDM activists on Thursday, not 10.