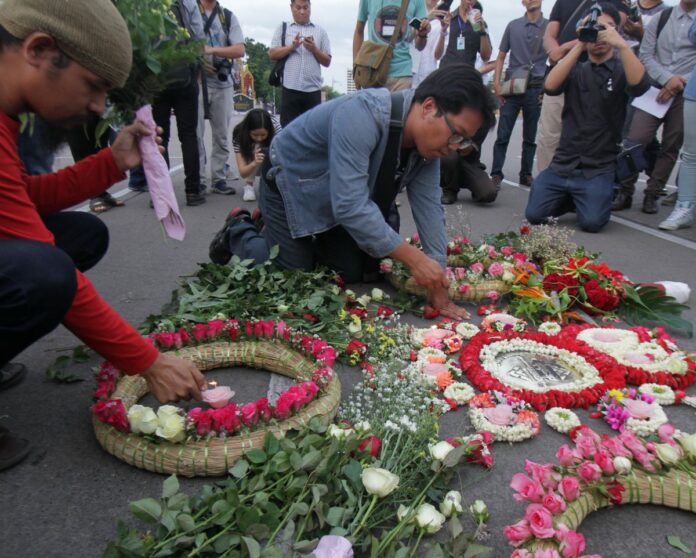 BANGKOK — Though democracy may not be restored for at least another year, some people will commemorate its very beginning later this week.
At least four events are already planned across Bangkok on June 24, the 84th anniversary of the revolt that replaced absolute monarchy with parliamentary democracy.
First, there's an annual vigil at a tiny plaque marking the very spot where revolutionaries announced the beginning of democracy that day. It's located several meters east of the Rama V Statue in the Royal Plaza in the capital's Dusit district.
This year's 6am candlelight vigil will be led by Sirawith "Ja New" Seritiwat, the outspoken pro-democracy activist who faces numerous charges for defying the junta's ban on protests.
"No group has announced it will host one yet, so this year I will host it myself," Sirawith wrote on his Facebook.
At 9am, a Kasetsart University student activist group called Free Kasetsart is will commemorate the 1932 Revolution at the Defense of the Constitution Monument in the northern district of Laksi.
The obelisk memorializes the crushing of the royalist rebellion that sought to topple the new democratic regime in 1933. The Free Kasetsart group announced via Facebook that participants will "dust off" the monument to pay tribute to the revolutionary victory over the pro-palace insurgency staged by Prince Boworadet.
"We'll clean the monument [that marked] victory by the democratic side over the Boworadet Rebellion, which aimed to destroy Thai democracy," it said.
Two panel discussions are set for that afternoon. The first one, titled "A Democratic Society: Values and Hopes," will be held at 2.00pm on Soi Sukhumvit 55 at the Pridi Banomyong Institute, an organization that bears the namesake of statesman Pridi Banomyong, one of the leaders of the 1932 Revolution.
The panel will feature political scientists and economists including Thammasat University lecturer Vannapar Tirasangka.
A second panel discussion will be held at Thammasat University's Tha Prachan campus at 5pm. It will be organized by New Democracy Movement, an activist group opposed to military rule.
Rangsiman Rome, a leader of the group, said the discussion will be about the revolution's legacy. He said the speakers and specific location would be named later Monday on the group's Facebook page.
Rome said he informed police about the event.
Watch a video of last year's commemoration of the revolution: