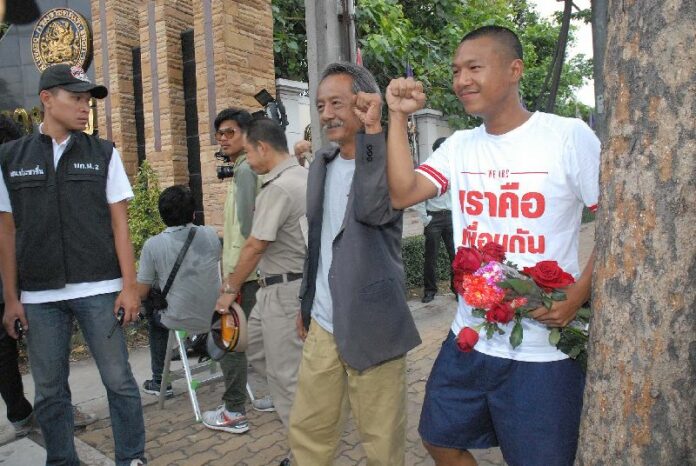 BANGKOK — The fourteen pro-democracy activists released from prison this morning say they will continue to campaign against the ruling military junta until democracy is restored in Thailand.
The activists, eleven of whom are university students, were freed from prison after 12 days this morning following the military court's decision not to extend their pre-trial detention. They were arrested on 26 June for leading a small pro-democracy rally in Bangkok, and charged with violating the junta's ban on protests and inciting unrest.
The group is facing up to 7.5 years in prison, and will be tried in a military court, which the junta granted jurisdiction over "national security" cases following the May 2014 coup.
Rangsiman Rome, a law student at Thammasat University, said he and his friends were woken up by prison wardens at 4.30 am this morning and told to get ready for their release. The group was always treated well by officials during their time in prison, he added.
"As for the rights, liberty, and democracy that we have been campaigning for, we will continue to do so, as long as Thai society is not yet democratic and is still ruled by dictatorship," Rangsiman declared outside of the prison this morning. "We will not run anywhere, because we have announced since the beginning that we believe in our non-violent approach, and we are willing to be arrested in order to show the world what Thai society is like in the present time."
He continued, "As for people who try to discredit us, I would like to ask them to use their wisdom to see whether what we do is violent. Some people also try to discredit us by saying we were paid by foreign agencies to campaign. I can only laugh at the accusation, because what is really behind us is the five principles of democracy, justice, human rights, public participation, and non-violence."
Jatupat Boonpatararaksa, a Khon Kaen University student whose nickname is "Pai," thanked those who visited him at prison and showed support for the group in their daily rallies.
"We will not run anywhere, because we have already made the decision to fight, so we will have to fight until we have our success," he said. "We will not negotiate. We will not compromise. Twelve days in prison has made us stronger. If they want to send us back there, we are ready for it."
He added, "Since this society has no freedom anyway, it doesn't make much difference being in our outside prison."

Chonticha Chaengrew (center) and Rangsiman Rome (right) outside of Bangkok Remand prison after their release, 8 July 2015.
Chonticha Chaengrew, the lone female activist in the group of fourteen, said she was upset with officials from the women's prison who insisted on driving her home this morning, even though she told them her entire family was waiting for her outside of Bangkok Remand Prison, where the male activists were released.
"They made my mother worry so much," Chonticha said. "I want the prison officials to apologize to her, because my mother had been waiting for me there. The officials should have released me in the public, instead of doing it in secrecy like that."
Among the crowd of supporters welcoming the fourteen activists this morning was Payao Akhard, the mother of a volunteer medic who was shot dead by soldiers during the 2010 crackdown on Redshirt protesters. She said she sympathized with the students, who have recently been the target of spurious accusations.
"Right now, the students are also being accused of having someone backing them," said Payao, referring to the junta's accusations that politicians and foreign agencies are funding the student group. "I want those in power to study some history so that they will see things in a clear way."
The fourteen activists embraced their supporters and families, talked with reporters, and sang an activist song in unison before dispersing from the scene peacefully.
The jailing of the activists sparked the largest public show of dissent against Thailand's military junta since the first week after the 22 May 2014 coup. Hundreds of people in Bangkok, Chiang Mai, and cities around the world have staged demonstrations over the past 12 days to show their support for the group and demand their immediate release.
In addition to Rangsiman, Chonticha Chaeng-rew, and Pai, the activists include Ratthapol Supasopon, Songtham Kaewpanpruek, Pornchai Yuanyee, Pakorn Arrekul, Abhisit Sapnaphana, Apiwat Suntararak, Payu Bunsophon, Panupong Srithananuwat, Suwitcha Thipangkorn, Supachai Pukrongploy, and Wasan Sethsitthi.