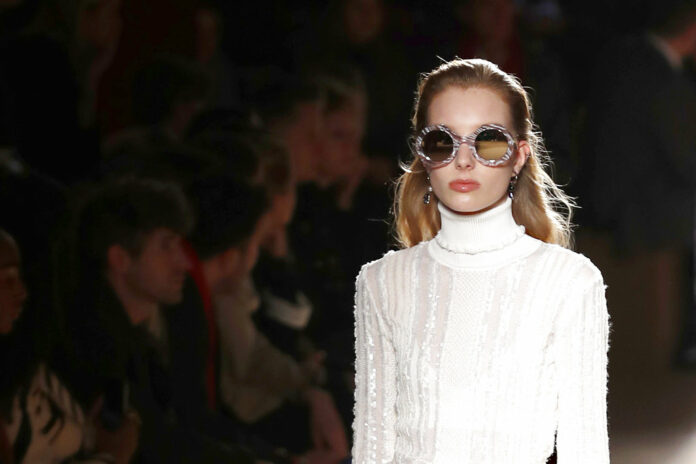 MILAN — For anyone wanting to unlock the DNA of Milan ready-to-wear, a new museum exhibition surveying three decades of Italian fashion offers some keys.
Echoes of styles and trends on display in the "Italiana" exhibit at Milan's Palazzo Reale are apparent in big and small ways on the runways during Milan Fashion Week, which runs through Monday with previews of mostly womenswear for next fall and winter.
Here are some highlights from Friday's shows, including Versace, Roberto Cavalli, Antonio Marras and Etro.
Versace Explores Clans and Aristocracy
Donatella Versace is seeking new kinships in her latest collection that brings together classic Versace motifs with a new set of codes.
Colors were loud and prints clashed in a metaphor for clans coming together as Versace combined punk references, contemporary youth culture and Versace trademarks to create a new aristocracy.
"Aristocracy is not something you are born to, but comes from carrying yourself in a certain way," Versace said before the show. "It is in being above it all, and in being an example to other women."
Bustiers defined the silhouette: overtop wild print dresses with high-heeled booties, or over a Versace T-shirt worn with, say, a tartan mini and argyle socks, or better yet, a full, long skirt decorated with beaded fringe.
The designer appealed to youth subcultures with the branded T-shirts, fringed athletic scarves, hooded mini-dresses with beaded fringe and fashion house's new Chain Reaction sneakers.
Slinky black and red evening dresses that bared shoulders and legs had incorporated scarves to cover the heads. And for Versace, long dresses aren't just for evening. She pairs hers with sunglasses, which she said was the sign of a true aristocrat.
Asked before the show to name the queens of today: "I am," she joked, then said, "There are many queens today."
One came quickly to mind: Jennifer Lawrence, who neatly deflected social media criticism for going outdoors in the cold for a photograph in a revealing Versace evening dress. "She is a real Versace woman," the designer said.
Sensual, Glamorous Cavalli
Paul Surridge's second womenswear collection for Roberto Cavalli takes the fashion house's tried-and-true battle horses — slinky dresses, glam rock vibes and animal prints — and reinvents them for the next Cavalli generation.
Surridge said he started the collection with two adjectives: glamour and sensuality.
"This is a woman who wants to be visible, also respecting social codes," he said.
The looks offered lots of skin and also the promise of more.
Tailored jackets and coats were sliced to be revealing. Long clingy dresses with cutouts showed off curves, including an off-shoulder ruched purple dress belted at the side to shown skin, and worn punk-like over a pair of black leggings. On the more romantic side, long pleated, ruffled or fringe chiffon offered a softer, billowing drama.
Surridge dipped into the Cavalli archive for animal prints, including lynx, lizard and crocodile, and also included an array of smoky, purple prints that evoke sunsets or deep seas.
On the men's side, a skin-tight top in an ethereal blue that bleeds into darkness seemed inspired by the creature in the Oscar-nominated film "The Shape of Water."
Etro's New Cosmic Prairie
Etro is celebrates its 50th year with a womenswear collection for the armchair traveler.
Veronica Etro created colorful looks celebrating the American prairie, what a modern-day Laura Ingalls Wilder might wear.
Geometric prints complement the brand's trademark paisleys interpreted as vintage bandanas on contemporary prairie dresses and blouses to wear with leather chaps. The looks also feature colorful jacquard knitwear in prairie colors of burned orange, tobacco and mustard, which created enveloping capes and ponchos.
Etro says she doesn't have to visit a place to get the inspiration.
"I travel also in my mind very often," Etro said. "You travel in books, you travel in your memories, you travel in your dreams sometimes, so it is really a mix."
The fashion house will conclude its anniversary celebration with a show opening in September at the MUDEC museum.
The Emigration of Marras
Antonio Marras explores the story of European emigration in his latest fashion collection, touching on the pain of separation, the anticipation of adventure and the raucous exhilaration of finally being accepted in a new land.
It's apt reminder of the cycle of emigration that many Italian families lived as Italy experiences an election campaign in which immigration has proved a divisive issue.
The Marras collection for next fall and winter has a decisively vintage feel with looks adorned with ruffles, beading and lace. In modern touches, flaps on a red trench coat were off-skew, argyle patterns on sweaters were knit on the bias, and long pleated skirts had mismatching hemlines.
The runway mood ranged from romantic rose prints on black backgrounds to New World plaids, old-time Varsity jackets and sweaters worn over lace and tulle skirts, and finally to fun night-out wear.
Each change of mood was portrayed by dancers who transitioned from nostalgic farewells to university frat parties to elegant Great Gatsby-style soirees.
'Italiana:' Tracing Italy's Fashion DNA
Back at the "Italiana" exhibit, creations that together made Milan a fashion capital are on display: Antonio Marras' big tulle skirt, Moschino's smiley face on yellow leather, Roberto Cavalli's animal prints and Prada's black vinyl.
For all the talk of exploring gender roles in recent seasons, the exhibit shows with side-by-side suits by Gucci, Versace and Armani from decades past that confirm that this exploration is far from new, even if it has gained new currency.
"We think that Italian designers were the first to solve some identity issues, to give an answer to identity, to changes that were happening in society and to new identities that were emerging," Stefano Tonchi, Curator of exhibit and Director of W Magazine, said during a preview of the exhibit. That includes, critically, the role of women in society.
Armani's soft suits were a revolution of comfort, while Versace's studded leather jackets and dresses promoted sexual freedom and Max Mara's trademark 101801 double-breasted overcoat gave women a key building block for a button-down workplace wardrobe.
The exhibit also traces Italy's evolution into an economic powerhouse, as purchasing power grew in the 1950s and 1960s, said the head of the Italian Fashion Chamber, Carlo Capasa.
The show, titled runs through May 6 at Palazzo Reale.