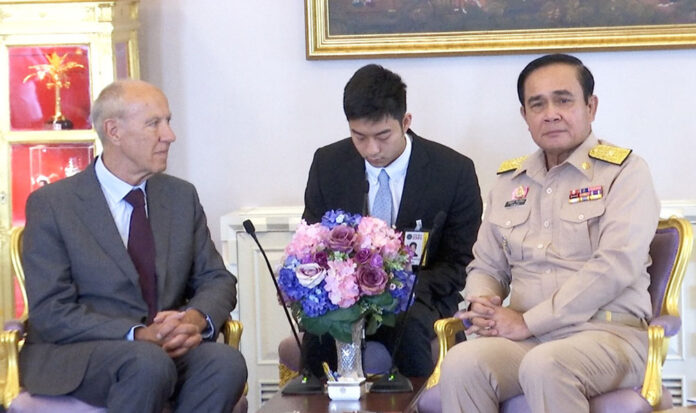 BANGKOK — Gen. Prayuth Chan-ocha said Monday that his "transition" administration would try to tackle intellectual property violations.
Meeting with the head of the UN World Intellectual Property Organization, the junta leader said his government would do its best to curb piracy and other violations.
"Although Thailand is currently in a transition government, we will do everything we can to follow international law in protecting intellectual property," Gen. Prayuth told Francis Gurry at a morning press briefing.
Thailand, which has been a WIPO member since 1989, is famous for readily available pirated items, ranking 66th worldwide last year on an index by the US-based Property Rights Alliance. Thailand's position has changed little since 2010.
Gurry is in Thailand to give a talk at an intellectual property seminar on sustainable development.
Since joining WIPO in 1989, nearly 370,000 trademarks have been registered in Thailand. Since 2007, about 1,300 patent and 35,000 trademarks on average are sought annually.
In 2016, people applied for 1,601 patents and almost 47,000 trademarks.
Most patent applications and grants from Thailand come from foreigners: In 2016, 1,098 Thais applied for patents compared to 6,722 foreigners. Around a fourth of the foreign applications, over 1,700, were granted a patent. About 5 percent of Thai applications were registered.
One of the top applicants in recent years is petrochemical giant SCG Chemicals Co., Ltd., which received 22 patents in 2017 alone.