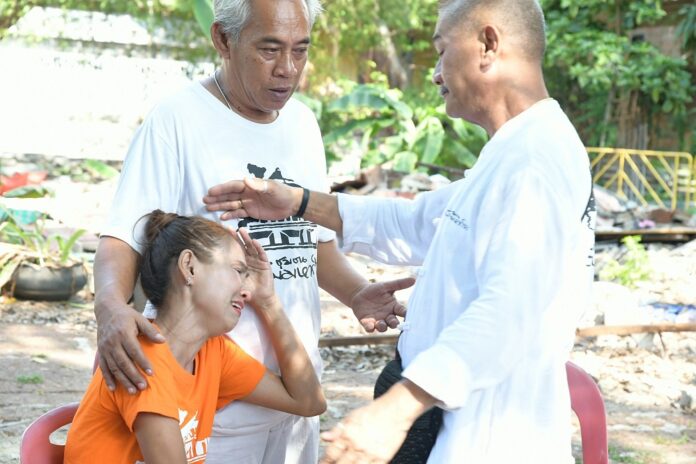 BANGKOK — Decades of legal battles and standoffs, residents of a historic community at one of Bangkok's two remaining premodern forts have raised the white flag, City Hall said Monday.
Authorities will move in to bulldoze the remaining eight homes in the Pom Mahakan area on land the city says will be turned into a park, planning department chief Sakchai Boonma said. The government said the community – which has existed there for centuries – illegally occupied public land.
"The discussion is over. They are now preparing to leave,"  Sakchai said. "They have already packed. There are just eight homes left."
Although media reports say City Hall could demolish the last homes by Wednesday, the official gave no deadline.
Mahakan Fort residents and their supporters gathered Sunday to bid the community farewell. In a statement released to the media, the community leaders said they did their best to impede the eviction.
"In the end, we have to face the reality that, in the future, the Mahakan Fort community might become just a name and a tale that people tell each other," part of it said. "Soon, it will be erased from the history of this metropolis."
City workers first moved in to begin dismantling the homes of residents who had agreed to depart in September 2016.
People have been living in the neighborhood around the octagonal fort since the reign of King Rama III, straddling along a busy canal just outside Bangkok's eastern perimeter at the time.
In 1991, the Bangkok government ordered the residents to leave and make way for a public park project. The community fought the eviction with lawsuits – which they lost in 2016. Officials have since begun demolishing the homes, to the protest of some conservationists and historians.
Sakchai, the chief city planner, dismissed worries that other historic neighborhoods could meet the same fate as Pom Mahakan or communities cleared last year for a junta river redevelopment project.
"We won't evict other old communities," he said.