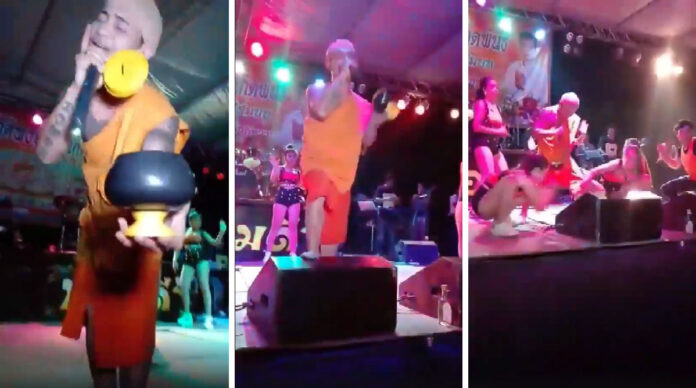 BANGKOK — In a now-viral video, singer Siriluk Phingam was raising cheers from his audience. He was dressed in monk's robe and brandishing an alms bowl as he sang in the company of scantily clad dancers and cracked jokes in the intervals.
"If there's any seeka who's unmarried in the crowd, let me know!" Siriluk bellowed at the Saturday's show, using a Buddhist term for female laymen. When someone gave him tips later, he put them in the bowl, just as monks do after receiving donated food.
By Tuesday, a torrent of criticism from Buddhists on social media and threats of legal action forced Siriluk to apologize on his Facebook account. In a post, Siriluk said he intended no blasphemy.
"I'm wrong, so I admit I'm wrong. From now on there will not be an issue like this again, I promise. Let this be an expensive lesson in my life," he wrote. "I did not intend to insult the religion."
Originally posted to a Facebook page called "Big Grian" on Sunday night, the video soon attracted criticism from Buddhists offended by Siriluk's choice of outfit.
#สนุกเหรอ!!??ตลกตรงไหนคลิปนักรัองหนุ่มวาดลวดลายเต็มที่โดยแต่งตัวเป็นพระ ใส่วิกผม ถือบาตรมีผู้ถ่ายคลิปและส่งให้เพจบิ๊กเกรียนนำฟ้องสังคมถึงความไม่เหมาะสมเหตุเกิดเมื่อคืนที่ผ่านมา จังหวัดกำแพงเพชร#บิ๊กเกรียน

โพสต์โดย บิ๊กเกรียน เมื่อ 22 เมษายน 2018
"Buddhism is our national religion, and people around the world know monks are symbols of Buddhism," user Kwanchai Suksai wrote in reply to the video. "Haven't you thought that if the video spreads, foreigners and people from different religions might misunderstand it?"
Phra Kru Anukul Sasanakij, a senior monk in Ayutthaya province, called on authorities to prosecute Siriluk for imitating a holy man.
"Dressing up like that is punishable under an offense of disguising one's self as a monk, which has a specific uniform, and it also causes damages. Relevant agencies should investigate this and take legal action," the monk told reporters.
Disrespecting any religion is punishable by up to seven years in prison, while impersonating a monk has a maximum penalty of a year in jail.
Calling Siriluk "an animal from hell," a Buddhist activist likewise urged the national authorities on Buddhism to take legal action.
"We are waiting to see if the National Office of Buddhism can catch this wrongdoer and punish him, or if they only go after real monks," said Korn Meedee, a leader of a group called Federation of Thai Buddhists.
Writing in a comment to a thread where the video was first posted, Siriluk said he donned the monk's robe to entertain the crowd.
"What I did was just a show. I had zero intention of insulting the religion," he wrote.
Not everyone is angry at the singer. Some questioned why Buddhists are more offended at the act than actual monks who misbehave.
"What is religion? Isn't it about teaching and what's in our hearts? Don't be so fanatical," Suthida Wongsueb wrote in the same thread. "Some people are real monks, yet they exploit people for money, screw seeka, drink alcohol and eat whenever they like."