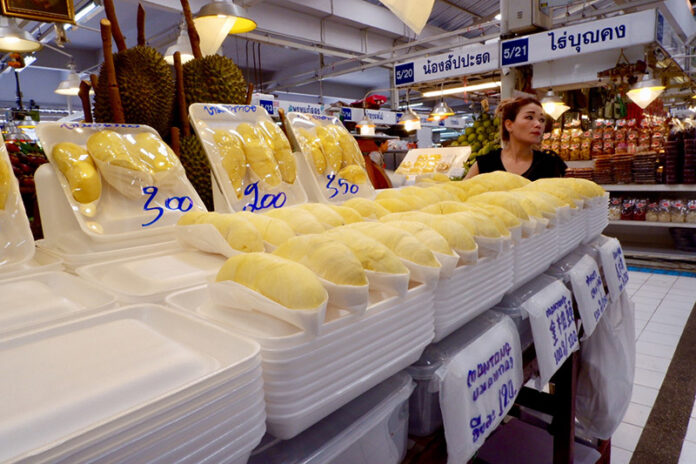 BANGKOK — Days after an environment minister declared a famous fresh market would reduce plastic and Styrofoam use, vendors said Tuesday it was a pipe dream staged for the cameras.
Merchants at the Or Tor Kor Market said on World Environment Day that despite the environment minister announcing last week their market would be a model for reduced plastic and Styrofoam use, switching to use eco-friendly materials was not going to happen.
"It's impossible. There's no replacement for plastic," Noi Sriprasert, 27, who sells mhon thong durian on Styrofoam trays wrapped in plastic at the Khun Lek Durian shop. "Paper is too weak and thin. It won't hold the durians in a nice shape. They'd get damaged."
Read: Pride in Produce Puts Bangkok's Or Tor Kor Market Among World's Best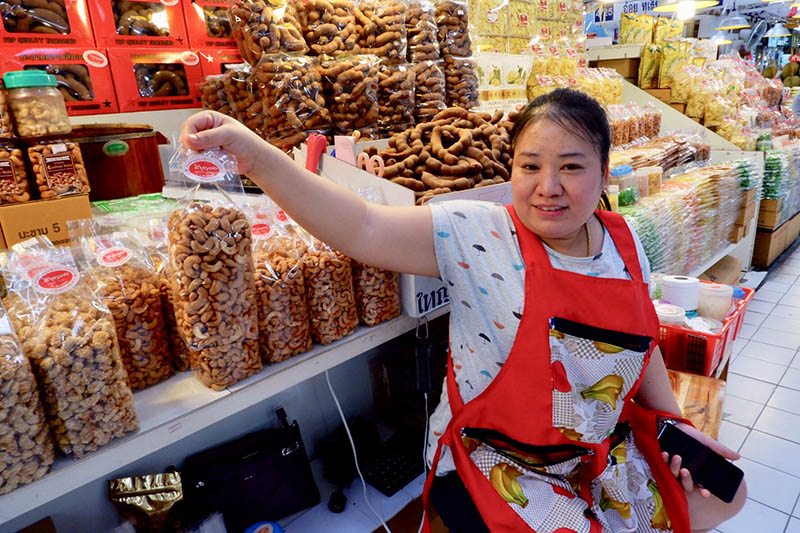 Noi said that on Thursday, when Natural Resource and Environment Minister Gen. Surasak Kanjanarat signed a piece of cardboard located a few feet from her shop as a publicity stunt, officials asked her to cover up her Styrofoam trays with a cloth. The durian seller also said that since the cameras left Thursday, she hasn't received any instructions from market management on changing her practices.
Hathairat Methawong, 36, who sells dried goods at the Rai Boon Kong shop, said the same.
"If it's not plastic, it can't handle it," she said, holding up a bag of cashews. "I get a big shipment, and then I sort them into these plastic bags and seal them. Nothing else will keep them fresh. Plastic is necessary for us to use."
Still, both vendors said customers could bring their own containers or refuse plastic bags.
"I'm willing to be accommodating," Noi said. "It's all up to the customers."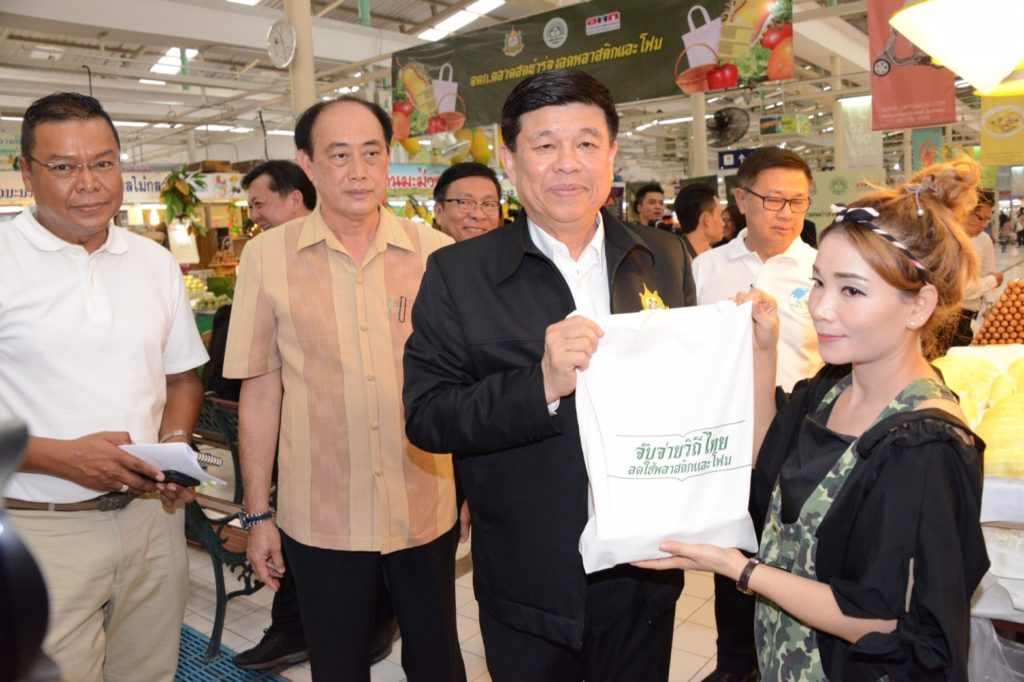 The only sign of more sustainable practices were boxes made from bagasse, or sugarcane pulp, instead of Styrofoam at several shops in the market's cafeteria.
"My sister told me to use these bagasse boxes instead of foam ones. They say it's better, but I'm not sure how," Kaew Pornpetch, 30, vendor of the Je Muay Pork Leg ship said. "Maybe it's safer for consumers?"
Kaew said foam boxes are cheaper than the bagasse boxes, which cost 2 baht each. She said customers sometimes compliment her box choice and that's why she continues using them.
Still, Kaew and other vendors have to pack soup in plastic bags, give out plastic sauce cups and even line the bagasse boxes with a layer of plastic to prevent leakage.
During lunch rush hour, only one customer could be heard yelling, "No spoon please!" making Kaew drop a plastic spoon back into its tray.
The Or Tor Kor market in Chatuchak district is one of Bangkok's foremost markets for premium produce and a popular destination for Chinese tourists.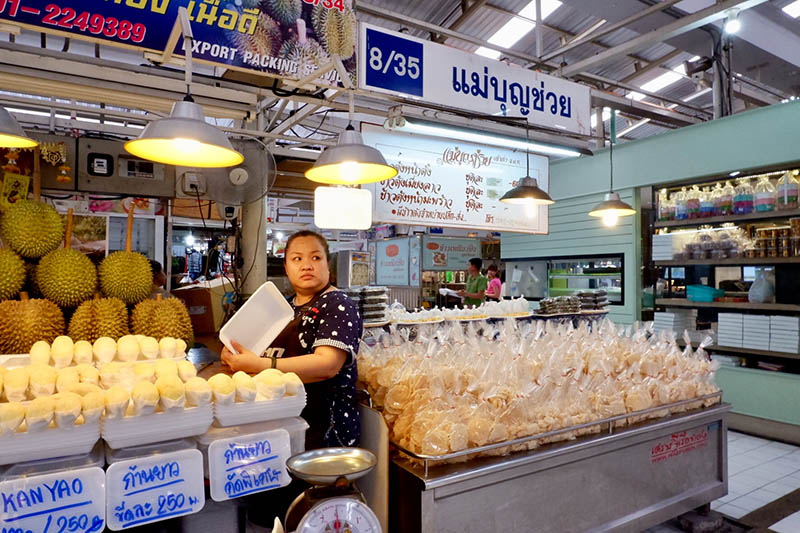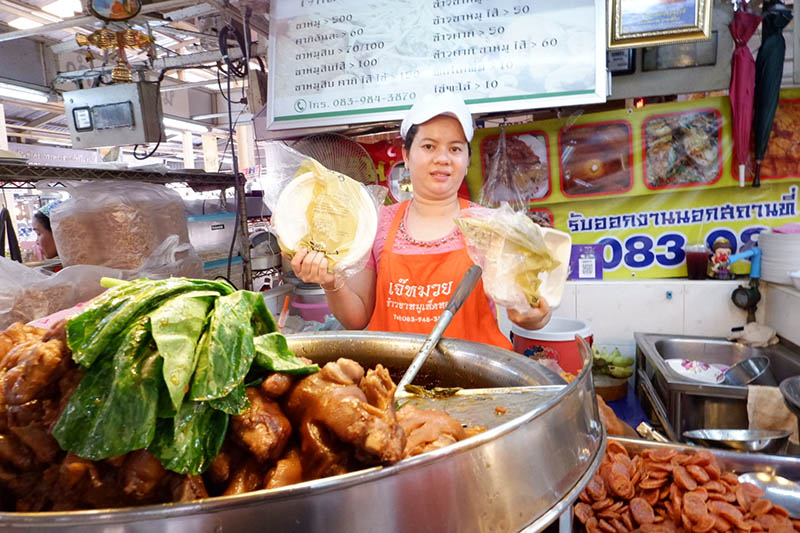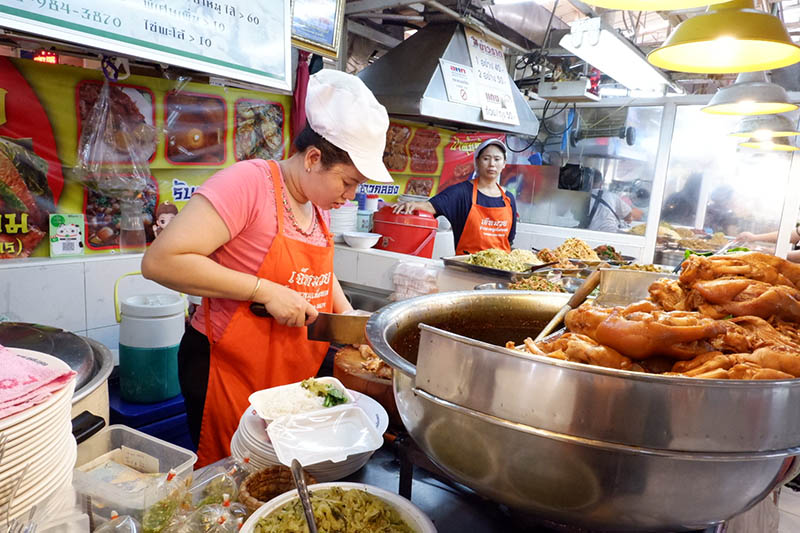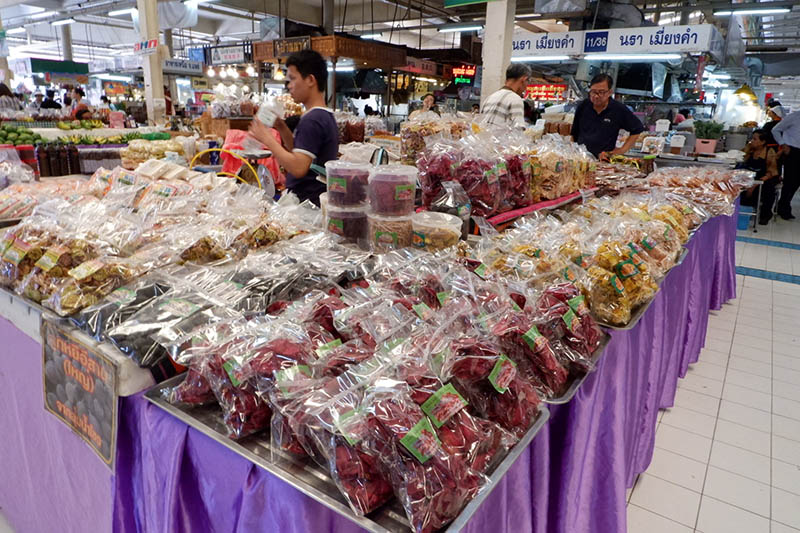 Related stories:
Pride in Produce Puts Bangkok's Or Tor Kor Market Among World's Best