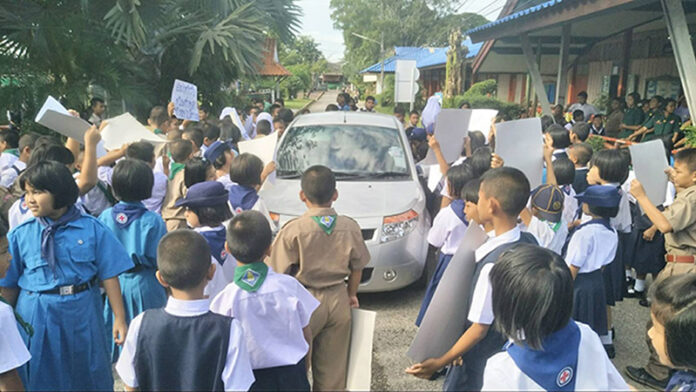 SATUN — As one, they closed in around the vehicle, waving signs expressing anger at their mistreatment and refusing to take it anymore.
The signs were little. And so were the protesters.
Elementary school students in the southern province of Satun staged a protest Thursday to demand the expulsion of a teacher accused of being lazy and rude.
Before school started, dozens of students and parents holding cards spelling out the shortcomings of Chantana Sutaphanit surrounded her car as it came in the Anuban La-ngu School gate.
According to the parents, Chantana has behaved badly by using profanity in front of her students, cursing at them, poking them with sharp pencils and neglecting her duties by being on the phone all day. Some teachers also said Chantana did not work well with others.
The students' signs read "Kru Chantana get out," "I don't want to study with Kru Chantana," "I'm not a brat," and "Why do you have my kid massage you during school hours?"
The demonstration ended at 9am. La-ngu district police came to observe the scene later as they received a call from Chantana while her car was blocked by the young protesters.
Sa-ard Utsama, a top provincial education official, went to the school to meet the parents and promised to investigate. He added that Chantana would immediately be suspended until the investigation is completed.