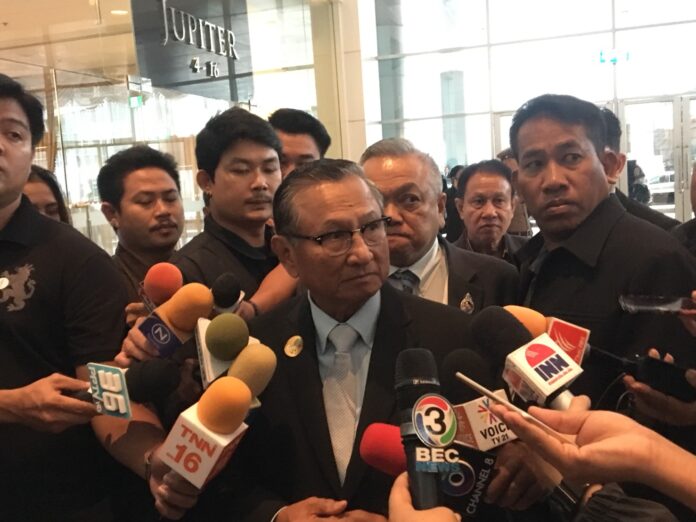 BANGKOK — The top elections official said Thursday that the junta-appointed assembly should not get involved in choosing the inspectors who will monitor the next election.
Supachai Somcharoen, caretaker Election Commission chairman, criticized a group of members of the National Legislative Assembly for interfering with the selection of 616 election inspectors that will ensure the integrity of the next general election.
Instead of being chosen by the commission, whose present members were not appointed by the military, the inspectors would instead be picked by a committee comprised of judges and provincial governors chosen by the assembly, according to a proposal by assemblyman Mahanop Dejvichit.
Read: Critics Say 'Som Nam Na' After Somchai Thrown Under Bus
Supachai defended the actions of the commission and its current modus operandi against accusations they might be under the influence of civilian politicians. Election inspectors monitor polling in their assigned areas and report any irregularities to the Election Commission.
"If it is evident that an inspector is not transparent or unable to do their duty, that person must be immediately discharged by the election commissioner, according to the law," he said.
Mahanop earlier this week gathered the support of 36 legislators for legislation to impanel a new committee to take over the election commission's selection process.
He said the assembly did not intend to replace existing inspectors if their qualifications met the requirement of his proposed law, however.
However, Supachai argued that existing inspectors could end up not being appointed under the assembly's legal rationale that it has a right to amend the law and introduce a new regulation.
Moreover, some politicians opined that if this law were amended, the election roadmap might be affected. Wissanu Krea-ngam, deputy prime minister, pointed out that the process of amending the law and rereselecting inspectors would likely delay steps toward staging the next election, which is expected next year barring further delay.
Additional writing and reporting, Pravit Rojanaphruk
Related stories: