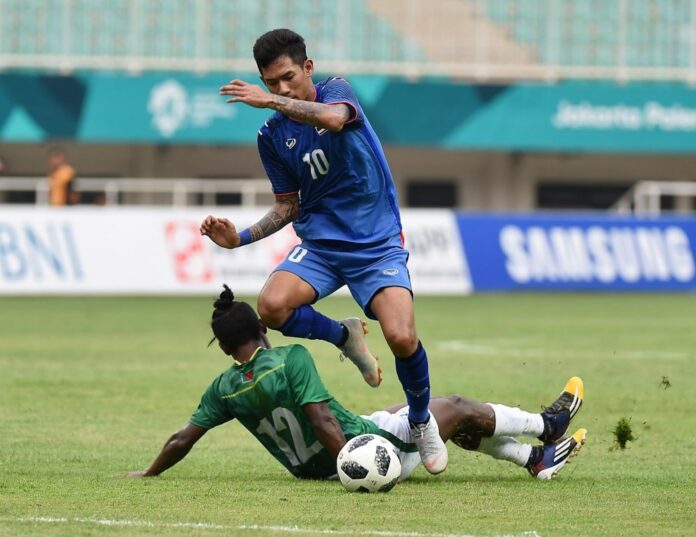 BANGKOK — Diving from outside the six-yard box and sandwiched between two defenders, Uzbek striker Zabikhillo Urinboev's 17th minute header sealed Thailand's most disappointing footballing performance of the century at the Asian Games.
For the first time in more than two decades, Thailand's men's football team was eliminated Sunday at the group stage of the Asian Games. By Tuesday, the head of the Thai football association Somyot Pumpanmuang said he had ordered the coach to explain to him in person what happened.
The 0-1 loss to Uzbekistan ended the euphoria that erupted a day earlier when Thai athletes won their first gold at this year's games in Indonesia. The War Elephants' head coach Tuesday apologized to fans, many of whom were venting their frustration on social media.
"I'd like to apologize to all the Thai football fans for disappointing them," Worawut "Yong" Sriraman told reporters. "We tried our best. As for what lies ahead in the future, we will hold a meeting about it when we get back."
The team's early exit from the games in Indonesia follows an abysmal performance that marked an Asian Games low after they finished third in Group B, following 20 years advancing to the knockout stages.
They were held 1-1 against Qatar and reproduced the same scoreline against underdogs Bangladesh – a team ranked 72 places below them in the FIFA World Rankings who made it through to the round of 16.
It was being shut out 0-1 Sunday to group leader Uzbekistan, who sealed their elimination. Team Thailand amassed only two of nine possible points.
Thailand's performance compared poorly to that of its neighbors. Indonesia, Vietnam and Malaysia are progressing as group leaders. Though eventually eliminated, Myanmar and Laos secured 4 and 3 points, respectively.
Somyot, the Thai football association chief, acknowledged it was a crushing defeat.
"Many Thai fans had hoped that they'd at least make it to the knockout round," said Somyot, who was appointed in 2016 after leading the national police. "But that's how football is. Sometimes there are mistakes."
A Century Low
The last time Thailand didn't emerge from the group stages was 1994. The team has performed well despite never reaching the final, finishing fourth in 1990, 1998, 2002 and 2014, and reaching the semis in 1998 and 2002.
The team's goal ratio in this year's group stages also stands out as the worst in two decades. In the 2010 groups, the team scored seven goals and conceded one. In 2014 it scored 11 goals and conceded none. This year they found the back of the net twice and conceded three goals.
The poor performance left fans in shock and searching for explanation: What went wrong?
Among the outpouring of rage and grief on social media, many found fault in one factor: the coach's controversial decision not to call up any players over 23 despite a stable of seasoned fixtures such as 24-year-old winger Chanathip "Jay" Songkrasin and veteran Teerasil "Mui" Dangda, who turned 30 in June.
Though up to three players in each men's squad can be over 23, the coach included none.
Worawut defended his decision, saying he wanted to give young players a chance to shine. But one football critic contrasted his tactic with other successful teams such as South Korea who fielded their permitted veterans.
"Why aren't they afraid that the new stars won't shine, like we are in our country?" Krirkchai Khunto wrote in his column on Thairath. "If we want to succeed and create role models for the new generations of players to see their ability … it would have been a good motivation."
But not all hope is lost for football fans in Thailand. Its women's national team made it to the quarters, with the next match scheduled for Saturday.