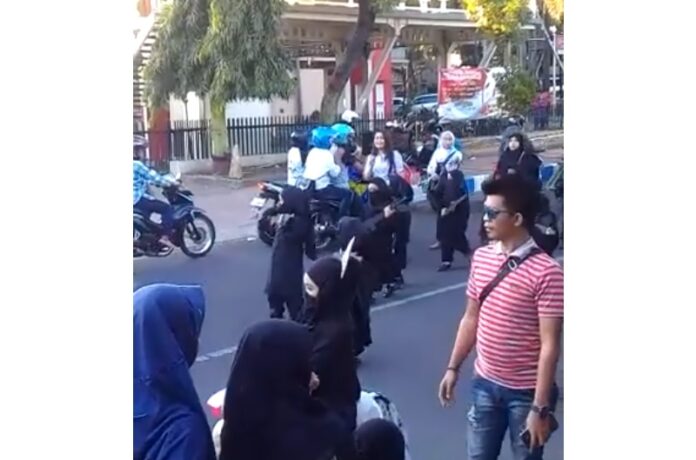 JAKARTA — Indonesian officials have defended a street parade that involved veiled kindergarteners carrying replica weapons, with police saying they will arrest the person who uploaded a video of the event to Facebook.
The video of children dressed head-to-toe in black marching with wooden guns has caused a sensation in Indonesia, which in May suffered one of its worst attacks in years when militants used their children as suicide bombers in the second-largest city, Surabaya.
The parade in East Java was one of thousands held across Indonesia last Friday to mark independence.
Probolinggo Police Chief Alfian Nurrizal told The Associated Press on Tuesday that police were investigating who uploaded the video. He said it may have been edited to convey the wrong impression.
"He or she did not upload the entire footage," Nurrizal said. "There are allegations of intentionally cutting the footage for a certain purpose." If the parade was "filmed completely since the beginning, there will be no misunderstanding," he said.
Local media reported that Education and Culture Minister Muhajir Effendy said the parade was misinterpreted and the staff of the school, located inside a local military command, had no intention to instill radicalism in children.
It contained many elements, he said, including symbols of Muslims who struggled for Indonesia's independence and the red and white of Indonesia's national flag.
"It was recorded when these veiled children carried only replica guns," he told reporters. "In fact, there were themes raised by these children, namely the struggle of Islam. Until finally this piece of video spread on social media and was very biased."
However, the principal of the school apologized. And the head of prevention at the National Counter-Terrorism Agency said public outrage over the incident was a positive sign.
"For us, people's reaction against such a parade was a sign of good awareness about radicalism," Brig. Gen. Hamli told AP.
"In the past, maybe people didn't care about these kinds of activities," he said, "but now at least people were concerned that it was inappropriate activities for these children and they responded immediately."
Nurrizal said the provincial police's cyber unit is helping to track down the video uploader.
After Jakarta's minority Christian governor was convicted of blasphemy last year and imprisoned, police also prosecuted the individual who helped trigger massive street protests against the governor by posting a video online of him making offending comments.
Story: Niniek Karmini