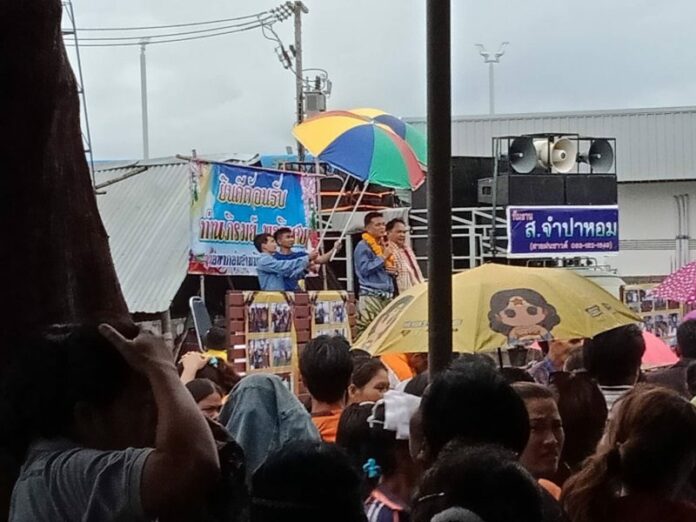 BANGKOK — Politicians gave mixed reactions Thursday to the idea that they will get about two months to campaign for next year's promised elections once the ban on politicking is lifted mid-December.
A day after a top official said campaigning is likely be allowed starting mid-December, pols from the Pheu Thai and Future Forward parties said that time is inadequate so long as the ban prevents them from making preparations, making for an election that will be neither fair nor free. A senior Democrat Party member said the given time will be enough, depending on how each party prepares.
"It sounds good when you listen to it … but as long as the political ban continues, old political parties are frozen," Weng Tojirakarn, a former Pheu Thai MP, said Thursday, adding that it will take time for parties to come up with policies or choose new leadership.
Pheu Thai Party caretaker secretary general Phoomtham Vejchayachai said the party will try to name new leaders within 10 days of the ban being lifted.
Future Forward spokeswoman Pannika Wanich said Thursday it is unfair to keep the political ban until mid-December as having 60 to 70 days for campaigning – a period longer than some past elections – won't compensate for the losses suffered by political parties and the general public.
Pannika said a number of political parties, including Future Forward, have called for the military junta to immediately lift the four-year-old ban.
"Moving toward free and fair elections requires that political parties have the opportunity to declare their stances and ideologies as widely as possible, so people have full information to make informed election decisions. The longer the ban persists, the less free and fair elections will become. This is not only adverse to political parties but will affect the legitimacy of the election results," Pannika said.
On Wednesday, Deputy Prime Minister Wissanu Krea-ngam said campaigning will be allowed sometime in mid-December, and that the 60 to 70 days would be more than some past polls, when snap elections left politicians as few as 45 days.
"There is more than enough time to prepare party policies and run an election campaign… There are about 70 days between mid-December and Feb. 24," Wissanu said Wednesday, referring to a date that has been floated for Election Day. "It's more than enough compared to other [elections]."
Chorisak said the idea that 60 days or even 70 days would suffice is an outdated way of looking at elections. The way things are now, she said the stress is on voters remembering a candidate's number in order to vote for them.
"If you want people to have greater participation and understand the policies of each party and think clearly before they vote, 60 days won't be enough," she added.
But one of the leaders of Thailand's oldest party said the alloted time will be enough. He said it depends on how each party prepares prior to the lifting of the ban.
"For the Democrat Party, we will call for a general assembly as soon as possible after the ban is lifted, no more than 10 days after," said deputy Democrat Party leader Nipit Intarasombat.
He still reserves doubt that a vote will happen in February, as most recently promised by the ruling junta.
"There could be another legal miracle," he said, referring to previous pretexts for forestalling elections in recent years.
Correction: A previous version of this story had the Future Forward Party spokeswoman's first name as Chorika. It is in fact, Pannika.