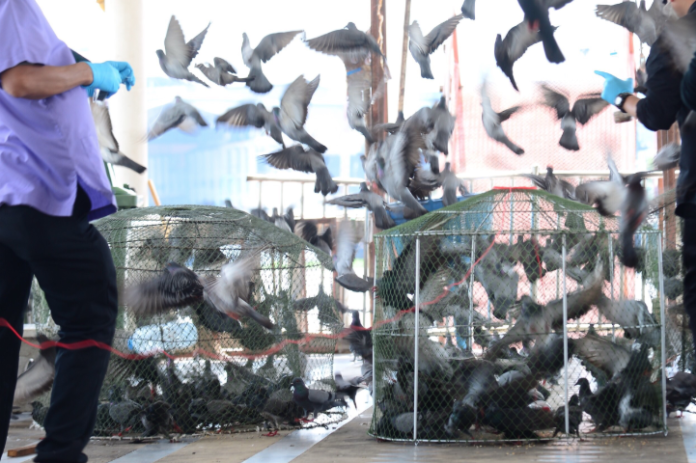 BANGKOK — The high-flying days may be drawing to an end for Bangkok's pigeons, but their friends in the north continue flying – and eating – free.
Two days after the government declared war on pigeons, a vet team Friday was testing bird poop for disease at a west Bangkok temple while about 100 were rounded up for quarantine. While City Hall made a display of diligence following the prime minister's orders, other localities seemed less urgent.
Read: Thai Junta Orders Millions Rounded Up, Denied Food
Deputy Gov. Taweesak Lertprapan said there are more than 4,000 pigeons residing at Wat Bukkhalo on the west bank in Thonburi district, where residents have been complaining the birds disturb them, especially in the afternoon when more people arrive and feed them.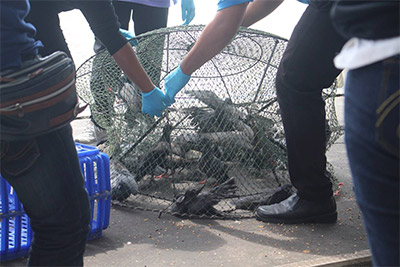 The birds quarantined in Pathum Thani province will then be "released back into the wild," he said, adding that most pigeon-plagued areas are the capital's Huai Khwang, Lak Si, Bangkok Noi, Ratchathewi and Phasi Charoen districts.
When it comes to prosecuting people feeding the abundant birds, Taweesak said City Hall would penalize repeat offenders. Selling food and feeding pigeons are crimes punishable by up to three years in jail and a 25,000-baht fine.
Yesterday, workers in Bangkok Noi moved in on Wat Rakhang, which has been troubled by a massive kit of pigeons.
The bird situation at temples is of particular concern because they are popular places for Thais to feed and release animals to earn spiritual merit.
"Bless the hearts of those with compassion for other living creatures," said temple abbot Phisantheradharma. "But to make true merit, you also have to see whether your actions will pose negative consequences for others."
The deputy governor blamed sharing food meant for fish with the birds and boosting their populations at many temples.
He also acknowledged their intelligence and resilience, which makes controlling them difficult.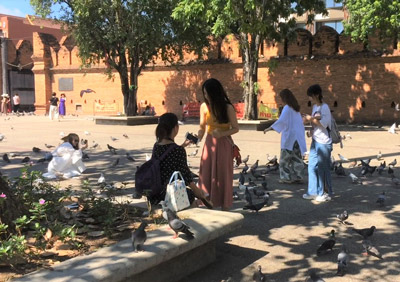 In Chiang Mai city, however, the order doesn't seem to be adopted as active as in the capital.
For two days since Gen. Prayuth Chan-ocha ordered the pigeon crackdown, tourists were still able to buy food and feed the birds comfortably at Tha Phae Gate, a popular tourist destination, despite new signs in Thai, English and Chinese asking them not to.
Prasert Taduk, a 70-year-old Chiang Mai city street cleaner, said the pigeons population has surged in the past couple of years, which he believes happened because tourists, especially Chinese, enjoy feeding birds and taking photos with them.
Most of his daily cleaning, he said, consists of plastic bags of bird food, crumbs, pigeon poop, feathers and bird corpses.