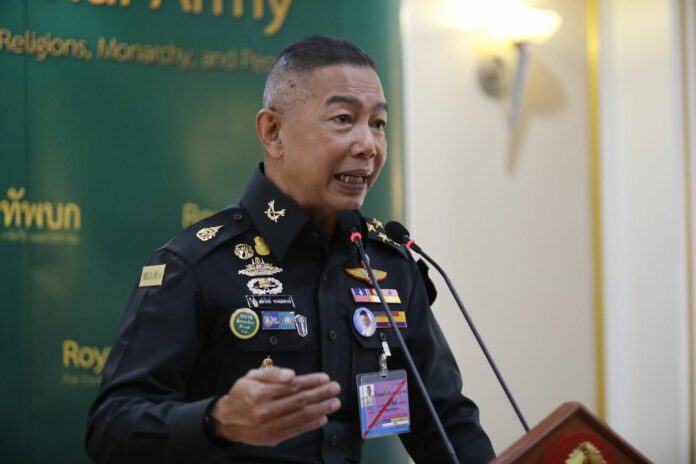 BANGKOK — The refusal by Thailand's new army chief to disavow another military coup drew a heated response Thursday.
Former Pheu Thai Party MP Watana Muangsook said the army chief, who spoke to reporters for the first time Wednesday since assuming command earlier this month, is already placing himself above the law and damaging the investment climate.
"It shows that the army leader is autocratic and acts above the law because such remarks during the interview were a threat to use force to overthrow [the government] or change the constitution, which is a crime of treason under Article 113 of the Penal Code," Wattana said in comments published online.
Read: New Army Chief Calls Royal Petitioners 'Insane'
Gen. Apirat Kongsompong on Wednesday refused to commit to not staging another military coup when asked by a reporter if how he would handle another political crisis such as that which precipitated the 2014 coup that brought the current ruling junta to power.
"I am confident that if politics does not cause a riot, there won't be any. Thailand has had more than 10 coups, but it's no longer like in the past, because the recent ones occurred due to politics," Apiwat said.
The new army chief, himself the son of the general who led the 1991 coup, assumed the all-powerful position on Oct. 1. He also defended current junta leader-cum-prime minister, saying he believes that Gen. Prayuth Chan-ocha did not intend to stage a coup over four years ago.
"I truly believe Gen. Prayuth never wanted to as well, but he had to sacrifice himself. What would have happened if Gen. Prayuth did not decide to stage the coup?" said the army chief, adding that he hopes there will be no future political violence.
Others on Facebook expressed anger at Apirat's non-committal stance.
"An ungrateful guy! I'm a taxpayer!" Facebook user Kanonkkorn Onlamri wrote.
"I can't believe that he would dare speak this way. They don't respect the people who pay their salaries through taxes," Facebook user Poom Pattara wrote.
Some defended Apirat and the most recent coup, however.
"The coup occurred after political demonstrations!! We must ask why protesters committed arson or shot innocent people …" @Notergg tweeted.
"I agree with the soldier," @Skcallcenter tweeted last night.
One Twitter user put forth their idea for a solution: arming the electorate.
"Amend the law to enable people to more easily own guns, and there will be fewer coups," wrote @Mowtntan on tweeted.