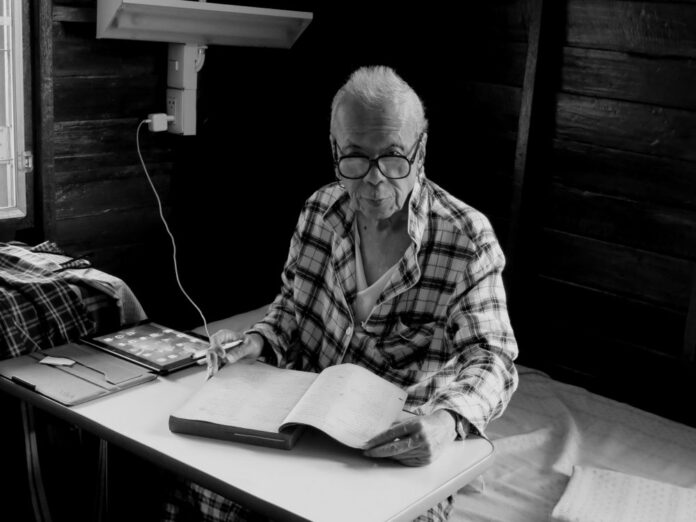 BANGKOK — Renowned writer and national artist Ajin Panjapan died Saturday. He was 91.
Ajin died of natural causes at Bangphai Hospital in Bangkok at 5:44pm, according to a statement posted last night to his official Facebook fanpage.
His most prominent work is the series "The Tin Mine" ("Maha'lai Muang Rae"), a semi-autobiographical account of the time he was sent by his family to work in a tin mine in Phang Nga province after dropping out from Chulalongkorn University.
His emotional account gave people an unprecedented look at the hardships faced by the miners as Ajin recounted the life lessons it afforded him.
He spent four years mining, during which time he started writing short stories and nonfiction works.
"The Tin Mine" was published in installments in Chao Krung magazine starting in 1954 and continued over 30 years with 142 episodes. It was later republished in volumes by several publications and is recommended by the government as one of 100 things Thais should read.
The story was made into a movie of the same name in 2005 by director Jira Maligool.
Made for 70 million baht, the film had a screenplay co-written by Ajin, who also appeared in the film as himself.
Though a box office failure earning only 30 million baht, the movie was acclaimed by critics and was named Best Picture by three Thai film awards. It was Thailand's official entry for the 78th Academy Awards' Best Foreign Language Film.
Ajin was named National Artist in literature in 1991 and a year later won the Sriburapha Award, which honors the lifetime achievements of artists, writers and journalists.
Besides "The Tin Mine," he also wrote a number of short stories and songs. He founded a publication and published his own magazines, the most popular of which was "Fah Muang Thai," from 1969 to 2000. It became a launching pad for many young writers at the time.
Born Oct. 11, 1927, in Nakhon Pathom province, Ajin is survived by his wife Naengnoi Panjapan, also a writer and editor. They had no children together.