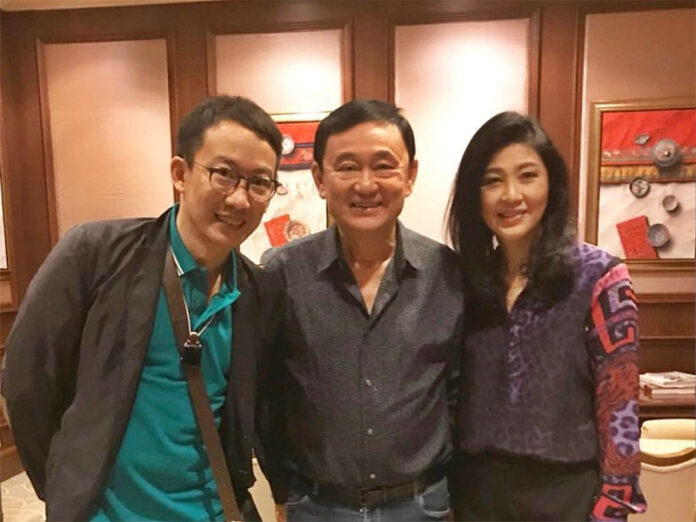 BANGKOK — Panthongtae "Oak" Shinawatra, the only son of fugitive former premier Thaksin Shinawatra, entered politics directly Sunday by joining the party founded by his father.
Panthongtae, a 38-year-old billionaire who started Voice TV, said he will campaign for Pheu Thai Party by visiting various constituencies throughout the kingdom. The move put to rest a decade of speculation about whether Panthongtae's political ambitions. It comes as a number of former Pheu Thai MPs have bolted to either Pheu Thai offshoot parties or those supporting the ruling junta.
"Being a 'child of Thaksin,' you can't lose heart or be indecisive because there's only two choices, stay quiet and be hunted or move forward with faith and ideology!!" Panthongtae wrote online last night, referring to an ongoing money laundering case against him.
In October, he was accused of laundering billions linked to a loan scandal at state-owned Krungthai Bank. He and his supporters say the charges are the latest in a series of politically motivated prosecutions involving members of the Shinawatra clan.
Panthongtae said he decided to join as "just one ordinary person" because the party, which has won every election for nearly two decades, is shedding members as former MPs switch either for the sake of their political futures or enticements over ideology.
"We will let those who robbed democracy from us, and those who defected out of personal gains, know and learn a lesson that their robbery of democracy won't last," Panthongtae wrote on Facebook, where his page has nearly 3 million likes.
As positions are staked out by dozens of parties large and small, new poll results found a statistical tie between Pheu Thai's de facto leader and the leader of the ruling junta when it comes to who the public would like to see become the next prime minister.
About one-in-four respondents (25.16 percent) said they want to see Sudarat Keyuraphan lead the nation after the general election now slated for late February. Essentially a tie within the poll's 5 percent margin of error, 24.05 percent of respondents support Prayuth Chan-ocha, who led the 2014 coup which overthrew the previous Pheu Thai-led government. Taking the No. 3 and 4 spots were Future Forward Party leader Thanathorn Juangroongruangkit (14.52 percent) and Democrat Party leader Abhisit Vejjajiva (11.67 percent).
The NIDA Poll, conducted this past Tuesday through Thursday, asked 1,260 people over 18 from various professions across the kingdom who they want to see become prime minister after the election.