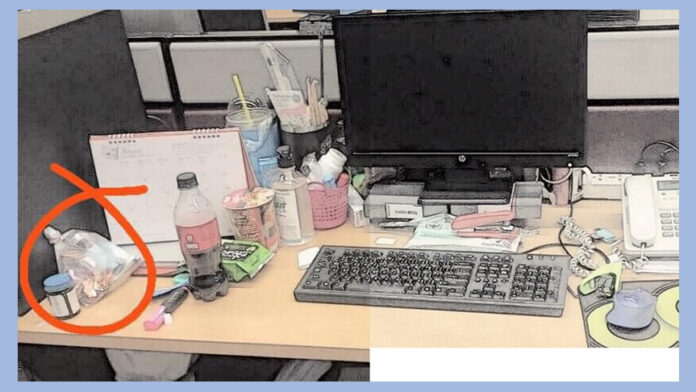 News media Thai News Network (TNN), TV channel True4U and True Corporation released an internal circular expressing their "deepest condolences" for the loss of the senior media employee while on the job.
A day after a Facebook page called "Jordub" announced the death of a media employee after persistent overwork and lack of relaxation on 5 February 2023, parent company True Corporation, along with its affiliates, published a letter to "all TNN employees"
The letter informs that Sarawuth Srisawasdi, Bird, died of a heart attack on February 4, 2023, while working at the TNN news channel.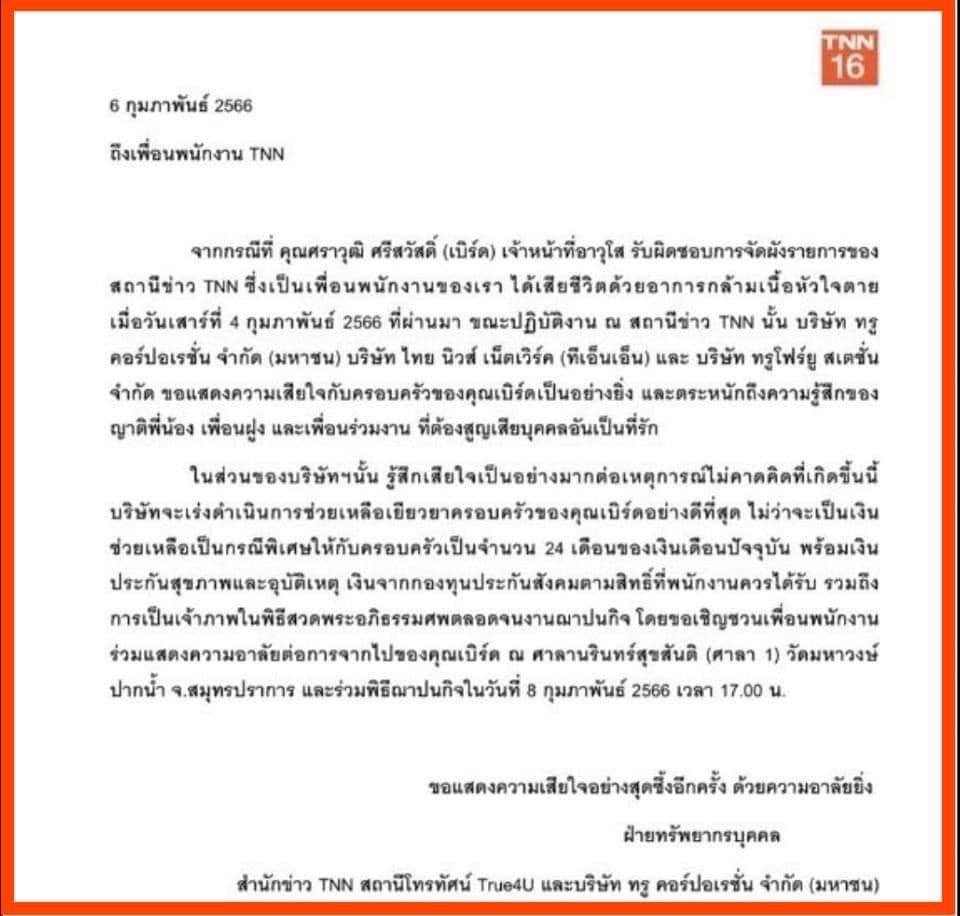 A colleague of his said a housekeeper saw Sarawuth falling asleep on his desk at 4 am on 4 February. Assuming that he was resting, the housekeeper did not wake him until late morning when she became suspicious as his whole body was lopsided. She then called the police and the rescue team.
According to Thai labour law, a worker may not work more than 8 hours per day or as agreed, but never more than 48 hours per week. After a continuous working time of no more than 5 hours, the worker is entitled to a rest break of at least 1 hour per day.
A weekly holiday of at least 1 day a week at intervals of a 6 days period must be arranged for the employee.
For workers in the hotel industry, in the logistics industry, workers working in rural areas, or for other work covered by ministerial regulations, the employer and the worker may agree to accumulate leave within 4 consecutive weeks and postpone it to the agreed period.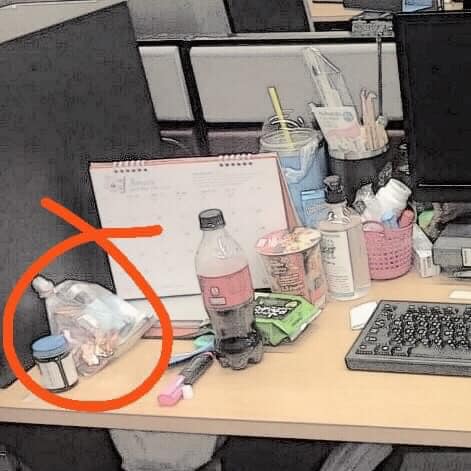 In the case of continuous work, if interruption of work would cause damage or if it is an emergency, the employer may allow the employee to work overtime or on a holiday if necessary.
The worker is entitled to a rest period of more than 20 minutes before the start of overtime if the overtime is longer than 2 hours (unless the nature of the work requires continuous performance. The worker must give consent to the overtime or in an emergency situation).
Sarawuth's funeral ceremony is held at the Mahawong Temple in Samut Prakan and the cremation ceremony will be held on 8 February 2022. Several of his colleagues attended the funeral to pay their last respects.
Overwork to the point of death has been around for a long time. In Japan, it's called "karoshi". In 2013, there was a case similar to Sarawuth's death, when a journalist died of a heart attack.
What happened to Sarawuth has sparked a public debate, especially in the journalism industry. The BBC Thai Service reported on the incident, citing a study by Jeffrey Pfeffer, Stanford professor of organisational behavior, who has written more than 15 books, including the book: "Dying for a Paycheck".
His work suggests that the work culture has become inhuman. On the one hand, entrepreneurs neglect their employees. On the other hand, in an economy where an employee can't work full-time, instability occurs. Professor Pfeffer suggests that every worker must take care of his or her health. Should you work in an unbalanced workplace, you must resign.
"I want to tell you that if you are in a room full of smoke, you will find a way out of it because it is detrimental to your health. Everyone must ask for a law. We have to ask for it together."