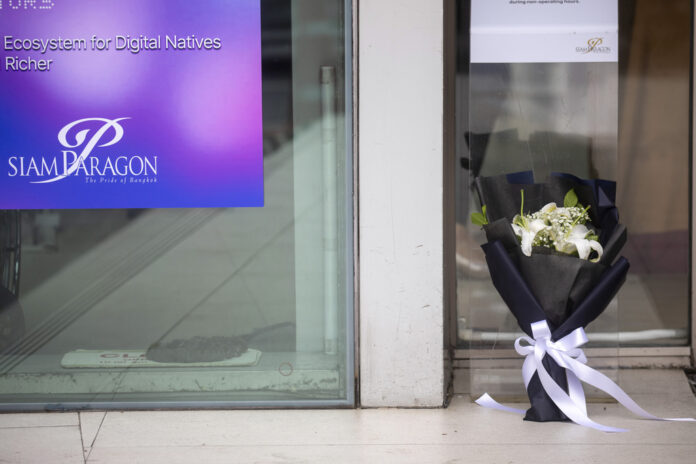 The Situation Command Center (SCC), which was established by the government of Thailand in response to the mass shooting at the Siam Paragon department store on October 3, 2023, which killed two foreign women and injured five others, released a statement on October 6, 2023, involving the parents of the 14-year-old shooter.
SCC stated that it has been contacted by the parents of the perpetrator who have requested to convey their message expressing deep regret and profound apology regarding the incident on October 3, 2023.
Therefore, the SCC wishes to circulate the aforementioned message, along with the unofficial translations, in English as follows:
"My family and I feel a profound sense of regret. We offer our deepest apologies to the
victims, the families of the deceased and the injured, from the recent shooting incident that occurred as the result of our son's actions at the Siam Paragon department store.
This includes the public, tourists, business and store owners and those involved in the incident or nearby who were evacuated and troubled in any way. It also includes the medical staff, nurses, police, government officials, whether Thai, Chinese, Myanmar, or Lao and all parties affected by this incident. We greatly regret also the damage and impact to the country as a whole.
My wife and I apologize for not communicating to the public sooner.
During this time, my family and I have been in the middle of a legal process. Our son is detained in the Juvenile Observation and Protection Center according to an order issued by the Juvenile Court. My family and I did not apply for bail because we intend to cooperate fully with the authorities in search of the facts and to ensure that there will not be a repeat of the same violent incident.
We are deeply saddened and shocked by this incident and accept responsibility as fully as we can. We would also like to promise that we will cooperate with the police, government officials and every agency necessary regarding these legal proceedings as well as support any mitigation and efforts to remedy the effects of this event as best as possible.
My family and I would like to humbly ask for forgiveness and extend our profound apologies to the family of the deceased, the injured and their families who were most affected by this event, and to everyone from the deepest recesses of our hearts, with our utmost respect,"
signed by the father/legal guardian of the juvenile offender.