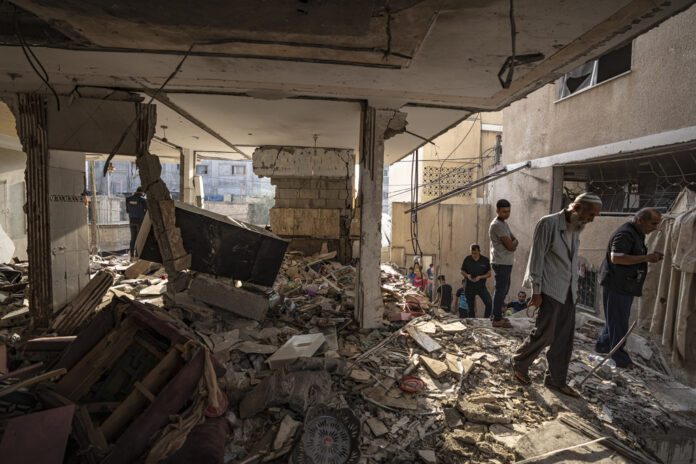 U.S. Secretary of State Antony Blinken met with Israeli Prime Minister Benjamin Netanyahu on Friday to urge protections for civilians in the fighting with Hamas, as Israeli troops tightened their encirclement of Gaza City.
Tensions escalated along Israel's border with Lebanon ahead of the first public speech by Hassan Nasrallah, the leader of Hezbollah — an Iranian-backed Hamas ally — since the Hamas attacked Israel last month. Nasrallah said his militia is undeterred by U.S. warnings to stay out of the Israel-Hamas war, but stopped short of announcing that Hezbollah is fully engaging in the war.
Hundreds of Palestinians with foreign passports and dozens of injured have left the Gaza Strip through the Rafah crossing in recent days under an apparent agreement among the U.S., Egypt, Israel and Qatar, which mediates with Hamas.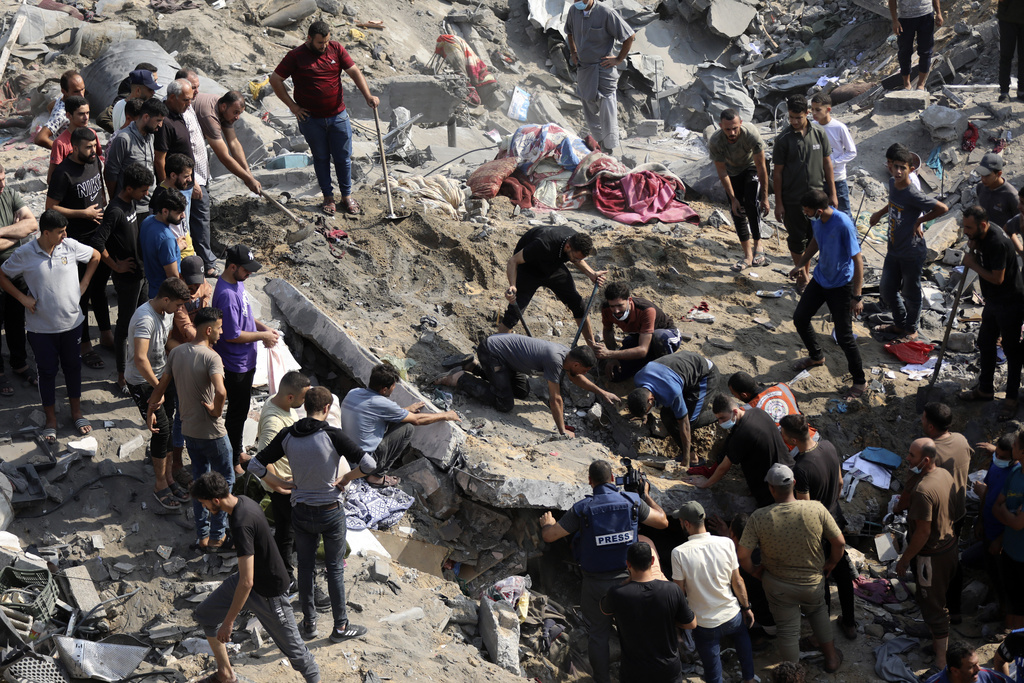 Israel has allowed more than 260 trucks carrying food and medicine through the crossing, but aid workers say it's not nearly enough. Israeli authorities have refused to allow fuel in, leaving hospitals with dwindling supplies.
The Palestinian death toll in the Israel-Hamas war has reached 9,227, according to the Hamas-run Health Ministry in Gaza. In the occupied West Bank, more than 140 Palestinians have been killed in violence and Israeli raids.
More than 1,400 people in Israel have been killed, most of them in the Oct. 7 Hamas attack that started the fighting, and 242 hostages were taken from Israel into Gaza by the militant group.
TARGETED ATTACKS ON MILITANT CELLS IN GAZA CITY HAVE STARTED, ISRAELI ARMY SAYS
JERUSALEM — The Israeli military said ground troops continued to exchange fire with Hamas militants Friday in Gaza, as Israeli aircraft killed numerous Hamas militants exiting tunnels.
Footage released by the military showed troops and tanks advancing through grassland toward bombed out buildings as smoke clouds from airstrikes rose in the distance.
The military said it encircled Gaza City on Thursday and was beginning to launch targeted attacks within the city Friday to target militant cells.
ISRAELI PRIME MINISTER NETANYAHU RULES OUT CEASE-FIRE UNTIL HAMAS FREES HOSTAGES
JERUSALEM — Israeli Prime Minister Benjamin Netanyahu has ruled out a temporary cease-fire in the Gaza Strip, saying he will press ahead with a devastating military offensive until hostages held by the Hamas militant group are released.
Netanyahu spoke shortly after meeting Friday with U.S. Secretary of State Antony Blinken, who pressed Israel for a temporary pause in its offensive to improve humanitarian conditions in Gaza. Blinken also urged Israel to do more to protect civilians from its attacks.
In a statement, Netanyahu said Israel is continuing with "all of its power" and "refuses a temporary cease-fire that doesn't include a return of our hostages."
Hamas kidnapped about 240 people in its Oct. 7 cross-border attack that triggered the Israel-Hamas war. The attack killed about 1,400 people, while over 9,200 Palestinians in Gaza have died in Israeli strikes that began the same day, according to Palestinian health officials.
BLINKEN URGES ISRAEL TO DO MORE TO PROTECT GAZA CIVILIANS, INCREASE AID
TEL AVIV — U.S. Secretary of State Antony Blinken said more needs to be done to "protect Palestinian civilians" in Gaza and that, without that, there will be "no partners for peace."
Speaking to reporters in Tel Aviv on Friday, Blinken also said, "we need to substantially and immediately increase the sustainable humanitarian assistance" into Gaza.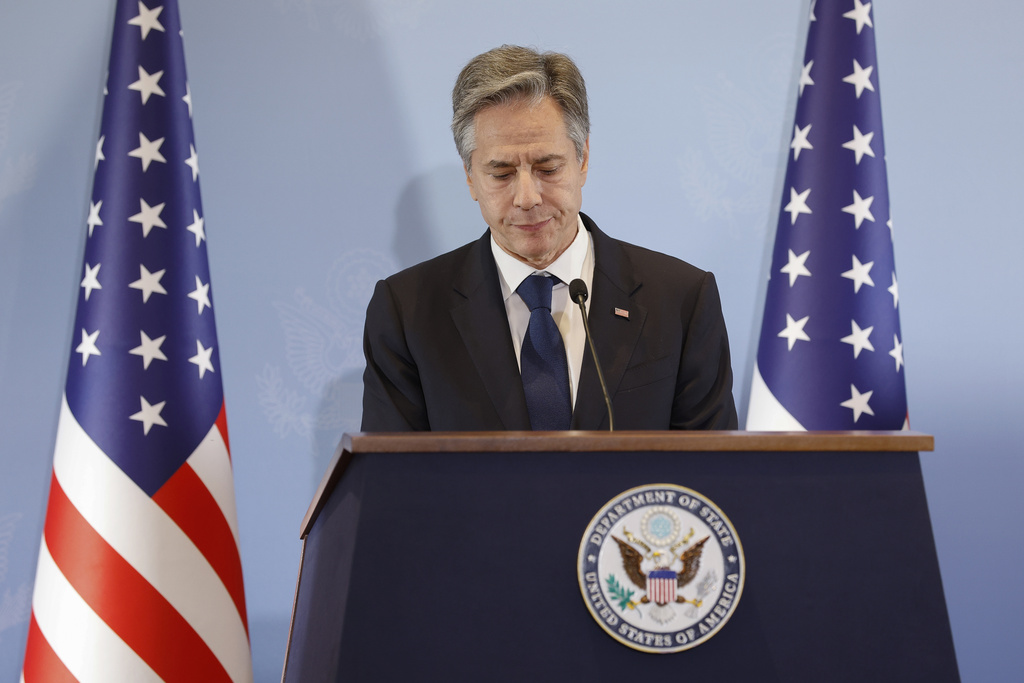 He said it was critical to restore the path toward a two-state solution to the Israel-Palestinian conflict, calling it the only "guarantor" of a safe and democratic Israel and independent Palestine. He said work on that must begin "not tomorrow, not after today, but today."
Blinken landed in Tel Aviv on Friday for his third trip to Israel since the war began with Hamas' incursion into Israel on Oct. 7. Blinken will also visit Jordan and may make additional stops in the region before traveling to Asia early next week.
He met Friday with Prime Minister Benjamin Netanyahu and other top officials to urge them to do everything possible to protect civilians caught in the fighting, while underscoring Israel's right to defend itself.
"We stand strongly for the proposition that Israel has not only the right but the obligation to defend itself, and to make sure that October 7 should never happen again," Blinken said. "How Israel does this matters and it is very important that when it comes to the protection of civilians who are caught in the crossfire of Hamas' making that everything to be done to protect them and to bring assistance to those who so desperately need it."
U.S. President Joe Biden has called for a "humanitarian pause" in the fighting in order to arrange the evacuation of dual citizens and foreigners still trapped in Gaza as well as to try to secure the release of more than 240 hostages Hamas is holding.
HEZBOLLAH LEADER THREATENS AN ESCALATION OF BORDER FIGHTING
BEIRUT — The leader of the Lebanese Hezbollah group said Friday that his powerful militia is engaged in unprecedented cross-border fighting with Israel and threatened escalation.
Hassan Nasrallah's widely anticipated speech was his first since the beginning of the Israel-Hamas war, sparked by the Palestinian militants' deadly Oct. 7 incursion into southern Israel.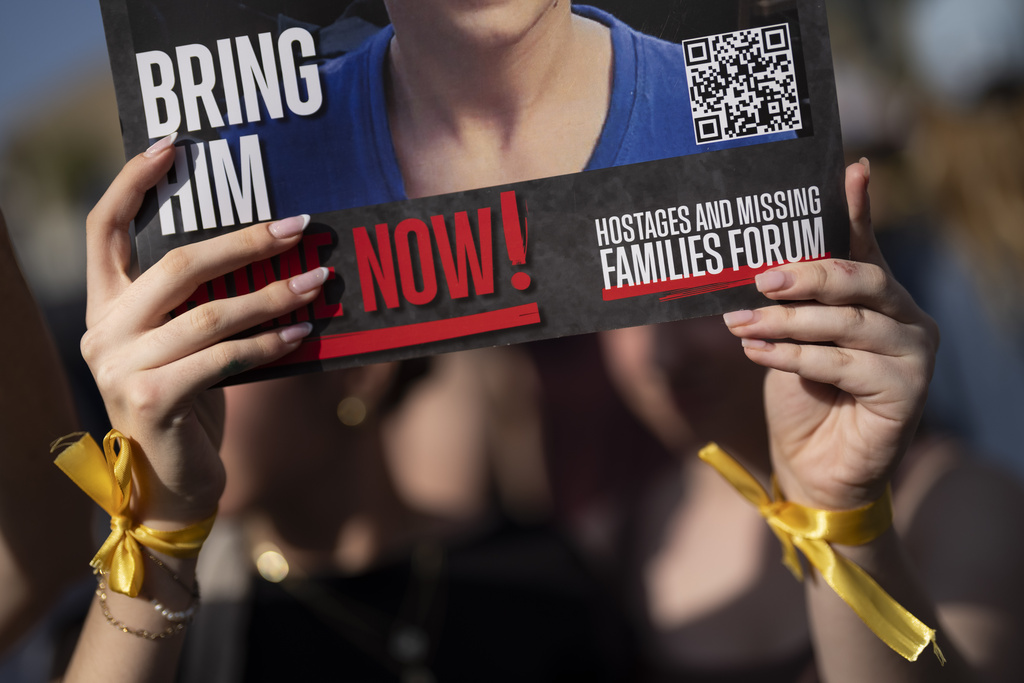 Nasrallah stopped short of announcing that Hezbollah is fully engaging in the war but said the fighting on the Lebanon-Israel border would "not be limited" to the scale seen until now.
The speech came a day after the most significant escalation in clashes between Hezbollah and Israeli forces on the border since the war started, and on the same day as a visit to Israel by U.S. Secretary of State Antony Blinken, who met with Israeli Prime Minister Benjamin Netanyahu to urge protections for civilians in the fighting with Hamas.
Nasrallah praised the Hamas attack four weeks ago on farming villages and military posts in southern Israel. More than 1,400 people were killed in Israel in the attack by Hamas, a Hezbollah ally.
"This great, large-scale operation was purely the result of Palestinian planning and implementation," Nasrallah said, suggesting his militia had no part in the attack. "The great secrecy made this operation greatly successful."
Since the beginning of the war, Hezbollah has taken calculated steps to keep Israel's military busy on its border with Lebanon, but not to the extent of igniting an all-out war.
______