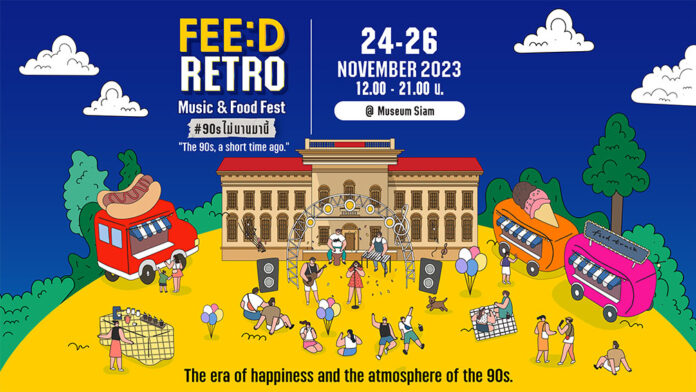 "The 1990s is a period of time that many people consider to be the best time of their lives, filled with cherished memories. For those in their late 30s to early 50s, the nostalgia for the happiness and atmosphere of the '90s still lingers, as if it was just yesterday…"
FEED, the content lifestyle creator under the Matichon Group, invites everyone to relive the '90s with the 'FEED RETRO Music & Food Fest' event. It's an event that will warm your hearts with live music performances by renowned artists from that era.
Enjoy delicious dishes from legendary and famous restaurants, and don't miss the special talks in the garden that will take you down memory lane with iconic figures from various industries. Plus, there will be other special activities in the midst of the cool weather. The event takes place from November 24th to 26th at Museum Siam, the National Discovery Museum.
On November 24th, enjoy a talk in the garden with the '90s industry legends, such as Chakraphan Yomchinda, the former Channel 7 news anchor, who will share his experiences from the perspective of a male icon of the era.
Immerse yourself in the music with T-Bone aRootstic, one of the first Reggae Ska bands in Thailand, who have been in the music scene for over 30 years. Their hit songs, such as 'Have You Seen the Sky,' 'Attraction,' 'Growing Up,' and 'Hug,' will surely make everyone sing along.
On November 25th, join the talk in the garden with Dj Pae, the top radio show host in the music industry, who has been hosting shows from the cassette era to the present day. Enjoy more music with uk Viyada Komalakul Na Nakorn, the singer of beloved songs like 'Monday,' 'Mai Khet Fai,' and 'Dok Tanta Wan,' and Byrd-Kulpong Bunnag and Heart-Suthipongse Thatphithakkul, the legendary Thai musicians with hits like 'Rain,' 'Forget,' 'Arai Rak,' and 'Waiting for Love.'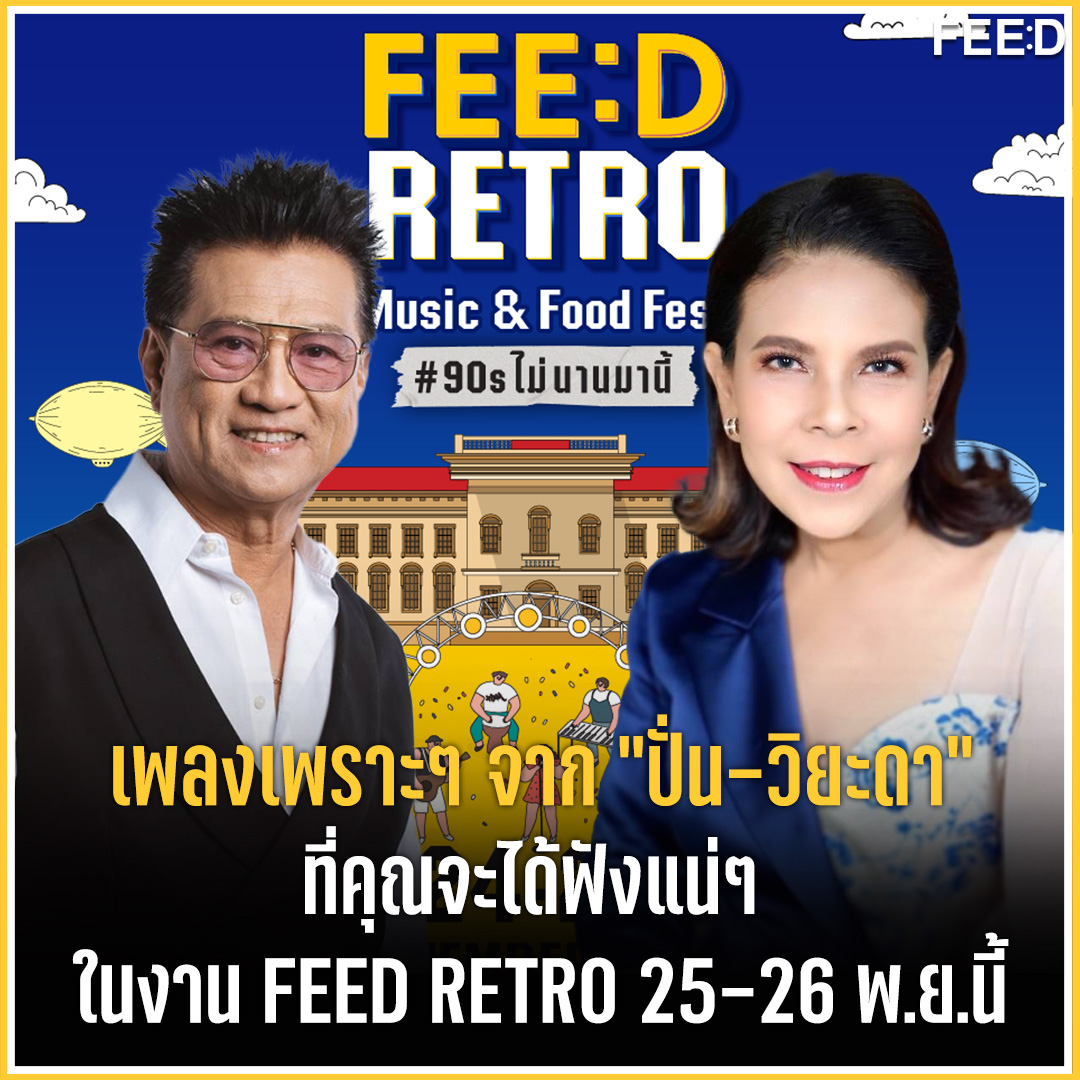 On November 26th, engage in a garden talk with Sai Charoenpura, the multi-talented actor and millionaire who has worked extensively in the entertainment industry for over 30 years. Experience the music of Pan Paiboonkiat Keiwkaew, the artist with more than 10 albums and numerous collaborations with other artists. Sing along to hits like 'Ruk Lon Lum Oi,' 'Rak Nirand,' 'Sukang Jai Ter,' and 'Rak Yuen Yong.'
The closing performance of the event, featuring a unique and soft-spoken singer, Thee Chaiyadej. Thee Chaiyadej is known for his distinctive style and the way he delivers songs beautifully, tenderly, and with a mix of emotions ranging from sweetness to bitterness. Some of his popular songs include "Kon Hin Lamoe" (A Piece of Stone), "Fun Pai" (Dreaming Forward), "Rak" (Love), and "Sap" (Cursed).
Throughout the three days, you can enjoy the finest dishes from famous and legendary restaurants of the '90s. This includes iconic places such as " EarSae Thai style coffee," a legendary restaurant, ancient coffee shops with a history of over 90 years, 'tiparos icecream' for coconut ice cream, and 'Kway Teow Saeb Haeng Jong Ang Wang Kai' for spicy dry noodles with a poached egg by charm garden By Chef.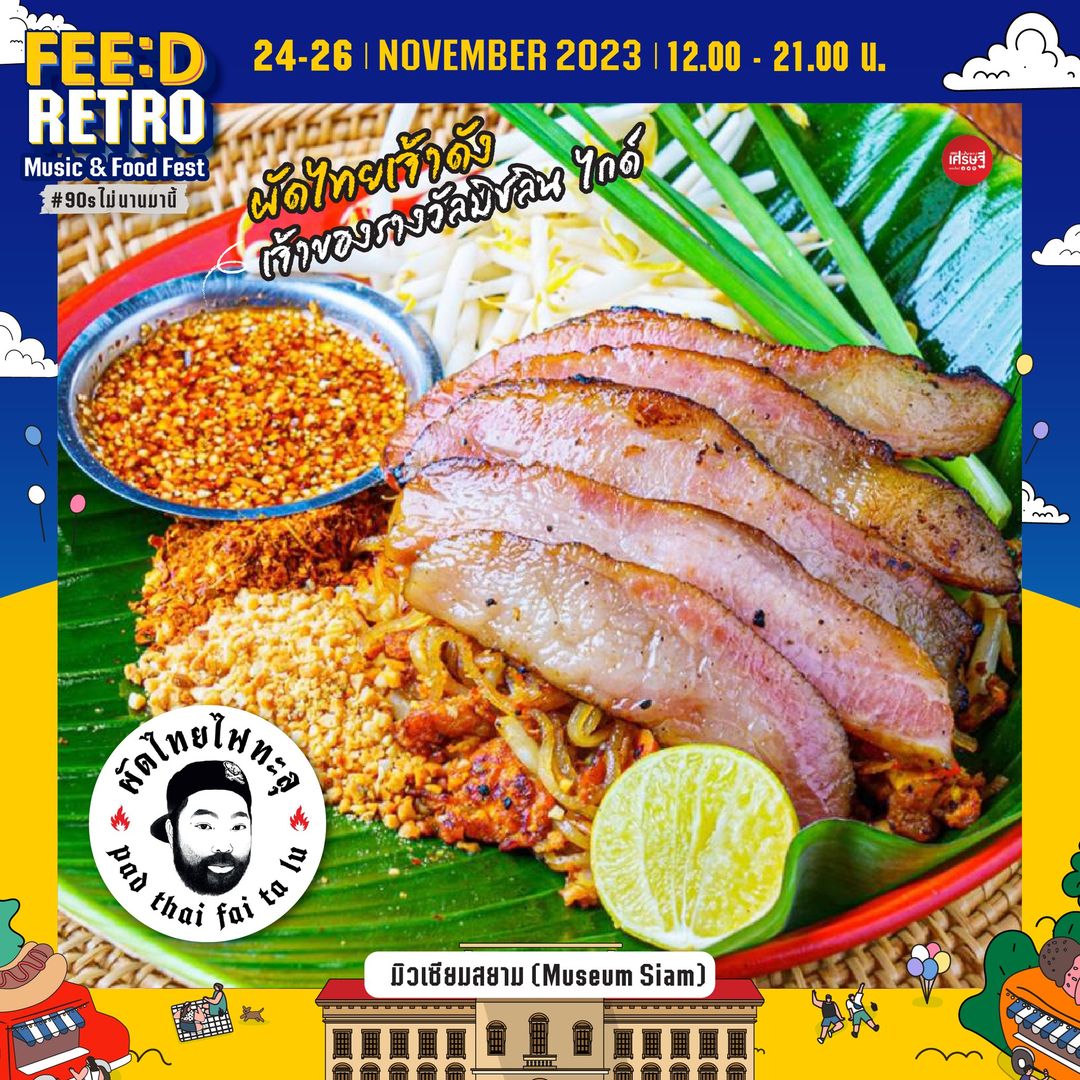 And also Pad Thai Fai Ta Lu, street food awarded the Michelin Bib Gourmand award for 5 years in a row, ukChin ChaoReua Fish ball Famous shop from Chonburi You can also enjoy Japanese-style curry with pork at ' Tai Tai Curry ' and affordable local delicacies like ' Ramena Ramen ' for just 25 baht and seafood skewers for 20 baht from a famous market in Jod Fair. Don't miss ' Yoi-Yoii Thai Dessert,' a popular iced dessert shop from Nakhon Pathom, and many other delectable items. You can savor delicious ice creams, along with many other exquisite dishes.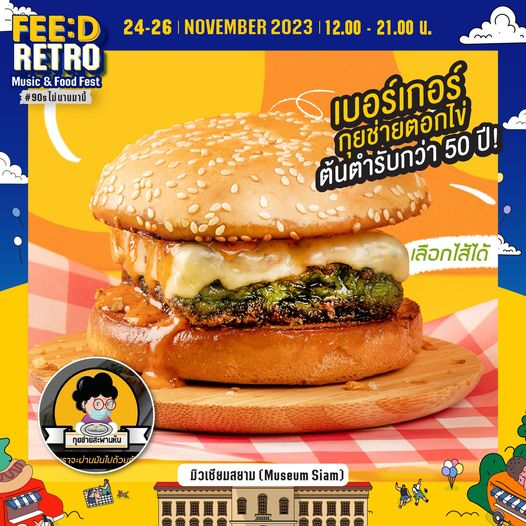 In terms of their aspirations, Sompratana Kraywichian, who is the Director of Digital Media at the Matichon Public Company Limited, mentioned that another interesting aspect of culture and entertainment, happiness from movies, music, lifestyle, play, and food, is centered around the 90s era.
This content is continuously presented through websites and social media platforms like Feed and has received a good response from viewers and page followers. Therefore, the Feed team has the idea to organize an event to cater to those who still enjoy stories related to the 90s, allowing them to come together to relive the happiness, entertainment, and fond memories in the "FEED RETRO Music & Food Fest" event.
Recently, they designed a simple concept for the event, set to take place at the end of November, during the pleasant evening weather on the weekend. It invites people to enjoy renowned food at the iconic restaurants that have maintained their deliciousness until today, while sitting on a picnic blanket and listening to beautiful music in the 90s atmosphere, something they used to enjoy and be happy with. This is the main objective of the event.
For the "FEED RETRO Music & Food Fest" #90s, the event will be held on November 24-25-26, 2023, and it is an open event that you can attend for free from 12:00 PM to 9:00 PM at the Museum Siam. For more details, you can inquire on Facebook: FEED.